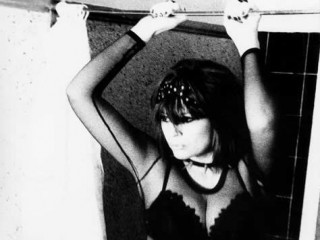 Chrissy Amphlett
Date of birth : 1959-10-25
Date of death : 2013-04-21
Birthplace : Geelong, Victoria, Australia
Nationality : Australian
Category : Arts and Entertainment
Last modified : 0000-00-00

Christine Joy Amphlett was the lead singer of Australian rock band Divinyls. She is also known as Chrissy Amphlett. Amphlett grew up in Geelong and was a student at Belmont High School with Denis Walter. She was a cousin of Australian singer Little Pattie (Patricia Amphlett).

Amphlett met Mark McEntee at a concert at the Sydney Opera House in 1980, and the pair formed the Divinyls shortly after. After several years of live gigs in Sydney, they recorded several songs to be used on the soundtrack of the film Monkey Grip.

Divinyls consisted of an ever-changing lineup around the core of Amphlett and McEntee, whose relationship was volatile throughout their career. Nonetheless, the band released six albums between 1982 and 1996, peaking in 1991 with the success of the single "I Touch Myself" which reached Number 1 in Australia, 10 in the UK and 4 in the US. Divinyls did not release another album for nearly six years, splitting up around the time of Underworld's release in Australia.

Amphlett has also worked as an actress. She made her film debut in the 1982 film Monkey Grip, in which she had a supporting role as the temperamental lead singer of a rock band loosely based on her own band Divinyls.

In 1988, Amphlett starred alongside Russell Crowe in the first Australian production of Will Russell's stage musical Blood Brothers.

Amphlett was originally cast to play Judy Garland opposite Todd McKenney in the original touring production of The Boy from Oz, about the life of Peter Allen. However, Amphlett was replaced in the role by Isabel Keating when the show made its Broadway debut in 2003, but she resumed the role in the Australian tour.

Amphlett died on 21 April 2013 at her home in New York City after a long battle with breast cancer. She was 53. Because she also suffered from multiple sclerosis, Amphlett had been unable to have radiation treatment or chemotherapy for the cancer.

View the full website biography of Chrissy Amphlett.