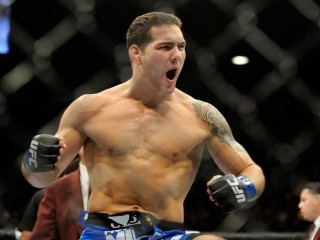 Chris Weidman
Date of birth : 1984-06-17
Date of death : -
Birthplace : Baldwin, New York
Nationality : American
Category : Sports
Last modified : 0000-00-00
Chris Weidman is a well-known American mixed martial artist currently signed with the Ultimate Fighting Championship where he is the current UFC Middleweight Champion. He is ranked the #1 middleweight in the world by Sherdog. He is currently undefeated, with notable wins against Anderson Silva, who had been undefeated for over seven years prior, and Mark Munoz among others.

Weidman had been an excellent wrestler in college; but Munoz had taken home a Division 1 national championship. Weidman had defeated the likes of Maia. But Munoz had already defeated Maia, to go along with Kendall Grove, CB Dollaway, and Chris Leben. Many were thinking aloud that the Filipino fighter would show Weidman what MMA was all about.

Instead, Weidman took his adversary down on multiple occasions, dominating the battle from a ground perspective. What's more, he won the stand up as well, putting Munoz on the canvas with an elbow and continuing to connect there until such time as the referee stepped in.

With the win, the world realized that they weren't just looking at another good fighter in Weidman. They were looking at an upper echelon fighter. Here is his story.

While wrestling at Baldwin high school in Long Island, Weidman was able to net both Nassau County and New York State wrestling championships.

From there, Weidman earned All-American wrestling honors at Nassau Community College (twice), before transferring to Hofstra where he was a two-time Division I All-American, placing 3rd at the NCAA tournament his senior year, capping off a very successful career in the sport.

After his attempt at making the Olympics, Weidman found MMA again, working as a wrestling coach for Ray Longo's International Martial Arts Academy. There he returned to BJJ training under Matt and Nick Serra in September, 2008. Early on, Longo noticed just how talented Weidman was.

"Ray (Longo) just thought that it wouldn't be fair for an amateur guy to go against me," Weidman said, according to an article at Let There Be Fight. "He didn't want to be responsible for that."

"I've been around a long time, and what I see in this kid, I haven't seen in a long time," Longo said. "And he's the strongest 185-pounder I've ever touched, and I've been in there with a lot of guys."

On February 20, 2009 Weidman made his pro MMA debut against Reubem Lopes at Ring of Combat (ROC) 23. Weidman achieved a big time Greco-Roman throw, overwhelmed his opponent on the ground, and then sunk in a kimura at the 1:35 mark of round one. Actually, Weidman won his first four matches for ROC, including a fight over Valdir Araujo for the organization which netted him their middleweight belt. And that's when the UFC came calling.

Weidman made his UFC debut on March 3, 2011 against Alessio Sakara at UFC Live: Sanchez vs. Kampmann. He won the fight by way of a unanimous decision.

On July 6th, 2013 Chris knocked out the legendary Anderson Silva in the second-round of their title fight, sending shockwaves through the mixed martial arts world. "I felt I was destined for this, but it still felt a little far-fetched," Weidman said after the fight. "I've had to do it a million times in my head, but for it to actually happen, it still feels surreal."


View the full website biography of Chris Weidman.