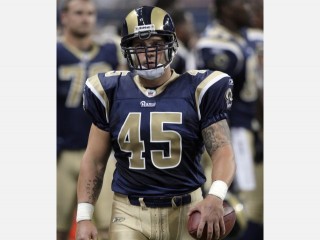 Chris Massey
Date of birth : 1979-11-21
Date of death : -
Birthplace : Charlestone, West Virginia
Nationality : American
Category : Sports
Last modified : 2010-12-28
Chris Massey is an American football long snapper for the St.Louis Rams of the National Football League.

Pro Highlights:
Signed renegotiated contract with St. Louis (2/22/06)…contract expired; remained under tender with St. Louis (3/1/05)…selected by St. Louis in the seventh round (243rd overall) of the 2002 NFL Draft (4/20/02).

PRO: Has made clean snaps on 840 of 841 attempts, including string of 528 consecutive clean snaps from contest at Denver (9/8/02) to contest vs. Chicago (12/11/06).

2008 SEASON: Made 138 consecutive clean snaps…made six special teams tackles…Week 4 vs. Buffalo (9/28): Played in 100th career game.

2007 SEASON: Produced 135 consecutive clean snaps…made 10 special teams stops…vs. San Francisco (9/16): Recovered a muffed punt in the first quarter that led to a Rams' touchdown pass.

2006 SEASON: Successful on 146 of 147 snaps…notched two special teams tackles…performed long-snapping duties for K Jeff Wilkins to finish third in the NFL and second in the NFC in scoring.

2005 SEASON: Recorded 107 consecutive clean snaps.

2004 SEASON: Registered 92 consecutive clean snaps.

2003 SEASON: Tallied a career-high 121 consecutive clean snaps…saw limited action as blocking running back…performed long-snapping duties for K Jeff Wilkins to lead the NFL in scoring and make his first Pro Bowl appearance.

2002 SEASON: Notched 101 consecutive clean snaps…started one game as a blocking running back vs. Seattle (10/20)…also played position the week before against Oakland (10/13) during the fourth quarter.

College Highlights:
Played in every game as the Thundering Herd's long-snapper as a senior…also played linebacker, recording 19 tackles…as a junior, played in 11 games as the Herd's long-snapper…handled all long-snapping duties for the Thundering Herd as a sophomore…made one tackle during freshman season while handling long-snapping duties…named District II GTE Academic All-American as a sophomore…graduated with degree in criminal justice.

Personal :
Born Christopher Todd Massey in Charleston, W.Va…four-year letter winner in football at East Bank High…during senior season, recorded 167 tackles and rushed for 1,017 yards and 19 touchdowns…three-time All-Conference pick, two-time All-County selection and two-time All-State honoree…earned honorable mention All-America distinction as a senior…team captain of the 1996 West Virginia state championship team…three-time All-Conference selection in baseball and was All-State in 1996…member of National Honor Society…married to Sarah with daughters, Maddyx and Maybre…resides in St. Peters, Mo.


View the full website biography of Chris Massey.