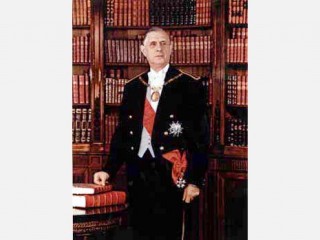 Charles De Gaulle
Date of birth : 1890-11-22
Date of death : 1970-11-09
Birthplace : Lille, France
Nationality : French
Category : Politics
Last modified : 2010-05-03
Charles André Joseph Marie de Gaulle (22 November 1890 – 9 November 1970) was a French general and statesman who led the Free French Forces during World War II. He later founded the French Fifth Republic in 1958 and served as its first President from 1959 to 1969.

Brought up proud of his heritage and the dream of the greatness of France, Charles de Gaulle would become president of a nation that not only needed rebuilding after World War II, but a leader to keep the country inspired and moving forward. His military prowess, bravery, and keen sense of leadership were not accidental. His life had been molded through his bloodline and his father's stern will.
The young Charles was educated on the history of France and military operations at a young age. He would become, like his grandfather and uncle, a gifted writer and a leader that could speak to his people. De Gaulle's father was a professor of philosophy and math, and fought in the Prussian War, when France was defeated. He was told of the grandeur of his family name, how his family had been king's counselors and prominent authors in their days. He also learned to resist persecution on every level – liberty and freedom stood above all else.
Charles de Gaulle was aptly accepted into the Saint-Cyr Military Academy. While there, he retorted even some of his professor's comments and beliefs about France and its military history. Through World War I, de Gaulle was not yet a Lieutenant, but by World War II, he was put in charge of the frontline that would attempt to stop German forces. He was captured and attempted escape repeatedly.
As President, Charles de Gaulle ended the political chaos that preceded his return to power. A new French currency was issued in January 1960 to control inflation and industrial growth was promoted. Although he initially supported French rule over Algeria, he controversially decided to grant independence to that country, ending an expensive and unpopular war but leaving France divided and having to face down opposition from the white settlers and French military who had originally supported his return to power.
De Gaulle oversaw the development of French atomic weapons and promoted a pan-European foreign policy, seeking independence from U.S. and British influence. He withdrew France from NATO military command - although remaining a member of the western alliance - and twice vetoed Britain's entry into the European Community. He travelled widely in Eastern Europe and other parts of the world and recognised Communist China. On a visit to Canada he gave encouragement to Quebec Separatism.
During his term, de Gaulle also faced controversy and political opposition from Communists and Socialists. Despite having been re-elected as President, this time by direct popular ballot, in 1965, in May 1968 he appeared likely to lose power amidst widespread protests by students and workers, but survived the crisis with an increased majority in the Assembly. However, de Gaulle resigned after losing a referendum in 1969. He remains the most influential leader in modern French history.
In his career, de Gaulle would become a general, but even before the war, he staunchly debated the old fighting methods of France in their trench warfare tactics. His work was late published in book format with the title The Army of the Future. Before its publication, it was dismissed in France and was picked up by German intelligence, forming the basis of their "lighting war" strategies.
When France was defeated, Charles de Gaulle went to London and spoke to the BBC about the future of France. His words and encouragement inspired his countrymen and immediately made him widely popular in his homeland. The result would be his eventual presidency over the nation. By the end of the War, the Germans had retreated beyond France's borders. De Gaulle, who had no competition, was made president of the parliament and eventually over the whole of France through elections. Charles' attitude towards the outside world was one of mistrust and was disgusted by politicians interested only in their own pockets. His pessimism meant that France was careful with those that they dealt, but it eventually became so much that he was forced to retire. Before his retirement, France had left the UN, NATO, and the Atlantic Alliance. He was equally paranoid of Russia and China and worked hard to liberate France's colonies abroad. He returned to his countryside home in retirement, not entirely defeated in his international policies and beliefs. He believed that France would call him back to be their leader, but they never did. However, his dedication to his nation has always been inspiring and will always be remembered.
France's largest airport, in Roissy outside Paris, is named
Charles de Gaulle Airport
in his honour. Many however still call it simply
Roissy Airport.
View the full website biography of Charles De Gaulle .