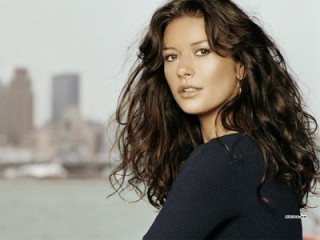 Catherine Zeta-Jones
Date of birth : 1969-09-25
Date of death : -
Birthplace : Swansea, West Glamorgan, Wales
Nationality : British
Category : Arts and Entertainment
Last modified : 2010-06-11
Catherine Zeta-Jones born September 25, 1969 in Swansea, West Glamorgan, Wales is a British actress.

Welsh-born actress Catherine Zeta-Jones, a familiar face in Great Britain for nearly a decade, caught the attention of American audiences with a number of films in the late 1990s, including The Mask of Zorro, Entrapment, ( and The Haunting.. In 2002 she proved her mettle with an Oscar-winning performance as Velma Kelly in Chicago.

Zeta-Jones, who initially took up residence in Los Angeles with her two brothers, noted to InStyle magazine that "I have an endless supply of Welsh blood coming and going. They keep my feet on the ground." In 1998, People magazine named Zeta-Jones one of its 50 Most Beautiful People in the World. Around that time she admitted her romantic involvement with fellow actor Michael Douglas and told Hello! magazine that Douglas is "a charming guy and a real gentleman. He's given me a lot of support when I've needed a friendly helping hand." After a one-year engagement, the couple married on November 18, 2000. They have two children.

Her career continued in full swing, with the release of the crime thriller Traffic and the lighter High Fidelity, both in 2000. Following America's Sweethearts in 2001, Zeta-Jones was listed once again on People's 50 Most Beautiful People list. A collection of prestigious roles and awards ensued, including an Oscar and a British Film Award for her supporting role as Velma Kelly in the hit musical Chicago. Intolerable Cruelty followed in 2003, and she appeared in the star-clad Ocean's Twelve with George Clooney, Brad Pitt, and Julia Roberts in 2004. She also appeared in the film The Terminal that year. Already a spokesperson for T-Mobile communications since 2003, in 2004 Zeta-Jones starred in Elizabeth Arden's Provocative Woman perfume campaign.

When the stunningly beautiful Zeta-Jones starred opposite Antonio Banderas in The Mask of Zorro, critics immediately recognized that her captivating appearance was not her only asset. The film's director, Martin Campbell, said of Zeta-Jones in People magazine, "There's a magic that happens between her and the camera lens. You might say she's annoyingly beautiful. It drives me mad." And although the film propelled Zeta-Jones into the role of an international superstar, she had been working in theater, television, and film, primarily in Britain, for nearly a decade prior. Because of her dark features, many fans originally pegged her as either Mexican, Spanish, Italian, or Hawaiian, but in fact, the young actress began her life and her acting career in Wales.

Upbringing and Early Career

Catherine Zeta-Jones was born on September 25, 1969, in Swansea, West Glamorgan, Wales, where she was raised, along with her two brothers, by her parents. She grew up in a typical working-class household; her mother worked as a seamstress, while her father managed a candy factory. From an early age, Zeta-Jones displayed a talent for both singing and dancing as a member of the local Catholic congregation's amateur performing troupe. Her first acting role was playing the lead in Annie, and at age eleven, she mastered the role of Talullah in Bugsy Malone. Her next opportunity to perform came when a touring musical that featured a former member of the Monkees, Mickey Dolenz, stopped in Swansea, and Zeta-Jones auditioned for a chorus spot. The producers of the shows, taken with her presence, accepted Zeta-Jones for a touring production of The Pajama Game.

When Zeta-Jones was only 15 years of age, she received her first actor's guild card and moved to London to pursue acting. After only two years, she had landed the lead role of a West End production of 42nd Street. She had originally been cast as the second understudy, but one evening both the original star and understudy bowed out. Following her performance that evening, the producer insisted that Zeta-Jones take over the leading role. She performed eight shows a week for the remainder of the show's running, then took a much needed vacation in France. While there, she obtained her first feature film role as the lead in French director Philippe De Broca's Scheherazade. Then in 1991, Zeta-Jones returned to England, landing a spot in the popular British television series The Darling Buds of May.

Hollywood Recognition

Zeta-Jones' success in Britain caught the attention of Hollywood directors and producers, and she landed a prominent role in an episode of the ABC miniseries The Young Indiana Jones Chronicles (1992), as well as a brief part in the film Christopher Columbus: The Discovery (1992). Also during this time, she had a romantic relationship with producer Jon Peters, who eventually proposed marriage. However, Zeta-Jones, not wanting the label of "Hollywood wife" so early in her career, turned down his proposal. She then returned to Britain and the stage in an English National Opera production of Street Scenes.

After this, Zeta-Jones continued to work in films and television and finally received her most important break into Hollywood shortly after the airing of the television movie Titanic in 1996. The executive producer of The Mask of Zorro, Steven Spielberg, had watched the film and immediately called director Martin Campbell, recommending Zeta-Jones to play the movie's female leading role; she met with Spielberg and immediately accepted his offer. Zeta-Jones commented in Entertainment Weekly regarding the experience, "It really was one of those things where you think 'God, it does happen sometimes.'"

Following the success of The Mask of Zorro, in 1999 Zeta-Jones co-starred with Sean Connery in the romantic thriller Entrapment and opposite Liam Neeson and Lili Taylor in The Haunting, director Jan de Bont's remake of The Haunting of Hill House.
View the full website biography of Catherine Zeta-Jones.