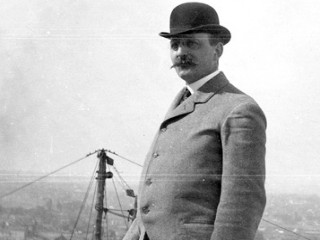 Cass Gilbert
Date of birth : 1859-11-24
Date of death : 1934-05-17
Birthplace : Zanesville, Ohio,U.S.
Nationality : American
Category : Arhitecture and Engineering
Last modified : 2012-01-20
Cass Gilbert was a prominent American architect. An early proponent of skyscrapers in works like the Woolworth Building, Gilbert was also responsible for numerous museums (Saint Louis Art Museum) and libraries (Saint Louis Public Library), state capitol buildings (the Minnesota, Arkansas and West Virginia State Capitols, for example) as well as public architectural icons like the United States Supreme Court building. His public buildings in the Beaux Arts style reflect the optimistic American sense that the nation was heir to Greek democracy, Roman law and Renaissance humanism.

Gilbert's achievements were recognized in his lifetime; he served as president of the American Institute of Architects in 1908-09.

Gilbert was a conservative who believed architecture should reflect historic traditions and the established social order. His design of the new Supreme Court building (1935), with its classical lines and small size contrasted sharply with the very large modernist Federal buildings going up along the National Mall in Washington, D.C., which he disliked.

Gilbert later worked for a time with the firm of McKim, Mead, and White before starting a practice in St. Paul with James Knox Taylor. He was commissioned to design a number of railroad stations, including those in Anoka, Willmar, and the still extant Little Falls depot. He won a series of house and office-building commissions in Minnesota: the Endicott Building in St. Paul is still regarded as a gem. As a Minnesota architect he was best known for his design of the state capitol dome and the downtown St. Paul Endicott Building.

His goal was to move to New York City and gain a national reputation, but he remained in Minnesota from 1882 until 1898. Many of his Minnesota buildings are still standing, including more than a dozen private residences (especially those on on St. Paul's Summit Avenue), several churches featuring rich textures and colors, resort summer homes, warehouses, and railroad depots in Anoka, Willman, and Little Falls.

Gilbert was one of the first celebrity architects in America, designing skyscrapers in New York City and Cincinnati, campus buildings at Oberlin College and the University of Texas, state capitols in Minnesota and West Virginia, the support towers of the George Washington Bridge, various railroad stations (including the New Haven Union Station), and the United States Supreme Court building in Washington, D.C.. His reputation declined among some professionals during the age of Modernism, but he was on the design committee that guided and eventually approved the modernist design of Manhattan's groundbreaking Rockefeller Center: when considering Gilbert's body of works as whole, it is more eclectic than many critics admit. In particular, his Union Station in New Haven lacks the embellishments common of the Beaux-Arts period, and contains the simple lines common in Modernism.

Gilbert wrote to a colleague, "I sometimes wish I had never built the Woolworth Building because I fear it may be regarded as my only work and you and I both know that whatever it may be in dimension and in certain lines it is after all only skyscraper."

Gilbert's two buildings for the University of Texas campus in Austin, Sutton Hall (1918) and Battle Hall (1911), are widely recognized by architectural historians as among the finest works of architecture in the state. Designed in a Spanish-Mediterranean revival style, the two buildings became the stylistic basis for the later expansion of the university in the 1920s and 1930s and helped popularize the style throughout the state.
View the full website biography of Cass Gilbert.