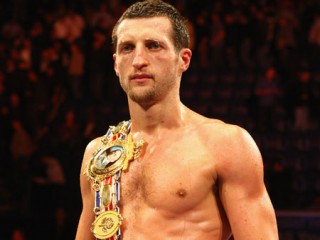 Carl Froch
Date of birth : 1977-07-02
Date of death : -
Birthplace : Nottinghamshire,England
Nationality : English
Category : Sports
Last modified : 2012-01-18
Carl Froch (born 2 July 1977) is an English professional boxer and is a two-time former WBC super middleweight champion.

Froch has also been the winner of the Commonwealth, British as well as English Super Middleweight titles in his career. Born on the 2nd of July in 1977 in the county of Nottinghamshire, Froch began to box in his home when he was only 9 years old. After sometime, he joined the Phoenix ABC near Nottingham and got his experience mostly from being there. His first two amateur titles were the ABA Middleweight championship that he won twice in 1999 and again in 2001 as well as the Bronze Medal in the World Amateur Boxing Championships of 2001. It was after the World Amateur Boxing Championships of 2001 that he decided to turn to professional boxing and had his first ever professional match up in 2002. During his time in the amateur circuit, Carl Froch had lost a non-title bout to Denis Inkin and Froch had the opportunity to avenge that loss to Inkin when the two were set to meet in a title eliminator, scheduled for 2008 but Inkin pulled out of the fight on as many as three occasions.

On the 6th of December, Froch was scheduled to fight Jean Pascal of Canada for the WBC Super Middleweight Championship which had fallen vacant. In one of the most grueling matchups in the history of the division, Froch defeated Pascal after 12 bloodied rounds to claim the title. Since the fight, Pascal and Froch have developed a personal bond based on mutual respect and admiration and both have said in interviews that they will be up for a re-match pretty soon so that Pascal can get a chance to avenge the loss to Carl Froch. In one of the most stunning comebacks in the history of professional boxing, Froch came back from a knock down in the third round as well as from being behind on two of the three judges' calls to defeat Jermaine Taylor with a knockout in the 12th round to keep hold of his title, in his first ever defense of the title.

Carl Froch is one of the best British boxers of his generation as well as history and he will forever be remembered for achieving much more than what people expected from him and his talent just through grit and determination.

On 10 May 2008, at the Trent FM Arena in Nottingham Carl Froch stopped unbeaten Polish Albert Rybacki in the 4th round of a scheduled 12. Rybacki was drafted in as a last-minute replacement after initial opponent Denis Inkin pulled out on two occasions and no Top 30 fighter was willing to take the fight at two weeks' notice.

On 6 December 2008, Froch fought Canadian Jean Pascal for the vacant WBC super middleweight title and won after a hard-fought 12-round brawl. Both combatants showed enormous grit and determination, landing and taking huge shots from one another without even flinching.

Since the fight, Froch and Pascal have become friends on a personal level and have made a promise to face each other again in the future.

Pascal has since moved up to light heavyweight and become the WBC light heavyweight champion after defeating Adrian Diaconu. Pascal has since defended his title four times, including a bout against highly-touted American Chad Dawson, and a majority draw in home territory, against a 45 year old Bernard Hopkins that saw the only judge not scoring a draw awarding the fight to Hopkins.

On 25 April 2009, Froch fought Jermain Taylor in his first defence of his WBC super middleweight title, at the Foxwoods Resort in Foxwoods, Connecticut. Froch survived a third-round knockdown – the first of his entire career, amateur and professional – and, behind on two of the three judges' cards coming into the final round, he managed to stop his opponent with a stunning 12th round knockout.

After the fight, brimming with confidence, Froch was quick to send out a verbal challenge to unbeaten Welsh boxer Joe Calzaghe and was also quoted as saying "Kessler, Pavlik, Hopkins, I want them all to feel the force."

On 13 July, Froch agreed to take part in the Super Six World Boxing Classic super middleweight tournament devised by American giant Showtime. The tournament features 6 boxers including Andre Dirrell, Mikkel Kessler, Arthur Abraham, Jermain Taylor, Andre Ward and Froch himself. Froch's first opponent in the Super Six was Andre Dirrell.

Froch's next fight was against Mikkel Kessler, who lost the WBA Super Middleweight Championship to Andre Ward. Froch's WBC title was again on the line. In a closely fought contest in Kessler's home country of Denmark where both men had great moments throughout the fight, Kessler took Froch's title and inflicted Froch's first professional defeat via unanimous decision, the judges scoring the contest by margins of 116-112, 115-113 and a dubious 117-111. Froch later stated that the fight was close and that he believes the decision would have gone his way if the event had been held in Nottingham.

Froch faced former middleweight champion Arthur Abraham in the third stage. However, since an eye injury forced Mikkel Kessler to relinquish his WBC title and resign from the tournament, Froch-Abraham was for the vacant WBC super-middleweight title. Both Froch and Abraham came off of a loss in stage two of the Super Six. Abraham lost after a disqualification against former Froch victim Andre Dirrell, when Abraham landed a sweeping hook to the chin of Dirrell while he was down on one knee.

Froch put up, arguably, the best performance of his career to regain the WBC super-middleweight title as he dominated from start to finish to claim a unanimous points victory over Arthur Abraham in Helsinki. Many doubted Froch would last the distance against the powerful Abraham and that Abraham would knock him out,Abraham was also the favourite to win at the bookmakers. Pundits felt that his pourous defense and akward style would be no match for Abraham's power. Froch won the fight against Abraham, with the scores given by the judges of 119-109, 120-108 and 120-108, reflecting the one-sided nature of the bout.

View the full website biography of Carl Froch.