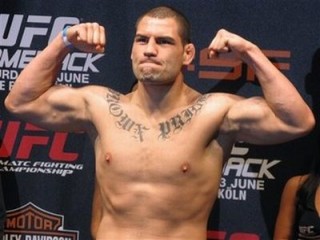 Cain Velasquez
Date of birth : 1982-07-28
Date of death : -
Birthplace : Salinas, California, United States
Nationality : Mexican-American
Category : Sports
Last modified : 2010-10-25
Cain Ramirez Velasquez is a Mexican American mixed martial artist and the current UFC Heavyweight Champion. He is a two-time All-American collegiate wrestler from Arizona State and a Junior College National Champ at Iowa Central Community College. He is a two-time 5A state champion in Arizona, Compiling a record of 110-10 for Kofa High School located in Yuma, Arizona under Shawn Rustad and Marty Niblo. He currently competes in the UFC in the heavyweight division. As of June 29, 2010, he is ranked as the #4 heavyweight in the world by Sherdog and MMAweekly, and #6 by MMAfighting.com. Cain also has never lost a round in mixed martial arts competition. Velasquez, who trains at the American Kickboxing Academy in San Jose, CA, won the No-Gi Brazilian Jiu-Jitsu blue belt championships roughly a year after starting submission grappling. He currently holds a purple belt under Dave Camarillo.

Training Camp and Fighting Organization:
Velasquez trains at American Kickboxing Academy in San Jose, California. He fights for the UFC.

Martial Arts Background:
Many believe that a wrestling background is the best one to enter MMA from. If that's the case, Velasquez and the Junior College National Championship he won at Iowa Central Community College coupled with the two time All American accolades he achieved while at Arizona State certainly put him in a good position coming in. And that all came after he won the 5A state championships twice while competing for Kofa High School in Arizona.

Velasquez also holds a purple belt in Brazilian Jiu Jitsu under Dave Camarillo.

Fighting Style:
Velasquez is a cardio and wrestling dynamo. He's extremely adept at taking opponents down, establishing ground control, and pounding on them. His athleticism also comes through in the striking department, where he is more technically sound than he is often given credit for.

Velasquez defeated Brock Lesnar for the UFC Heavyweight Championship on October 23, 2010 at the Honda Center in Anaheim, California at UFC 121. He defeated Lesnar by TKO at 4:12 into round 1 to win the title. Coming into the fight, Cain had outlanded his last five opponents by a tally of 481 to 63.

View the full website biography of Cain Velasquez.