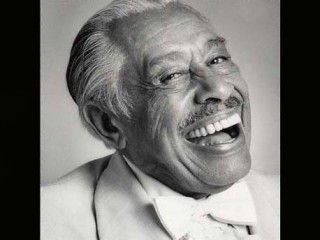 Cab Calloway
Date of birth : 1907-12-25
Date of death : 1994-11-18
Birthplace : Rochester, New York
Nationality : American
Category : Arts and Entertainment
Last modified : 2010-08-30
Best known for the song "Minnie the Moocher", Cab Calloway was a famous singer and bandleader beginning in the 1920s, and he remained active in music throughout his golden years.


Early years
Cabell Calloway III
was born on December 25, 1907, in Rochester, New York, the second of Cabell and Eulalia Reed Calloway's six children. When he was six his family moved to Baltimore, Maryland, where his father practiced law and sold real estate. Young Cab enjoyed singing in church, but he was expected to follow in his father's footsteps and study law. Except, his older sister Blanche had found work singing with a show in Chicago, Illinois, and after graduating from high school Calloway appealed to her for advice. She sent him a train ticket, and when he arrived in Chicago she gave him acting lessons and found him a job as a singer. He attended Crane College briefly, but he was committed to show business.
Popular bandleader
By 1925 Calloway was working as a drummer with the Sunset Cafe band in Chicago. By his twentieth birthday he had organized his own orchestra and was singing lead vocals again. The group, Cab Calloway and his Alabamians, became popular in Chicago, and eventually was hired to play at the Savoy Ballroom in New York City. That engagement did not go well, and Calloway dissolved the band. He was about to return to Chicago when he landed a part in a Broadway comedy,
Connie's Hot Chocolates
, in which Calloway was praised for his rendition of "Ain't Misbehavin'."
After Broadway manager Irving Mills encouraged Calloway to form another band, Calloway put together another orchestra and immediately found work in New York nightclubs. In 1929 he was invited to fill in for Duke Ellington (1899–1974) at the Cotton Club, and for the next decade the two band-leaders played alternating engagements at the famous venue. It was during his Cotton Club years that Calloway developed his crisp, jazzy song-and-dance style.
Calloway was one of the first performers to purposely use scat singing, or random use of nonsense syllables. As with so many others, he began scat singing when he forgot a song's lyrics. Audiences loved the sound, however, so he began to write tunes with scat choruses. Calloway's trademark song "Minnie the Moocher" is one such composition. Its refrain—"hi de hi de hi de ho"—invites the audience to sing along. Recordings of "Minnie the Moocher" have sold millions of copies worldwide.
Musician, actor, author
Calloway was very popular in the 1930s and 1940s. He appeared in such films as International House and Stormy Weather. He helped to popularize the jitterbug with songs
International House
and
Stormy Weather.
During World War II (1939–45) Calloway entertained troops in the United States and Canada. After the war he returned to club work and to Broadway, most notably as the character of Sportin' Life in Porgy and Bess. In the 1960s he took another Broadway role, that of Horace Vandergelder in the all-black version of Hello, Dolly! His work with Pearl Bailey (1918–1990) was the highlight of a long friendship—he had helped Bailey get a start in show business in 1945.
Popular in his eighties
Calloway's appearance in the 1980 film The Blues Brothers gave him the opportunity to perform "Minnie the Moocher" for an audience young enough to be his grandchildren. Dressed in a white suit with tails, he made the song the highlight of the film. Critics praised Calloway, and his popularity soared. Calloway continued to perform into his eighties, sometimes joined by his daughter Chris. The Philadelphia Inquirer observed that "his moves have slowed a bit since the '30s.… But every bit of his voice is still there—and every bit of the style and grace that made the legend."
Cab Calloway died in November 1994, five months after suffering a stroke. He was survived by his wife, Nuffie, whom he married in 1953. When once asked if he had any heroes in the music business, Calloway scoffed at the very idea. "I'll tell you who my heroes are," he said. "My heroes are the notes, man. The music itself. You understand what I'm saying? I love the music. The music is my hero."
View the full website biography of Cab Calloway.