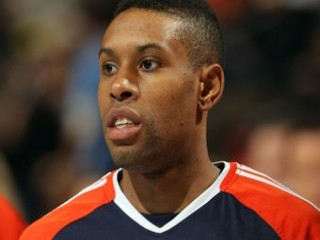 C.J. Watson
Date of birth : 1984-04-17
Date of death : -
Birthplace : Las Vegas, Nevada, USA
Nationality : American
Category : Sports
Last modified : 2011-04-04
C.J. Watson, Jr. is an American professional basketball player who currently plays for the Chicago Bulls of the NBA. He is 6' 2" (1.88 m) tall and plays the point guard position.

Career history:

Bipop Carire Reggio Emilia (2006–2007)
PAOK B.C. (2006–2007)
Rio Grande Valley Vipers (2007–2008)
Golden State Warriors (2008–2010)
Chicago Bulls (2010–present)

2009-10 (Golden State):

Appeared in 65 games (15 starts), and averaged 10.3 ppg, 2.8 apg, 2.6 rpg and 1.58 spg … averaged career highs in points, rebounds, assists, steals and minutes while shooting a career-high .468 from the field … made 15 starts, and posted 15.4 ppg, 4.7 apg, 3.8 rpg, and 2.13 spg in 38.8 mpg … scored a career-high 40 points versus. SAC (02/17) … posted the highest assist-to-turnover ratio on the team with 2.5 assists per turnover … recorded multiple steals on 29 occasions, including a career-high seven thefts versus BOS (12/28) … scored 20-plus points in three straight games (02/16-02/19), the first time in his career he had accomplished this run … scored in double-figures 32 times, including 20-plus points seven times, and one game with 40 points … missed 14 games due to injury/illness (six games with fractured ribs, five games with the flu and four games with a laceration on his right hand) … registered two DNP-CDs.

COLLEGE:

Played four seasons at the University of Tennessee … finished his collegiate career in Knoxville as the second all-time leader in assists (577), second in steals (198), sixth in three-point field goal percentage (.396), tied for eighth in three-point field goals (401) and 15th in scoring (1,424 points) … started 118 of his 119 career games … earned Second Team All-SEC honors from The Associated Press and the SEC coaches following his senior year … following his collegiate career, he was named to the Volunteers' All-Century Basketball Team.

PERSONAL:

Full name is Charles Akeem Watson, Jr. ... is the son of Charles and Cathy Watson … he has one brother, Kashif Watson, and one sister, Vonyetta Brooks ... received the nickname C.J. from his father when he was a young child ... was an active participant in the Warriors community relations efforts ... he distributed free tickets to the team's preseason games to fans at the City Center Bart Station ... he teamed with Southwest Airlines to hold the C.J. Watson Essay Contest during the 2008-09 season, in which two fifth graders from W.P. Williams Elementary School in Watson's hometown of Las Vegas were rewarded for their winning essays about an event in black history that they felt most changed or influenced America's way of life with an all-expenses paid trip to Oakland to see a Warriors game ... in previous seasons, he visited a local Boys & Girls Club, made an appearance at a session of Warriors Basketball Camp and took part in the Oracle Basketball Clinic at the Warriors Practice Facility ... he has participated in Golden State's Hoops For Hope program ... he majored in psychology at Tennessee … he was a two-time Nevada state Player of the Year in high school and he led his high school to a pair of state championships ... he attended the same high school as NBA guard Marcus Banks and NFL running back Steven Jackson ... he enjoys reading, yoga, golf, bowling and playing Nintendo Wii in his spare time ... he collects basketball cards and sneakers ... he lists his parents and grandparents as the people he admires most ... he is a fan of the Indianapolis Colts and the New York Yankees ... he has a daughter, Ayanna Watson (born 10/05/07).


View the full website biography of C.J. Watson.