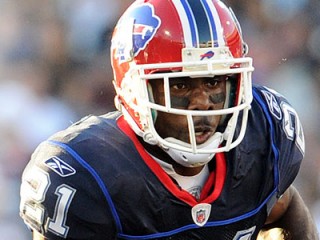 C. J. Spiller
Date of birth : 1987-08-05
Date of death : -
Birthplace : Lake Butler, Florida
Nationality : American
Category : Sports
Last modified : 2010-11-24
Clifford "C.J." Spiller Jr. is an American Football running back for the Buffalo Bills of the National Football League.

PRO:
Drafted in the first-round (9th overall) of the 2010 NFL Draft…fifth draft pick taken from Clemson in Bills history, 19th Tiger draft pick in school history and fifth top 10 selection

COLLEGE:
Led the Atlantic Coast Conference in all-purpose yards with 7,588 in his career, finishing second in NCAA Division I history… first player in conference history with at least 1,000 yards rushing (1,212) and 500 receiving (503) in the same season (2009)… tied an all-time NCAA record with eight kickoff return touchdowns… joins Saints RB Reggie Bush as the only college football players in history with 3,000 yards rushing (3,547), 1,500 yards on kickoff returns (2,052), 1,000 in receiving (1,420) and 500 in punt returns (569)… set 31 Clemson records including all-purpose running, returns for touchdowns and many others… sixth player in ACC history with 3,000 rushing yards and 1,000 receiving yards in a career… had 21 touchdowns of 50 yards or more… had a career-best time of 6.58 in the 60 and 10.22 in the 100 meters

2009:
College Football Performance Awards Kickoff Returner Trophy recipient, the first award at the position in college football history… unanimous All-American selection, becoming first player in Clemson history to receive that honor… finalist for the Doak Walker Award, given to the nation's top running back… first-team All-ACC choice and named ACC Player of the Year, becoming the first Tiger since 1987 (Michael Dean to receiver that honor)… finished sixth in the 2009 Heisman Trophy voting… returned four kickoffs and a punt for touchdowns, ranking second in the ACC and 14th in the country with an average of 32.83 yards on 23 kickoff returns for 755 yards… led the team with a career-best 1,212 rushing yards and 12 touchdowns on 216 carries… finished third on the team with 36 catches for 503 yards and four touchdowns… set a school-record with 128 points, as his total of 21 scores tied the ACC season-record that was set in 1970 (Don McCauley)… broke the school and ACC season-record with 2,680 all-purpose yards to rank fourth in the nation

2008:
All-American honorable mention by The NFL Draft Report and Sports Illustrated... All-ACC first-team selection as a kick returner and second-team honors as a running back… finished second on the team with 629 rushing yards on 116 carries with seven touchdowns… ranked fourth on the team with 34 catches for 436 yards and three scores… led the Tigers with 1,770 all-purpose yards and 11 total touchdowns… average of 147.5 all-purpose yards per game led the ACC and ranked 21st in the nation

2007:
Associated Press All-ACC honorable mention as a return specialist… joined Doug Thomas (1990) as the only player in school history to return two kickoffs for touchdowns in the same season… ranked second in the ACC and 14th in the nation with 19 kickoff returns for 547 yards… earned five starts at running back, carrying the ball 145 times for 768 yards and three touchdowns… led the Tigers with 1,723 all-purpose yards and ranked fourth in the ACC with an average of 132.54 yards per game

2006:
Led the team and was second in the ACC with five 100-yard rushing games… set a school freshman record, leading ACC freshman in rushing yards per game… averaged 7.3 yards per carry, the best by any ACC player since 1995 (Warrick Dunn), the fourth-best mark in the nation and conference history… second in the ACC in all-purpose yards per game (108.8)… posted two 150-yard rushing games in the final two contests becoming the first Tiger running back to gain at least 150 rushing yards in back-to-back games since 1988 (Terry Allen)… posted 938 rushing yards, third-most by a Tiger freshman… set a school record for all-purpose yards (1,415) and touchdowns (10)… earned ACC Rookie of the Week honors three times… added 19 catches for 219 yards… had six touchdowns of 50 yards or more, most in Clemson history in a season

PERSONAL:
Graduated with a degree in Sociology… totaled 5,511 rushing yards on 541 carries in his career at Union County (Lake Butler, FL) High School…scored 93 career touchdowns… three-time all-state selection… tabbed first-team USA Today and Parade All-American... EA Sports second-team All-American… played in the U.S. Army All-American game and selected for the California-Florida High School All-Star game… as a senior, carried the ball 176 times for 1,840 yards along with 30 touchdowns, added 15 catches for 249 yards… one of the top track athlete in Florida and the state champion in the 100m (10.42) and 200m… won the 100m at the Golden West Meet, a national meet held in June, 2006 in California, finishing second in the 200m… played shooting guard in basketball.

View the full website biography of C. J. Spiller.