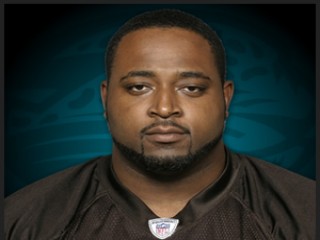 C.J. Mosley
Date of birth : 1983-08-06
Date of death : -
Birthplace : Fort Knox, Kentucky
Nationality : American
Category : Sports
Last modified : 2010-11-17
Calvin Michael "C. J." Mosley, Jr. is an American football defensive end for the Jacksonville Jaguars of the National Football League.

Originally drafted by Minnesota in the sixth round (191st overall) of the 2005 draft … Traded to New York Jets on 8/31/06 … Signed by Cleveland as unrestricted free agent on 3/6/09 … Released on 9/4/10 … Signed by Jacksonville as free agent on 10/5/10.

Sixth-year defensive lineman has played in 59 games with six starts … Career totals include 80 tackles and eight sacks … Originally drafted in the sixth round by Minnesota in 2005 and was traded to the New York Jets in 2006 … Spent the 2009 season with Cleveland where he played in 12 games with one start … Recorded career-high three sacks as a rookie in 2005 … Three-year letterman at Missouri and totaled 15.5 sacks in 36 games.

2009

Appeared in 12 games and made one start … Totaled 18 tackles (13 solo) … Tied career-high with seven tackles on 10/11 at BUF … Made only start on 12/6 vs. SD but left game in the first quarter with an ankle injury … Was placed on injured reserve on Dec. 7…

2008
Played in all 16 games for the first time in his career, making one start … Finished with 22 tackles (11 solo), two tackles for loss, 1.5 sacks, three quarterback pressures and two passes defensed … 11/2 at BUF: Split a sack of Trent Edwards … 11/13 at NE: Recorded five tackles and one sack …

2007
Played in 14 games with two starts at nose tackle … Had 14 tackles (eight solo), 2.5 sacks and two forced fumbles … 11/18 vs. PIT: Split a sack with Shaun Ellis on Ben Roethlisberger, one of seven Jets sacks … 11/22 at DAL: Sacked and forced a fumble on Tony Romo … 12/2 at MIA: Posted two tackles and sacked John Beck for a nine-yard loss, forcing a fumble … 12/9 vs. CLE: Made his first start of the season …

2006
Appeared in five games with the Jets after being traded from the Vikings … Was acquired by the Jets along with an undisclosed draft pick for quarterback Brooks Bollinger … Recorded seven tackles (six solo) and one sack … 10/8 at JAX: Made his Jets debut in defensive line rotation … 12/17 at MIN: Registered a sack of Brad Johnson in his first game against his old team …

2005
Played in 12 games with two starts for Minnesota … Totaled a career-high 24 tackles (16 solo), 3.0 sacks, one pass defensed and one forced fumble … 11/27 vs. CLE: Posted seven tackles including two sacks and forced a fumble of Trent Dilfer … 12/4 at DET: Made his first career start and recorded three tackles and one sack of Jeff Garcia along with a pass defensed.

COLLEGE

Recorded 167 tackles (111 solo), 15.5 sacks and 38 tackles for loss in 36 games at Missouri … Added two forced fumbles, two fumble recoveries, three passes defensed and one blocked kick … Earned Associated Press All-Big 12 first-team honors as a senior, finishing with 6.5 sacks … Had 67 tackles including 16 for a loss and ranked second on the team with six sacks as a junior … Named second-team All-Big 12 … Played in all 12 games as a sophomore and registered 41 tackles, eight tackles for loss and three sacks … Redshirted in 2001 … Majored in hotel and restaurant management.

PERSONAL

Married (Cassandra) … Attended Waynesville High (MO) … Named Missouri's Defensive Lineman of the Year as a junior and senior … Three-time all-district and all-state selection … Career totals included 21 sacks and 267 tackles … Finished third in the state in shot put in 2000 … Father, Calvin Sr., is retired First Sergeant in the Army … Was born in Ft. Knox (KY) and lived in Germany, California, Georgia, Kansas and Kentucky before settling in Missouri for high school … Visited patients at the Atlantic Health Hospital in New Jersey in 2007 … Visited patients at the Bristol-Myers Squibb Children's Hospital at Robert Wood Johnson University Hospital in New Brunswick, New Jersey in 2006 … C.J. and his grandfather, Richard Hope, his two brothers, Theo Hightower and William Mosley, and sister, Michelle Mosley, honor the memory of their mother, Angela Mosley, who passed away from breast cancer in April 2007 at age 46 … Mosley has dedicated his football career to his mother … Full name: Calvin Michael Mosley.

View the full website biography of C.J. Mosley.