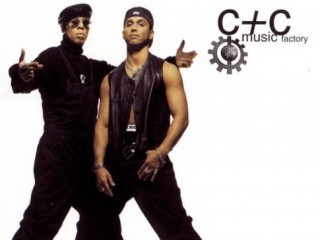 C + C Music Factory
Date of birth : -
Date of death : -
Birthplace : New York City, New York, U.S.
Nationality : American
Category : Arts and Entertainment
Last modified : 2012-04-18
C+C Music Factory is an American dance-pop and hip hop group formed in 1989 by David Cole and Robert Clivillés that stopped recording in 1996, following Cole's death. In 2010 C+C Music Factory reformed with Eric Kupper replacing Cole.

In 1991 the musical equation, "Rock + Soul + Funk + Pop + Techno = C + C Music Factory," flashed across C + C Music Factory's first video, Gonna Make You Sweat (Everybody Dance Now) and was printed on their first album. The Cs in the group's moniker stand for Robert Clivilles and David Cole, the originators, producers, and driving force behind C + C Music Factory.

The producing duo created the group, not as a band, but as a vehicle for new and rotating musicians who follow the musical equation. Clivilles and Cole shaped the sound and image of the group mostly from the other side of the microphones, like well-known producer Phil Spector did in the 1960s. They also played drums, percussion, and keyboards, wrote all the songs, and arranged the music. "We want to use this project as a means of discovering and introducing new talent to the industry," Clivilles told Billboard. "This will not be a factory in the sense of cranking out the same old thing over and over again, but rather a factory where untapped talent is always being developed. In no way, shape, or form is this going to sound like an assembly line."

Clivilles and Cole met in New York, where they both worked at Better Days nightclub in 1985. Cole played live keyboards, adding music and sound effects on top of the records Clivilles spun as the DJ. As they got to know each other, they decided to become a production/songwriting team. Two years later, they released their first production--"Do It Properly" by the performers who billed themselves as 2 Puerto Ricans. The song instantly became an underground dance club hit. "We were born in dance music," David Cole told Jay Cocks in Time. "We are disco babies." Added Robert Clivilles, "They tried to kill disco, and it's back. They just call it dance music now."

By the end of the 1980s, Clivilles and Cole had produced several club and pop hits for A&M Records subsidiary Vendetta Records. Their list of smashes included Seduction's crossover hit "Two To Make It Right." When the head of Vendetta, Larry Yasgar, moved to Columbia Records, he introduced the production team to the label's president, Don Ienner. In 1991 Columbia Records released C + C Music Factory's first LP, Gonna Make You Sweat. The first artists behind the group included rapper Freedom Williams and singers Martha Wash and Zelma Davis. The album sold more than 6.5 million copies worldwide and spawned several major hit singles, including "Gonna Make You Sweat (Everybody Dance Now)," "Here We Go," and "Things That Make You Go Hmmmm...."

Martha Wash, the signature voice behind the group's first single "Gonna Make You Sweat," challenged C + C Music Factory's success by filing two lawsuits against Clivilles and Cole. First, Wash alleged that the team hadn't credited her properly on the album, then she complained that they didn't include her in the video, supposedly because of her weight. Cole and Clivilles took the lawsuits and the attacks as gracefully as they could, while promoting Zelma Davis, the other female vocalist, as much as possible. In the video, Davis mouthed the words originally sung by Wash, causing many to question her honesty and validity as a singer for the group. "We've always been in Martha's corner," Cole told Time. "Her [latest] gripe is that she wasn't in the video. She sued us the day after she did the [vocal] session! If someone is trying to burn your house down, do you invite them for dinner?"

C + C Music Factory continued promoting the album on the Club MTV Tour, along with Bell Biv DeVoe, Tony! Toni! Tone!, Gerardo, Color Me Badd, and Tara Kemp. In 1992 the group won five awards at the American Music Awards, including dance music single, dance artist, new dance artist, best pop rock group, and favorite new pop artist.

As their creation took off in sales and popularity, Cole and Clivilles released Greatest Remixes Vol. 1, a collection of singles including two C + C Music Factory songs and new versions of songs already performed by various artists. In response to Clivilles and Cole taking the credit for the success of the group, Freedom Williams left C + C Music Factory in a bitter split. Like Martha Wash, he filed a lawsuit against the producing duo claiming damages totaling $10 million. Williams charged them with breach of contract and failure to pay royalties for publishing, merchandising, and recording. "Robert and David did not give me the talent I have, or create my appearance," Williams told Billboard. "Those were things that I brought to the project. C + C Music Factory was a joint effort that we could all be proud of, but all of that is behind me now."

Cole and Clivilles continued producing music and cultivating artists outside of their own project. In 1993 they won the Album of the Year Grammy Award for The Bodyguard soundtrack. By the following year, they had settled their lawsuits with Martha Wash, and she appeared alongside Zelma Davis and Audrey Wheeler on Anything Goes! Davis and Wash also both appeared on the video for the single "Do You Wanna Get Funky." The trio of singers called Trilogy replaced Freedom Williams' post on vocals. "We asked Freedom to work on the new album, and he said no," Clivilles told Billboard after the release of Anything Goes!. "But Trilogy defines today's vibe the way Freedom defined the vibe of the first album's time."

Tragedy hit the C + C Music Factory collective on January 24, 1995. David Cole died of complications resulting from spinal meningitis, sending a wave of shock and uncertainty into the future of the group. The act's recording contract with Columbia had also expired several days after Cole's death, which added to the rumors of the group's demise. Columbia created even more sparks by releasing a remix of the groups previous hits in a compilation called The Ultimate. "We actually knew the label was going to drop us before David died," Clivilles told Billboard. "There is no connection between the two events. Our final word on the subject is that we're glad to have had the success we did with Columbia. Time to move on."

Clivilles did move on to MCA Records and continued to oversee C + C as a sole proprietor. One week after Columbia released The Ultimate, Clivilles released "I'll Always Be Around," the first single from his initial effort without Cole. "It was always David's and my intention for C + C Music Factory to be an ongoing source of exposing new talent," Clivilles told Billboard. "I couldn't let that dissolve with David's passing. We worked way too hard to get to the point where the C + C name carried weight in the music industry to let it slip away."

On December 5, 1995, C + C Music Factory was released on MCA Records. Clivilles produced, wrote, recorded, and mixed the album at his own studio, C&C's House of Sound in New York City. The new talents included Vic Black and the female trio A.S.K. M.E., which included April Allen, Sheree Hicks, and Kera Trotter. (A.S.K. M.E. stands for April, Sheree, and Kera Moving Everybody.) C + C Music Factory also included guest appearances from rappers Greg Nice, Charlie Brown, and Doug Phat.

After 13 years together, Clivilles insisted on continuing Cole's memory and inspiration by keeping the machines moving in C + C Music Factory. Clivilles stated the fact in the group's MCA biography: "People are going to hear David's inspiration in it, because, damn it, we'd been together for 13 years! It's a style we created. Now that I have to do this by myself, I think you're always going to hear a piece of David in it. That's just the way it is."

In 2010 C+C Music Factory reformed with Eric Kupper stepping in to replace Cole. Their first soft release was the single "Live Your Life" as C+C Music Factory Presents Scarlett Santana in early 2010 on a Bill Coleman Remixxer Compilation album. A new release single, "Rain" by Scarlett Santana featuring CnC Music Factory, was released in August 2011.
View the full website biography of C + C Music Factory.