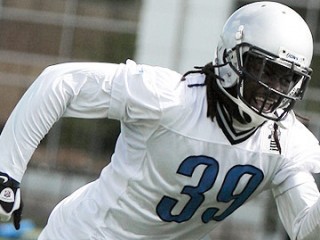 C.C. Brown
Date of birth : 1983-01-27
Date of death : -
Birthplace : Greenwood, Mississippi
Nationality : American
Category : Sports
Last modified : 2010-12-10
C.C. Brown is an American football safety who currently plays for the Detroit Lions.

2010: Teams' starting strong safety.

* Amassed 6 tackles (5 solo), a pass defensed and a forced fumble in season opener at Chicago (9/12).
* Tallied 5 solo tackles and a pass defensed vs. Philadelphia (9/19).
* Recorded a team-best 7 tackles (5 solo) at Minnesota (9/26) and added a pass defense.
* Came away with 7 tackles (6 solo) and 1 pass defense at New York Giants (10/17).
* Left game early with injury to right knee against Washington (10/31).
* Inactive against the New York Jets (11/7) due to knee injury.

2009: Saw action in all 16 games with 7 starts and totaled 63 tackles (51 solo) and 2 pass defenses.

* Started at strong safety and finished with a team-high 10 tackles (7 solo) at Kansas City (10/4). Stopped RB Larry Johnson for no gain in the fourth quarter and forced a RB Jamaal Charles fumble on the game's opening kickoff that was recovered by LB Bryan Kehl to set up a WR Steve Smith 6-yard touchdown receptions.
* Finished with a team-high 11 tackles (10 solo) vs. Arizona (10/25). Also added a forced fumble.
* Recorded a team-high 9 tackles (6 solo) at Philadelphia (11/1).

2008: Started all three games played on the season before fracturing his right forearm in the four quarter at Jacksonville (9/28). Finished the season with 15 tackles (12 solo) and a pass defensed.

2007: Played and started in all 16 games for the first time in his career. Finished fourth on the team with 83 tackles (64 solo), the second-highest tackle total of his career. Also added an interception, 9 pass defenses, 2 forced fumbles and 3 fumble recoveries on the season.

* Started at strong safety at Carolina (9/16) and recorded 6 tackles (4 solo), a pass defensed and a fumble recovery.
* Served as a game captain and made 8 tackles (7 solo) vs. Indianapolis (9/23).
* Tied for the team lead with 8 solo tackles, 2 pass defenses an dregistered his third career interception vs. Miami (10/7), returning the pick 9 yards.

2006: Started and played in 15 games, inactive once due to injury. Finished with 65 solo tackles and first career sack vs. Dallas (10/15). Also tied career-high with 3 pass defenses.

* Started and recorded a career-high 10 tackles and first career sack against QB Drew Bledsoe for a 10-yard loss at Dallas (10/15).
* Totaled 3 tackles, a pass defensed and a forced fumble that resulted in a 58-yard touchdown return by CB DeMarcus Faggins at Oakland (12/3).
* Intercepted his first pass of the season, picking off QB Charlie Frye in the end zone for a touchback in the season finale vs. Cleveland (12/31).

2005: Started 13 of 16 games during his rookie campaign and led the secondary with 102 tackles. Also had an interception, 4 pass defenses and a forced fumble.

* Collected 8 tackles as a starter in regular season debut at Buffalo (9/11).
* Recorded first career forced fumble when he stripped KR Dante Hall in the third quarter vs. Kansas City (11/20).
* Recorded 7 tackles during his first professional start at free safety at Baltimore (12/4).
* Had his first career interception (5-yard return) and made 4 tackles vs. Arizona (12/18).
* Led the secondary with 10 tackles vs. Jacksonville (12/24).

COLLEGE:
Spent two seasons at Louisiana-Lafayette and started all 23 games of career with the Ragin' Cajuns. Was a two-time All-Sun Belt Conference selection and played in the 2005 Hula Bowl.
* Transferred from Mississippi Delta Community College in Moorehead, Miss. Collected 168 tackles, including 9.5 for loss, 2 interceptions, 6 pass defenses and a sack during collegiate career.
* Led team with a career-high 101 tackles and two tackles for loss as a senior, earning first-team All-Sun Belt and team MVP honors.

PERSONAL:
Attended Greenwood (Miss.) High School, where he lettered three times in football. Born Ceandris Nehemiah Brown in Greenwood, Miss.

View the full website biography of C.C. Brown.