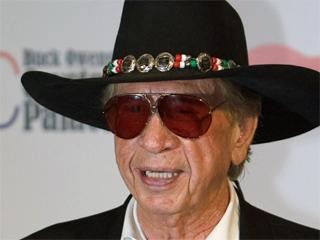 Buck Owens
Date of birth : 1929-08-12
Date of death : 2006-03-25
Birthplace : Sherman, Texas, U.S.A.
Nationality : American
Category : Arts and Entertainment
Last modified : 2011-09-08
Alvis Edgar Owens, Jr. better known as Buck Owens, was an American singer and guitarist who had 21 No. 1 hits on the Billboard country music charts with his band, the Buckaroos. They pioneered what came to be called the Bakersfield sound a reference to Bakersfield, California, the city Owens called home and from which he drew inspiration for what he preferred to call American music.

Owens was born in 1929 in Sherman, Texas, the son of sharecroppers. His nickname dated back to his toddler years, when he told his family he wanted to be called "Buck," which was the name of the mule they owned. The land the Owenses farmed was decimated by the Dust Bowl environmental crisis of the 1930s, which sent the family westward in 1937 to seek work. When their car broke down in Mesa, Arizona, they stayed there, and Owens picked cotton and corn in the fields to help support his siblings. He left school at age 13, and began playing guitar in country-and-western bands in Mesa and nearby Phoenix.

In 1948 Owens married a young woman from Mesa, Bonnie Campbell, and they moved to California a few years later. They settled in Bakersfield, in the San Joaquin Valley about 100 miles north of Los Angeles, which Owens had discovered when he was driving a truck for a living. Joining the honky-tonk music scene there, he also worked as a session musician in Los Angeles before forming his own band, the Buckaroos, when Capitol Records signed him in 1957.

Within a few years Owens had enjoyed some minor hits and refined his trademark sound. He used a Fender Telecaster, made by guitar innovator Leo Fender, which gave his music an appealing twang but more importantly could be heard above the noisy din in the bars where the Buckaroos played. His first No. 1 single came in 1963, "Act Naturally," and he became one of the best-selling country-and-western recording stars of the next decade. Owens' long string of hit records that followed came to epitomize the Bakersfield sound, which New York Times writer Jeff Leeds described as "a raw, electrified take on traditional country that served as an alternative to the lush, string-heavy sound that dominated Nashville."
In 1967, Owens and his band made a historic tour of Japan and recorded a live LP, Buck Owens in Japan , that is believed to be the first country music album ever recorded outside the United States. He was a major star by 1969, with his records regularly selling a million copies, but found it hard to turn down the money when television producers offered him a co-host slot on a new syndicated series, Hee Haw . The show featured musical acts interspersed with comedy sketches of a distinctly hillbilly flavor, and was an immense success at its debut. Owens co-hosted the weekly show with Roy Clark, and stayed on until 1986, five years before one of the longest running shows in U.S. television history ended. He later said that he regretted staying on so long, believing that it cemented his public persona as that of a comedian, not a musician.

Owens' career suffered a major setback in 1974, when his longtime guitarist in the Buckaroos, Don Rich, died in a motorcycle accident. Grief-stricken for a number of years, and locked in a legal battle with Capitol Records over the rights to his master recordings, Owens vanished from the stage for many years and had no more hit records. An unexpected revival came in the late 1980s, when a new Bakersfield singer, Kentucky-born Dwight Yoakam, sought him out. The two recorded a duet, "Streets of Bakersfield," that in 1988 became Owens' first No. 1 single since 1972.

A savvy investor who eventually won his legal battle over his master recordings, Owens saw his fortune grow over the years thanks to real estate and radio station acquisitions. In 1996 he opened Buck Owens' Crystal Palace, a restaurant and concert venue that soon became a Bakersfield landmark. He died in his sleep of a heart attack on March 25, 2006, at his Bakersfield home. Earlier that night, he had been scheduled to perform at the Crystal Palace, but felt unwell after dinner and decided to cancel. In the parking lot, he encountered some customers who told him they had driven all the way from Oregon to see him play that night; Owens turned around and went back inside to do the show.

Divorced three times, Owens was the father of three sons, one of whom had a few country-music hits under the name Buddy Alan in the 1970s. Two more sons, Michael and Johnny, survive him, as do ex-wives Phyllis and Jennifer. He once said, according to CNN.com, that he hoped "to be remembered as a guy that came along and did his music, did his best and showed up on time, clean and ready to do the job, wrote a few songs and had a hell of a time."

View the full website biography of Buck Owens.