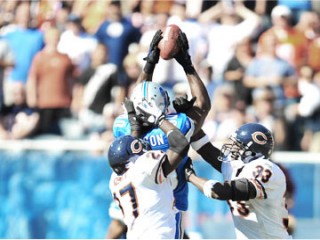 Bryant Johnson
Date of birth : 1981-03-07
Date of death : -
Birthplace : Baltimore, Maryland
Nationality : American
Category : Sports
Last modified : 2010-12-13
* Signed with the Detroit Lions as an unrestricted free agent March 2, 2009.
* Signed with the San Francisco 49ers March 17, 2008.
* Drafted by the Arizona Cardinals in the first round (17th overall) of the 2003 NFL Draft.

PRO:
Signed with the Lions in 2009 as an unrestricted free agent after spending the 2008 season with the 49ers. In his first season with Detroit, Johnson had 35 receptions and was second on the team with 417 receiving yards while starting all 16 games.

* Johnson played in all 16 games in his only year with San Francisco, starting in 12, and finished second on the team with 45 receptions for 546 yards (12.1 avg.) and three touchdowns.
* Prior to his stint in San Francisco Johnson spent the first five years of his career with the Cardinals (2003-07). While in Arizona Johnson saw action in 77 games (39 starts) and recorded 210 receptions for 2,675 yards (12.7 avg.) and nine touchdowns.

2010: Serves as a back-up wide receiver.
* Caught one pass for 24 yards in season opener at Chicago (9/12).
* Had three catches for 23 yards at Green Bay (10/3).
* Inactive at Dallas (11/21).
* Caught two passes for 26 yards against New England (11/25).
* Inactive against Chicago (12/5).

2009: Started all 16 games, making 35 receptions for 417 yards (11.9 avg.) and three TDs on the year.
* Caught four receptions for 45 yards in season opener at New Orleans (9/13).
* Recorded first touchdown of the season on a 21-yard pass from QB Matthew Stafford vs. Washington (9/27). Finished with 4 receptions for 73 yards.
* Recorded second touchdown of the season at Seattle (11/8) with an impressive one handed grab in the back of the end zone.
* Gained 42 yards, tying a season-best with four receptions vs. Chicago (1/3). Caught his third touchdown of the season on a 12-yard completion from Daunte Culpepper.

2008: Played in all 16 games with 12 starts. Was second on the team in receiving with 546 yards on 46 receptions and 3 touchdowns.
* Started at Seattle (9/14) and led team with six receptions (78 yards), which included a three-yard touchdown score in the second quarter to mark his first with the 49ers.
* Started his second game of the season replacing WR Josh Morgan (groin injury) and recorded his second touchdown of the season on a two-yard pass from QB Shaun Hill vs. St. Louis (11/16).
* Registered six catches for 49 yards, including a three-yard touchdown pass from Hill in the fourth quarter to help solidify the 24-14 victory vs. the Jets (12/7).
* Caught a 24-yard pass from hill with 0:31 seconds remaining in the fourth quarter vs. Washington (12/28) to move the 49ers into field goal range, leading K Joe Nedney's game-winning field goal in a 27-24 win.

2007: Saw action in all 16 games with eight starts, totaling 46 receptions for 528 yards with two touchdowns. caught at least one pass in every contest during season.
* Started in place of an injured WR Anquan Boldin vs. Pittsburgh (9/30) and caught four passes for 40 yards.
* Posted a six-catch, 80-yard performance at St. Louis (10/7).
* Caught six passes for 56 yards with one touchdown in start vs. Cleveland (12/2).

2006: Played in 16 games with eight starts and posted 40 catches for a career-high 740 yards (18.5 avg.) with a career-high four touchdowns. Caught eight passes of 35+ yards and three passes of 50+ yards as his 18.5 average ranked third in NFL among receivers with 30+ catches.
* Caught six passes for 82 yards vs. Kansas City (10/8) in second start of season, which included an acrobatic catch on fourth down to keep game-tying drive alive in fourth quarter.
* Recorded three receptions for 87 yards, including a career-long 58-yard reception in fourth quarter at Oakland (10/22).
* Posted a game-long 56-yard touchdown catch vs. Seattle (12/10) as part of a three-catch, 81-yard performance.

2005: Saw action in 14 games with four starts, posting 40 catches for 432 yards with one touchdown. Inactive at Detroit (11/13) and at St. Louis (11/20) with shoulder injury.
* Made first start of the season and caught six passes for 66 yards, including his first touchdown of season on a pass from QB Kurt Warner vs. Seattle (11/6).
* Returned from injury to record five catches for 77 yards in fourth quarter vs. Jacksonville (11/27).

2004: Started 11 of 16 games played, posting 537 receiving yards on a career-high 49 catches with one touchdown after missing entire season in preseason with a stress fracture in foot.
* Notched a season-high seven catches for 54 yards vs. Seattle (10/14).
* Recorded four receptions for 48 yards and returned three kickoffs for 77 yards, including one return for 47 yards down to Lions 38-yard line to set up field goal at Detroit (12/5).

2003: Saw action in 15 games with eight starts, totaling 35 catches for 438 yards with one touchdown. Finished third among NFL rookie receivers behind teammate Anquan Boldin (101 receptions) and Houston's Andre Johnson (66 receptions).
* Made first career start as three wideouts were inactive due to injury vs. Seattle (9/14), responding with a career-high seven receptions for 68 yards.
* Caught six passes for season-high 86 yards following week vs. Green Bay (9/21).
* Suffered shoulder injury at Dallas (10/5) and was inactive the following week vs. Baltimore (10/12).
* Recorded three second-half receptions for 76 yards vs. Cincinnati (11/2), including a 54-yadrer from QB Jeff Blake with :17 seconds left as he caught ball near goal line and tumbled into end zone for first NFL touchdown catch in 17-14 win.

COLLEGE:
Only sixth player in Penn State history to catch over 100 career passes, ranking fourth in school annals in receptions (110) and second in reception yardage (2,008) for an 18.3-yard average and 10 touchdowns. Only Bobby Engram (3,026 yards, 1991, 93-95) garnered more yards for the Nittany Lions.
* Led team in receptions final two years.
* Returned 41 punts for a single season school record of 528 yards (12.9 avg.), topping Branch's 464-yard 1999 effort.

PERSONAL:
Attended Baltimore City (MD) College High School, where he was named first-team all-metro, all-city, all-county and all-Maryland after posting career totals of 97 receptions for 2,297 yards with 31 scores, 54 carries for 378 yards with four scores and 38 kickoff returns for 950 yards with five scores. Added 165 tackles, 12 sacks and three interceptions during career.
* Voted 1998 Baltimore Touchdown Club's offensive player of the year after recording 37 catches for 834 yards with 11 touchdowns at wide receiver and registering 77 tackles, six sacks and one interception as a defensive back during senior season.
* Lettered two years in basketball, serving as team captain.
* Lettered three years in track, anchoring school's winning relay teams at 1998 Penn Relays and posting a 10.65 time in 100 meters.
* Returned to school and earned sociology degree in spring of 2005.
* Born Bryant Andrew Johnson (3-7-81) in Baltimore, MD.

View the full website biography of Bryant Johnson.