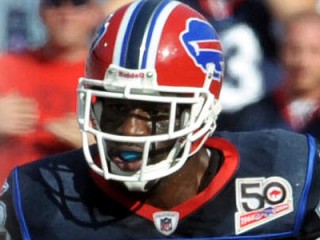 Bryan Scott
Date of birth : 1981-04-13
Date of death : -
Birthplace : Warrington Township, Pennsylvania
Nationality : American
Category : Sports
Last modified : 2010-11-23
Bryan Scott is an American football safety for the Buffalo Bills of the National Football League.

PRO: Signed by the Bills as an unrestricted free agent on September 12, 2007 after being released by the Titans on 9/1/07, who signed him as an UFA on 3/26/07… Played in New Orleans in 2006 after being traded by the Falcons on 4/6/06… Entered the NFL as a 2003 Atlanta Falcons draft pick (2nd round, 55th overall) and played with the Falcons through the 2005 season

CAREER:
* Teams are 4-1 when Scott records an interception

2009:
* At NE (9/14) Tied a career-high and tied for second on the team with 10 tackles.
* vs. TB (9/20) Registered his first interception as a Bill and first since 12/4/05 with ATL at Car. Added nine tackles including a TFL and two passes defensed.
* at MIA (10/4), vs. CLE (10/11), at NYJ (10/18), at CAR (10/25), vs. HOU (11/1) Inactive due to injury (high ankle sprain).
* at TEN (11/15) Started at the linebacker position (for first time in his career) and posted nine tackles. Added one tackle on special teams.
* at JAX (11/22) Made his 50th career start (second of career at LB). Recorded nine solo tackles and first sack of the season. Added a forced fumble, a QB hit and a pass defensed that led to Wilson's INT.
* at KC (12/13) Recorded a game-high and tied a career-high with 10 solo tackles including two tackles for loss. Added 1.0 sacks and a quarterback hit. Made his fifth consecutive start at linebacker.
* at ATL (12/27), vs. IND (1/3) Inactive (concussion)

2008:
* Recorded his only sack of the season at Mia. (10/26), stalling a Dolphins drive which forced Miami to settle for a field goal…sack was his first since 2005
* Recovered a fumble vs. SF (11/30), his first of the season and fourth of his career
* Had a season-best 10 tackles (all solo) and one for a loss vs. Mia. (12/7)

2007:
* Signed as a free agent on Sept. 25, 2007 and recorded 20 tackles and one pass defensed… Added 13 special teams tackles
* Made first start of the season vs. NYG (12/23)
* At Phi. (12/30), made second start of season and posted his sixth career forced fumble jarring the ball loose from Reggie Brown… Was his first FF on defense since 10/24/04 at KC while with the Falcons

2006 – SAINTS
* Totaled nine tackles on defense and added eight on special teams, playing in nine games in a reserve role
* Forced fumble on kickoff coverage at Pit. (11/12), but Steelers retained possession
* Vs. Car. (12/31), posted team and season-high nine tackles
* Played in a reserve role and on special teams in NFC Divisional Game victory vs. Phi. (1/13)
* Recorded one tackle on defense in NFC Championship Game at Chi. (1/21)

2005 – FALCONS
* Appeared in 16 games making 13 starts at free safety
* Registered 73 tackles, five special team tackles, one sack, one interception and career-high seven passes defensed
* Recorded only sack of season vs. Min. (10/2)
* Set a team and career-high with 10 tackles at NO (10/16) and had three passes defensed
* Recovered fumbled snap vs. NYJ (10/24); takeaway led to a Falcons TD
* Posted one interception at Car. (12/4)

2004 – FALCONS
* Started all 16 games at strong safety and ranked third on team with career-high 88 tackles and 2.5 sacks
* Added one forced fumble, one fumble recovery and 10 tackles on special teams
* Registered first NFL sack at SF (9/12), and added one in the following game vs. STL (9/19)
* Recovered a fumble vs. Ari. (9/26) to enable Falcons to run out the clock in a 6-3 win
* Posted an interception, a sack, and forced a fumble at Car. (10/3)
* Notched career-high 10 tackles vs. Car. (12/18)
* Contributed seven tackles in NFC Championship game victory at Phi. (1/23)

2003 – FALCONS
* Played in 15 games with six starts and totaled 63 tackles, career-high two interceptions, three fumbles forced and one fumble recovery
* Added four passes defensed and tied for team-high with career-high 13 tackles on special teams
* Made first NFL start at CB at NYG (11/9) and hauled in first career interception while adding seven tackles and one fumble recovery
* Picked up second interception of season at TB (12/20)

COLLEGE:
Three-year starter at Penn State, playing in 48 games and ending career with 202 tackles, five interceptions, one fumble recovery and one forced fumble…Posted 77 tackles, four interceptions and 10 passes defensed in his senior season…Started every game at CB as a junior, recording 82 tackles and one sack…Graduated in May of 2003 with a degree in business management.

PERSONAL:
Scott has played the piano, drums and saxophone since his childhood days…In an initiative to uplift and empower youth, Scott created The Bryan Scott "Pick Your Passion" Foundation For The Arts which encourages participation in music, visual and performing arts…Performed with recording artist Michelle Branch on Monday Night Football's music competition "Monday Night at the Mic" in 2003…At Central Bucks (Doylestown, Penn.) High School earned AP Pennsylvania Big School Play of the Year and rushed for over 3,000 yards in his prep career…Also earned All-District for high school basketball team and All-State in track…Scott's father is an oral surgeon…Born Bryan Anderson Scott in Washington, D.C.

COMMUNITY:
Bryan participated in the 2009 Community Ticket Donation Program by donating 20 season tickets to various Community Partners in WNY. Over 200 people were part of B-Scott's Bunch and attended Buffalo Bills home games where they were also treated to food and beverage coupons compliments of Bryan.

Bryan along with some of this other fellow teammates helped serve a Thanksgiving meal at the Buffalo City Mission. This is a tradition that was started almost 20 years ago by Bruce Smith and Frank Reich. Bryan also served as a spokesperson for the 2009 Kid's Escaping Drugs Campaign, Face Your Fears. The funds that were raised benefited the Kid's Escaping Drugs Face to Face Program which is an educational outreach program that goes into the schools to help kids at an age where they are faced with difficult choices.

Bryan has also helped with a number of events that are all about the kids. Bryan was at the Children's Holiday Party where he took the microphone and lead everyone in "Rudolph the Red Nose Reindeer" to help bring Santa into the party as well as pass out presents. Bryan was also in attendance for the Cinqo-De-Mayo event at Women & Children's Hospital of Buffalo which was hosted by fellow teammate Lydell Sargeant. Bryan signed autographs, posed for pictures and helped everyone make maracas!
View the full website biography of Bryan Scott.