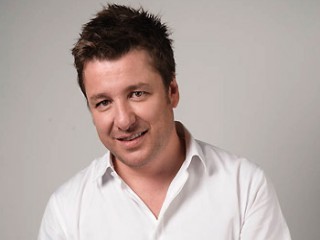 Bruno Guillon
Date of birth : 1971-06-25
Date of death : -
Birthplace : Saint-Jean-d'Angély, France
Nationality : Française
Category : Arts and Entertainment
Last modified : 2012-02-08
Bruno Guillon, né le 25 juin 1971 à Saint-Jean-d'Angély, France, est un animateur de radio et de télévision français.

Bruno Guillon anime le 6/9 d'NRJ, de 2001 à 2008, après avoir animé la tranche musicale du matin pendant trois ans. Parallèlement à la radio, Bruno fait ses premiers pas en télé sur TF1 en 2001 dans On vous aura prévenu ! aux côtés de Jean-Pierre Foucault, avant de rejoindre la chaîne Comédie en 2003.

Il participe alors en tant qu'auteur et comédien à 25 jours, 25 cris, Bad People et la Starloose Academy. En 2005, c'est l'aventure Téloose sur Comédie qui commence, où il parodie des personnalités du petit écran telles que : Patrick Sebastien, Cauet ou Laurence Boccolini…

En septembre 2008, il rejoint Virgin Radio pour présenter la tranche 17h/20h, avec Camille Combal.

View the full website biography of Bruno Guillon.