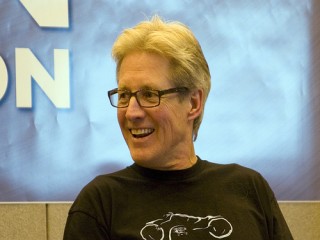 Bruce Boxleitner
Date of birth : 1950-05-12
Date of death : -
Birthplace : Elgin, Illinois
Nationality : American
Category : Arts and Entertainment
Last modified : 2010-12-19
The first time that American actor Bruce Boxleitner set foot on stage, it was with a total of four hours' preparation. While in high school, Boxleitner was forced to jump into the role of My Fair Lady's Henry Higgins when the young man originally cast in the part came down with mononucleosis the day before the show. The applause that greeted Boxleitner's debut was enough to inspire him to continue studying drama at the Goodman Theatre. His first Broadway play flopped, but he managed to secure steady work in a series of villainous supporting roles in Hollywood. With the help of fabled super-agent Jay Bernstein, Boxleitner climbed to stardom, reaching a particularly lofty rung with his four season-stint (from 1983 to 1987) as government agent Lee Stetson on the TV series Scarecrow and Mrs. King. More recently, Bruce Boxleitner was seen as fictional ballplayer "Jumpin' Joe Dugan" in the 1992 Babe Ruth biopic The Babe.

He has also appeared in several films, including Tron (in which he played the title role) and The Baltimore Bullet (1980) with James Coburn. He will reprise his role in the Tron sequel Tron Legacy, as he did for a sequel video game named Tron 2.0, and Disney/Square Enix crossover video game Kingdom Hearts II. He also starred as Confederate General James Longstreet in the 2003 film Gods and Generals. He provides the voice of Colin Barrow in the animated sci-fi horror movie Dead Space: Downfall, based on the video game Dead Space. Other films he has been in include Kuffs, The Babe, Brilliant, Snakehead Terror, Legion of the Dead, King of the Lost World, Shadows in Paradise and Transmorphers: Fall of Man.

View the full website biography of Bruce Boxleitner.