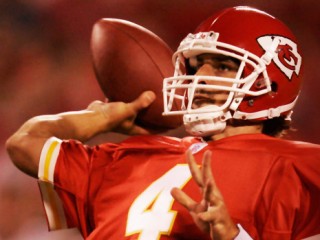 Brodie Croyle
Date of birth : 1983-02-06
Date of death : -
Birthplace : Rainbow City, Albama, U.S.
Nationality : American
Category : Sports
Last modified : 2010-09-14
John Brodie Croyle ( born February 6, 1983 in Rainbow City, Alabama) is an American football quarterback for the Kansas City Chiefs of the National Football League. He was drafted by the Chiefs in the third round of the 2006 NFL Draft. He played college football for the University of Alabama from 2002 to 2005.


Croyle's Career
Pro Career
Fourth-year quarterback attempting to rebound from an injury-shortened 2008 campaign … Was sidelined by right shoulder and left knee injuries a year ago and was limited to just two contests … Made significant progress in his off-season rehabiliation and should be ready to return to the field in 2009 … Joins QBs Matt Cassel, Tyler Thigpen and Ingle Martin to give Kansas City a stable of talented young signal callers … Has the ability to put plenty of zip on the ball and has shown a propensity for threading the pigskin through the most narrow of margins … Became the seventh-youngest QB to start for the Chiefs in club history at 24 years, nine months and 12 days when he made his initial NFL start at Indianapolis (11/18/07) ... Was the first quarterback drafted by Kansas City to start a non-replacement game since Todd Blackledge did it at Seattle (9/20/87) ... Seeks to continue the long lineage of former Alabama passers who have excelled at the pro level, a list that includes the likes of Bart Starr, Joe Namath and Kenny Stabler … Has seen action in 13 regular season games (eight starts), completing 150 of 260 passes (57.7%) for 1,401 yards with six TDs and eight INTs.
Transactions:
Signed with Kansas City (7/28/06) ... Originally entered the NFL as a third-round pick (85th overall) of Kansas City in the 2006 NFL Draft.
2008
: Started two games and was inactive for four contests … Connected on 20 of 29 passes for 151 yards for an 81.3 rating … Completed 11 of 19 passes for 88 yards before leaving the contest with a right shoulder injury when he was sacked by Patriots LB Adalius Thomas in the third quarter at New England (9/7) ... Was inactive vs. Oakland (9/14), at Atlanta (9/21), vs. Denver (9/28) and at Carolina (10/5) ... Returned to the starting lineup and completed nine of 10 throws for 63 yards before leaving the game with a left knee injury vs. Tennessee (10/19) ... Was subsequently placed on injured reserve on October 22nd.
2007
: Played in nine games with six starts … Served as the backup QB in the first nine games, seeing action in three contests … Completed 127 of 224 passes for 1,227 yards with six TDs and six INTs, good for a 69.9 rating … Also had seven carries for 18 yards … Relieved an injured QB Damon Huard in the fourth quarter at Chicago (9/16) ... Saw duty on the final two drives in place of an injured Huard vs. Jacksonville (10/7), throwing a 13-yard pass to WR Samie Parker on fourth down for his first NFL touchdown … Completed 17 of 30 passes for 162 yards with an INT after replacing an injured Huard in the third quarter vs. Denver (11/11) ... Made his first NFL start at Indianapolis (11/18), connecting on 19 of 27 throws for 169 yards with one TD, good for a 99.2 rating. Became the seventh-youngest QB to start in Chiefs history at 24 years, nine months and 12 days … Made his first Arrowhead start vs. Oakland (11/25). Sustained a knee to his lower back on the game's opening series, but took every snap for the remainder of the contest … Listed as the third QB and did not play vs. San Diego (12/2) with that back injury … Returned to the starting lineup at Denver (12/9), connecting on 15 of 29 throws for 132 yards with a 15-yard TD pass to TE Tony Gonzalez and one INT … Completed 25 of 43 passes for a career-high 217 yards with a career-high two TDs and two INTs vs. Tennessee (12/16). Hit a 10-yard scoring strike to WR Samie Parker and added a nine-yard scoring pass to TE Kris Wilson … Attempted to make a TD-saving tackle of LB Paris Lenon on an INT in the second quarter at Detroit (12/23). Injured his right hand on the play and did not return … Returned to the starting lineup at the N.Y. Jets (12/30), completing 20 of 43 passes for 195 yards, including a 36-yard TD pass to WR Jeff Webb.
2006
: Was listed as the club's backup QB in eight games and the third QB in eight contests … Connected on three of seven passes for 23 yards with two INTs for an 11.9 rating … Served as the club's third QB vs. Cincinnati (9/10) ... Was the club's backup QB at Denver (9/17) ... Saw duty in his first NFL game vs. San Francisco (10/1) ... Completed three of seven passes for 23 yards with two INTs at Pittsburgh (10/15) ... Was listed as the third QB in the final seven games of the regular season and in an AFC Wild Card Game at Indianapolis (1/6/07).
College Bio:
Played in 38 games (26 starts) at Alabama … Completed 488 of 869 passes for 6,382 yards with 41 TDs and 22 INTs, good for a 128.4 rating … Added 183 carries with four TDs … Ranks first in Alabama history with 6,382 passing yards, 488 completions, 869 pass attempts and 41 TDs … Started all 12 games in 2005 as a senior, connecting on 202 of 339 passes for 2,499 yards with 14 TDs and four INTs for a 132.8 rating … Also rushed for one TD … His 2,499 passing yards were the highest single-season total in Alabama history … Totaled 202 completions and 339 passing attempts, the second-best seasonal marks in school annals … His 2,311 yards of total offense were the third-best seasonal mark in school history … His 1.18 INT percentage was the lowest single-season mark in school history … Attempted a school-record 190 passes without an INT … Opened three games as a junior in 2004, completing 44 of 66 passes for 534 yards with six TDs … Started all 11 games during his sophomore campaign in 2003 … Connected on 182 of 341 throws for 2,303 yards with 16 TDs and 13 INTs … Added 72 carries for eight yards … Named the Dixie Memorial Award winner as the club's MVP and also garnered the Derrick Thomas Community Award … His 341 pass attempts were the highest seasonal total in Crimson Tide history while his 16 TD passes tied the single-season mark … Ranked third in school history with 182 completions and 2,303 yards … Saw action in 12 games (two starts) as a redshirt freshman in 2002 … Redshirted as a true freshman in 2001 … Earned a degree in Human Environmental Sciences at Alabama.
Personal Bio
• A Super Prep All-America selection at Westbrook Christian High School in Rainbow City, Alabama.
• Set state career records for passing yards (9,323) and touchdowns (105), in addition to marks for passing yards in a season (3,787), passing yards in a game (528), touchdown passes in a season (44) and TD passes in a game (seven).
• Completed 524 of 997 throws for 9,323 yards with 105 TDs and 37 INTs during his prep career.
• Had 2,838 passing yards, 38 touchdown passes and seven INTs as a junior.
• Graduated from high school early and enrolled at Alabama in January of 2001.
• Sister, Reagan was a member of the women's basketball team at Alabama ('97-99).
• Established "The Brodie Croyle Foundation" to assist the Big Oak Ranch.
• Volunteered at the Big Oak Ranch, a Christian home and school for children from troubled and abusive situations founded by his father.
• Serves as a spokesperson for Johnson County CASA (Court Appointed Special Advocates).
• An avid outdoorsman, enjoys hunting a variety of game, in addition to fishing.
• Hosted a Turkey Trot Charity Hunt in April 2008 to benefit the Big Oak Ranch.
• Participated in the February 2008 grand opening ceremonies at the Bass Pro Shops location in Independence, Missouri.
• Volunteers at the American Royal, participating in events such as the Reading Round Up and giving school tours.
• Full name: John Brodie Croyle (pronounced CROY-ul).
• Married, wife Kelli, who was the winner of the 2005 America's Junior Miss Pageant as Miss Mississippi.
View the full website biography of Brodie Croyle.