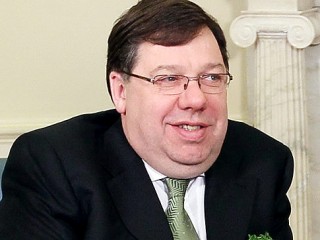 Brian Cowen
Date of birth : 1960-01-10
Date of death : -
Birthplace : Tullamore, County Offaly, Ireland
Nationality : Irish
Category : Politics
Last modified : 2012-01-17
Brian Cowen is a former Irish politician who served as Taoiseach of Ireland from 7 May 2008 to 9 March 2011. He was head of a coalition government led by Fianna Fáil which until 23 January 2011 had the support of the Green Party and independent TDs.

Cowen was also leader of Fianna Fáil from 7 May 2008 until 22 January 2011, when he resigned under political pressure after a failed and highly controversial attempt at a cabinet reshuffle.

He was a Teachta Dála (TD) for the Laois–Offaly constituency from 1984 to 2011. He previously served as Minister for Labour (1992–93), Minister for Energy (1993), Minister for Transport, Energy and Communications (1993–94), Minister for Health and Children (1997–2000), Minister for Foreign Affairs (2000–04) and Minister for Finance (2004–08) and also as Tánaiste (2007–08). He became leader of Fianna Fáil on the resignation of Bertie Ahern. On 7 May 2008, following the resignation of Ahern as Taoiseach, Cowen was nominated by Dáil Éireann to replace him and was appointed by the President later that day.

Cowen's administration coincided with the Irish financial and banking crises. He has generated substantial criticism for his failure to stem the tide of either crisis, ultimately culminating in his government's formal request for financial rescue from the European Union and the International Monetary Fund, widely seen in Ireland as a national humiliation.

Cowen has brought record low levels of public support for Fianna Fáil, his government, and the Taoiseach himself. With approval at 8 percent by the time the 30th Dáil was dissolved, he was the least popular incumbent politician in the history of Irish opinion polling. "As Taoiseach," said The Sunday Times, "he has proved to be a dismal failure."The Irish Independent in 2011 called Cowen "worst Taoiseach in the history of the State."

Cowen is often referred to in Irish satirical and tabloid media as BIFFO, a nickname applied to people from Offaly. BIFFO is an acronym for "Big Ignorant Fecker/Fucker From Offaly". Cowen has said that 'BIFFO' stands for "Beautiful Intelligent Fellow From Offaly'.An unnamed journalist described Cowen "as subtle as a JCB".

Wikileaks cables from Ireland to the US revealed, that US diplomats in Ireland reported that the nickname 'BIFFO' applied "especially well" to former Taoiseach Brian Cowen, as described in leaked US embassy dispatches.

In a candid profile from Wikileaks, of Cowen as the Taoiseach and Fianna Fáil leader, then US Ambassador Thomas Foley described Cowen as "burly and brusque" saying that he had "a reputation of not being much concerned with his public image."

The ambassador also described Mr Cowen's fondness for frequenting pubs and singing,saying he would likely be more approachable than his predecessor Bertie Ahern.

Cowen was accused of 'conduct unbecoming' , over comments he made in the Dáil when, at the end of a heated exchange, he sat down and spoke to Tánaiste Mary Coughlan; Dáil microphones picked up the Taoiseach using the word "fuckers", though he was not referring to any opposition politician. He later apologised for his remark.

Cowen has been openly criticised by his parliamentary party colleagues including one who said in an interview that Cowen has suffered from "poor communications and consultation" and expressed concern about the emergence of a perceived "triumvirate" (comprising the Taoiseach, Tánaiste and Minister for Finance) within the Cabinet.

In a novel criticism, artist and teacher Conor Casby placed unflattering nude portraits of Cowen in the National Gallery of Ireland and the gallery of the Royal Hibernian Academy. The pictures were reported in a television news bulletin and caused considerable debate in the media.

Cowen became a leader of Fianna Fáil and Taoiseach without ever facing a general election in either capacity. Under his stewardship of the country, his party Fianna Fáil, saw its electoral support base diminished by 75% in the general election of February 2011, as a reaction to the intervention, in the running of the Irish economy, of the International Monetary Fund and the European Central Bank in November 2010. In November 2011, a review of Cowen's governance was broadast on RTE television over two episodes entitled Crisis: Inside the Cowen Government. Cowen did not contribute to the series, but many of his former ministerial colleagues critiqued his performance as Taoiseach.

Ireland's Taoiseach, the country's head of government, is the highest-paid politician in all of Europe. And while Brian Cowen has only held office since 2008, his salary has already become a lightning rod in Irish politics. During his first year as Taoiseach, Cowen denounced business leaders taking huge pay increases during the outset of the country's financial meltdown. It was then, of course, that Cowen became eligible for a $50,600 per year raise of his own — a pay hike he took in stride. The Taoiseach's opposition fumed over the fact that Cowen earns more than seven times what the average Irish family does per year.
View the full website biography of Brian Cowen.