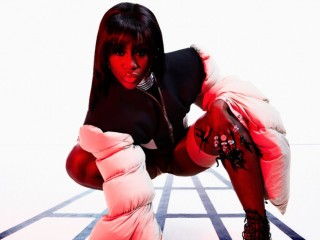 Bree Runway
Date of birth : 1992-11-18
Date of death : -
Birthplace : London, United Kingdom
Nationality : English
Category : Arts and Entertainment
Last modified : 2022-01-12
Bree Runway, born Brenda Wireko Mensah in Borough of Hackney, London, United Kingdom, is an English pop/ hip-hop singer, rapper and songwriter of Ghanaian descent.

In 2019, she received BET Award for Best New International Act. Early inspiration came from Michelle Obama, who provided words of encouragement after hearing Mensah sing as a teenager.

In late 2015, she self-released her debut EP, RNWY 01, a lyrically candid set produced mainly by Nastylgia, who also worked on Bree Runway's next EP, Bouji, which appeared a year later. Following a couple of stand-alone singles -- 2016's "Butterfly" and 2017's pure pop "What Do I Tell My Friends?" -- she made an appearance on the electronic duo Metroplane's "Word of Mouth." May 2019 brought Runway's first solo material released on Virgin EMI in the form of "2ON," a single that ultimately appeared on her breakthrough third EP, Be Runway.

Following an early-2020 guest spot on a remix of Rina Sawayama's "XS," her debut mixtape, 2000AND4EVA, was issued in November, featuring contributions from Missy Elliott, Yung Baby Tate, and Maliibu Miitch.

For Bree, working with her "lifelong hero" Missy was a lesson in not compromising on her creative control. "Missy is now like a great big sister to me – she always has the most encouraging things to say," she says. "I used to think that I didn't fit the mould of a typical pop star, but she's always made me feel like I can be fearless within my music."

An artist that wholly understands her perfectionist mindset, she said, is R&B hitmaker Khalid, with whom she has teamed up with on a forthcoming single. "Khalid and I share a deep appreciation for stacking harmonies. I learned a lot from working with him; he is so meticulous in his recording process, and like me, really cares about the finer details. He really knows what he wants out of a song," she says.

Bree's new single "Pressure" is set for 2022 release.

View the full website biography of Bree Runway.