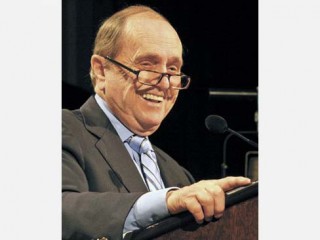 Bob Newhart
Date of birth : 1929-09-05
Date of death : -
Birthplace : Oak Park, Illinois, U.S.
Nationality : American
Category : Arts and Entertainment
Last modified : 2010-09-08
Bob Newhart, born September 5, 1929 in Oak Park, Illinois, United States is an American actor, comedian and writer.


"Sidelights"
Bob Newhart
is a comedian best known for his deadpan stand-up comedy routines and for his highly successful television series
The Bob Newhart Show
and Newhart. In his memoir, I Shouldn't Even Be Doing This! And Other Things That Strike Me as Funny, Newhart writes about his life and nearly fifty-year career. Nevertheless, during an interview that appeared in America's Intelligence Wire, Newhart noted that he did not consider his book to be a memoir, noting that "memoirs are for Marquis de Sade and Geishas. They write memoirs." The author writes about both his successes and failures, his fear of flying, his love of golf, and about many of his celebrity friends, such as comedians Don Rickles and the late Buddy Hackett. In addition to writing about his life, the author includes numerous asides that feature his comical take on life. Newhart also writes about various comedians and comedy styles and how he created his own famous comedy routines. A Publishers Weekly contributor commented on Newhart's writing style of "treating the reader almost as a personal friend." Writing in Kirkus Reviews, a contributor noted: "There are no revelations, dark or otherwise." Nevertheless, the reviewer added that I Shouldn't Even Be Doing This! is "full of the wry, understated self-deprecation that Newhart has perfected."
PERSONAL INFORMATION
Born September 5, 1929 (some sources say September 29, 1929), in Oak Park, IL; son of George David and Julia Pauline Newhart; married Virginia Quinn, January 12, 1964; children: Robert William, Timothy, Jennifer, Courtney. Education: Loyola University, Chicago, B.S., 1952. Military/Wartime Service: U.S. Army, 1952-54.
AWARDS
Grammy awards (three): Best New Artist, Best Comedy Performance (Spoken Word), and Album of the Year, 1961, for The Button Down Mind of Bob Newhart; Emmy award, 1961; Peabody award, 1961; Sword of Loyola award, 1976; Legend to Legend award, 1993; Kennedy Center Mark Twain award, 2002; Icon award, TVLand, 2005; named to Television Academy of Arts & Sciences Hall of Fame, 1993; honored as an American Master (Bob Newhart: Unbuttoned ), Public Broadcasting Service (PBS), 2005.
CAREER
Comedian, actor, and writer. Actor in films and on television, including the television shows The Bob Newhart Show, 1961; The Bob Newhart Show, 1972- 78; Newhart, 1982-90; Bob, 1992-94; and George and Leo, 1997-98; also appeared on numerous television specials and other series. Previously worked as accountant for the U.S. Gypsum Co. and copywriter for the Fred Niles Film Co., 1958. Theatrical films include Hell Is For Heroes, 1962; Hot Millions, 1968; On a Clear Day You Can See Forever, 1970; Catch 22, 1970; Cold Turkey, 1971; First Family, 1980; Little Miss Marker, 1980; In & Out, 1997; Elf, 2003; Legally Blonde 2: Red, White & Blonde, 2003. Also supplied voices for the animated films The Rescuers, 1977; The Rescuers Down Under, 1990, and Rudolph the Red-Nosed Reindeer: The Movie, 1998. Television movies include Thursday's Game, 1974; Marathon, 1980; Packy, 1987; The Entertainers, 1991; The Librarian: Quest for the Spear, 2004; and The Librarian: Return to King Solomon's Mines, 2006.


* I Shouldn't Even Be Doing This! And Other Things That Strike Me as Funny (memoir), Hyperion (New York, NY), 2006.

Writer and performer on numerous comedy albums, including The Button-Down Mind of Bob Newhart, 1961; The Button-Down Mind Strikes Back, 1962; Bob Newhart's Button-Down Concert, Nick at Nite Records, 1997; Something Like This ... The Bob Newhart Anthology, Warner Archives/Rhino, 2001. Other albums include Behind the Button-Down Mind, The Button-Down Mind on TV, Bob Newhart Faces Bob Newhart, Windmills Are Weakening, This Is It, Bob Newhart Deluxe Edition, Best of Bob Newhart, and Very Funny Bob Newhart.
View the full website biography of Bob Newhart.