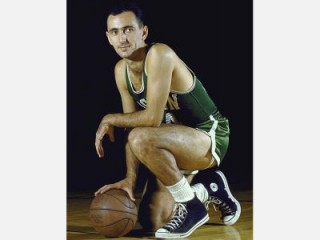 Bob Cousy
Date of birth : 1928-08-09
Date of death : -
Birthplace : New York City, New York, US
Nationality : American
Category : Sports
Last modified : 2011-01-20
Known as the Houdini of the Hardwood, Bob Cousy was a pioneer in the National Basketball Association (NBA). Many consider him the definitive point guard and an excellent playmaker, one of the best ever to play the game of basketball.
Bob Cousy was born on August 9, 1928, in New York City. He was the son of French immigrants from Alsace, Joseph and Julliette (nee Corlet) Cousy. His father was a taxi driver and airline worker, while his mother worked as a secretary and language teacher. Cousy spent his early years in the East Side of Manhattan. He participated in such sports as stickball, boxball, and the stealing of hubcaps, but not basketball.
When Cousy was 12, the family moved from Manhattan to St. Albans, Queens. There, he learned to play basketball for the first time when he was 13. His early years were inauspicious. While attending St. Albans' Andrew Jackson High School, Cousy was cut two different times from the junior varsity squad. However, he was welcomed back after he broke his right arm, and was forced to learn to dribble and shoot with his left. His ambidexterity made him valuable. By the time he was a junior, Cousy was the team's star. As a senior, he won New York City's scoring title. Cousy scored 26 points in his last high school game.
Taking up a scholarship offer from Holy Cross College in Worcester, Massachusetts, Cousy entered the school in 1946. He was platooned as a first-year student, 1946-47, the year Holy Cross won the NCAA title. Cousy played regularly beginning in the 1947-48 season, and soon became one of the best known players in college basketball. He had many flashy movies, and was responsible for popularizing the behind-the-back dribble. Yet Cousy was also benched at times because of this play by coach, Alvin Julian. At one point, Cousy considered transferring to St. Johns. He stayed the course and Holy Cross became a college basketball powerhouse. The team had two long un-beaten streaks while Cousy was a member. In the 1947-48 season, it won 18 consecutive games, and in 1949-50, 26 straight. Both streaks ended in the NCAA playoffs, though the 1949-50 team went on to win the National Invitational Tournament (NIT). Cousy himself garnered All-American honors. During his senior season, he averaged 19.4 points per game and was a co-captain. He graduated in 1950 with a B.S. in business.
After graduating from Holy Cross, Cousy's career plans were not set in stone. In addition to considering a career in professional basketball, he also thought about opening a driving school. Basketball won out. In the 1950 National Basketball Association draft, Cousy was a first round draft choice by the Tri-Cities Blackhawks, then traded to the Chicago Stags. Because Cousy was well known in Boston, the Celtics and their coach Red Auerbach were vilified for not selecting him in the draft. Auerbach was unimpressed by Cousy's size (about 6′1″ tall) and razzle-dazzle style of play. However, the Stags folded before the 1950-51 season began and the team's players were distributed to three other teams in a dispersal draft. The Celtics drew Cousy's name out of a hat and he negotiated a contract for $9000 per year with the team. Auerbach soon began to appreciate the player he did not originally want.
In Cousy's rookie season, 1950-51, the Celtics improved from one of the worst teams in the league to one with a winning record. Though the team lost in the first round of the playoffs, Cousy helped on numerous fronts. He posted impressive numbers, averaging 15.6 points per game and 4.9 assists per game. Cousy was named Rookie of the Year and finished ninth in the NBA scoring race. He was also a first-team All-Star.
What was even more valuable to the Celtics was the way he refined the point guard position. He could see plays that no one else could with his extraordinary peripheral vision. Cousy also had large hands, excellent timing, outstanding reflexes, and a deft touch with the basketball that allowed him to make these extraordinary plays. Cousy had the ability to make passes anywhere with both hands, including blind, behind-the-back passes, passes between his legs and over his shoulders. He could also dribble with both hands, make outside shots, and penetrate. While it took some time for his teammates to get used to his accurate, if unorthodox passes, it made Cousy a hard player to defend. Cousy's playing style also attracted an audience to the struggling young NBA, which welcomed the attention. Cousy made the game fun and people came just to see him.
Cousy gradually improved his game in the early 1950s. In the 1951-52 season, he averaged 21.7 points per game and 6.7 assists per game, but the Celtics again lost in the first round of playoffs. By 1952-53, he was leading the league in assists, averaging 7.7 per game. In the semi-finals that year, Cousy played his most legendary game, scoring 50 points (including 25 in regulation) in a four overtime game against Syracuse on March 21. He also made 30 of 32 free-throw attempts. Though the Celtics made it to the finals, they eventually lost the league title.
Cousy reached the height of his career in the mid-1950s. He led the NBA in assists from 1953-60, and was also always near the top of the league in scoring and free-throw percentage. In 1953-54, Cousy was the second highest scorer in the league, averaging 19.2 points per game and the All-Star Game MVP. A few years later, in 1956-57 Cousy was both the league's MVP and All-Star Game MVP. He led the league in assists (7.5 assist per game) and was eighth in scoring with 20.6 points per game. In 1956, he also became the first NBA player to appear on the cover of Sports Illustrated. The Celtics had the best record in the league and won the NBA championship in seven games over the St. Louis Hawks. With the addition of Bill Russell in the late 1950s, the Celtics won the NBA championship six of Cousy's seven last seasons with the team (except 1957-58). He also appeared in the All-Star Game every year he played with the Celtics, save 1961-62, and was a 12-time all-NBA selection. Cousy was a league leader in other ways: in 1955, he helped organize the NBA Players Union. His affect on the league was recognized near the end of his career. In 1962, a sports editor poll named him the NBA's number one player of all time.
Cousy retired from the Celtics after the 1962-63 season, making $30,000 per year. During his last regular season home game, March 17, 1963, he received a 20-minute farewell. The Celtics went on to beat the Lakers in finals to secure yet another NBA championship. Though many believed Cousy was still near the top of his game, he knew his skills were on the decline. For example, his scoring average was down to 13.2 points per game. He told Tom Callahan of Time magazine, "I was very conscious of my skills eroding…. The minute there is even a subtle diminishment of legs, you're the first to know. I became aware of when I should stop wanting the ball in key situations. For a couple of years, I decoyed myself at those moments, making sure Sam Jones, Tommy Heinsohn or whoever ended up with the shot." Cousy could have played longer, but the decline would have been too obvious, and he feared any marketability he had would have been lost. He had already done numerous commercial endorsements during his playing years.
Over the course of Cousy's career in Boston, he scored nearly 17,000 points and 7,000 assists in 917 regular season games. He averaged 18.4 points per game, and had a career .803 foul shooting percentage, and .375 field goal percentage. When he retired, he held two NBA records, later surpassed, for most minutes played (30,230) and most assists (6949). Cousy was also fourth-leading scorer of the time (16,995 points) and second in total games played (917). He was the only player to play in 13 All-Star games, and only fouled out 20 times. In his 109 playoff games, Cousy averaged 18.5 points per game, 8.6 assists per game, and had an .801 foul shooting percentage.
Immediately after retirement, Cousy began a coaching career, first on the college level. Remaining in Boston, he coached the Boston College team from 1963 through 1969, posting a record of 117-38. In four seasons, the team racked up more than 20 victories. Cousy also took the team to several NCAA tournaments and one NIT tournaments. Cousy left the college ranks in 1969 in part because he did not like to recruit.
Cousy was immediately hired by an NBA team. In 1969-70, Cousy was the coach of the Cincinnati Royals. He briefly unretired as a player during the season and played in seven games. Cousy made the move to help his team and was well-paid for the effort. At the time, he was the oldest player to ever play in the NBA. In the 1970-71 season, the team moved to Kansas City-Omaha and was renamed the Kings. Cousy remained as coach until 1974, when he retired. His record as a professional coach was 141-209. During his tenure as coach, his accomplishments as a player were not forgotten. Cousy was inducted into the Naismsith Hall of Fame in 1970, and he was named to the All-NBA Silver Anniversary Team in 1971. He was later named to the 35th and 50th Anniversary Teams as well.
After retiring as a coach, Cousy could not leave behind the game. Beginning in 1974, he was a color commentator for Celtics games for many years. Known for his blunt opinions, Cousy told Terry Pluto of Knight-Ridder/Tribune News Service "Some games, I really have to bite my tongue on the air. I get so mad at those guys, I want to run on the court and just wring a few necks." In the late 1990s, he added another basketball role, working as a marketing representative for the Celtics' front office. Cousy also remained involved in the labor movement in basketball, believing pre-1965 players should have better pensions. Though Cousy despised old timers charity games, he suited up for at least one that benefited the pensions of older players.
Cousy also worked outside basketball. He served as the commissioner of the American Soccer League from 1974-79. He also ran for a Congressional seat, but lost the election. Cousy even took on an acting role. In 1994, he appeared in the movie Blue Chips, a movie about the corruption in recruitment of college basketball players. Cousy played the athletic director of the fictional Western University. Still, it is as a real basketball player that Cousy remained best known. His former coach, Auerbach, was quoted in The Modern Encyclopedia of Basketball as saying "Cousy was one of the greatest all-around basketball players in the game, and undoubtedly he was the best backcourt player."
Biographical Dictionary of American Sports: Basketball and Other Indoor Sports, edited by David L. Porter, Greenwood Press, 1989.
Complete Marquis Who's Who, Marquis Who's Who, 1999.
Hickock, Ralph, The Encyclopedia of North American Sports History, Facts on File, 1992.
Hickock, Ralph, A Who's Who of Sports Champions: Their Stories and Records, Houghton Mifflin, 1995.
The Modern Encyclopedia of Basketball, edited by Zander Hollander, Dolphin Books, 1979.
The Official NBA Basketball Encyclopedia, edited by Alex Sachare, Villard Books, 1994.
View the full website biography of Bob Cousy.