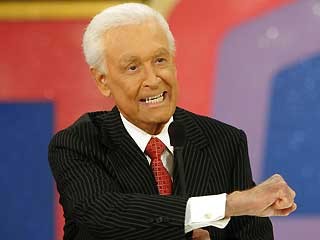 Bob Barker
Date of birth : 1923-12-12
Date of death : -
Birthplace : Darrington, Washington, United States
Nationality : American
Category : Arts and Entertainment
Last modified : 2010-08-31
Bob Barker , also known as Robert William Barker born December 12, 1923 in Darrington, Washington, United States is an American former television game show host. He is best known for hosting CBS's The Price Is Right from 1972 to 2007, making it the longest-running daytime game show in North American television history. After holding the job for 35 years and being in television for 50 years, Barker retired in June 2007.


"Sidelights"
Bob Barker
is best known as the longtime host of the CBS game show
The Price Is Right
. He worked on that program from 1972 until his retirement in 2007. Before that, Barker had hosted NBC's game show Truth or Consequences from 1956 to 1975. Barker's fifty-one years of continuous hosting brought him numerous Emmy awards for daytime television and legions of fans. Speaking with Esquire contributor Matthew Belloni at the time of his retirement in 2007, Barker remarked of his long career: "I did Truth or Consequences for eighteen years. I've done Price Is Right for thirty-five years. I did Miss USA and Miss Universe for twenty-one years. I did the Rose Parade for twenty-one years, and I did the Pillsbury Bake-Off for fifteen years. I did the Indianapolis 500 parade for twenty years. I'm a guy who's kept a job once he got it." In 2009, collaborating with Los Angeles Times journalist Digby Diehl, Barker wrote his autobiography, Priceless Memories. His book, as Bookpage contributor Pat H. Broeske noted, "provides a backstage pass to the shows that made him a household name."
In Priceless Memories, Barker details the passage of his life, beginning with his birth in Washington State. However, he spent a good deal of his youth on the Rosebud Reservation in South Dakota, where his mother was a teacher. With the death of his father, his mother remarried, and the blended family settled in Springfield, Missouri, where Barker graduated from high school and entered Drury College. However, World War II interrupted his studies; Barker served in the Navy as a fighter pilot, though the war came to an end before he was deployed. After the war, he returned to Springfield, married his high school girlfriend, finished a degree in economics, and began to turn a seeming hobby into what would become his life's work. During college he worked part-time at a local radio station, but broadcasting soon became more than a part-time job. He worked at radio stations in Florida and in California before making the transition into television. Ralph Edwards, the legendary game show producer, heard Barker hosting a show on a station in Los Angeles, California, and decided that Barker's voice and manner would work well in the visual medium. From then until his retirement in 2007, Barker was in front of the cameras every weekday. Throughout the years, Barker also became known for his animal rights activism. He became a vegetarian in 1979, and thereafter he decided to end each episode of The Price Is Right with the words, "Help control the pet population. Have your pets spayed or neutered." His activism had consequences for his professional life. He was the host for the Miss USA pageants from 1968 to 1987; however, his tenure ended when he requested that contestants not wear fur clothing. The sponsors of the pageant refused, and Barker stepped down.
In addition to autobiographical details, Barker also supplies insider information about the early days of television and of the shows he has hosted. For instance, on Truth or Consequences, Barker always made sure that the contestants answered the questions incorrectly: "I had chosen the contestants because they were just right for the consequences, and I didn't want to lose them," he notes in the first chapter of his memoir. "I made certain that the questions and answers were so comically crazy that there was almost no chance of a correct answer." Barker further remarks, "Choosing contestants was like casting a play or a movie. I knew what the act or stunt required, and I tried to find the best person in the audience to play the role." He also notes of his decision to retire that the first time he interviewed a contestant for The Price Is Right and discovered that she had a pierced tongue, he knew that the times had passed him by.
A Publishers Weekly reviewer called Priceless Memories an "engaging memoir," further noting, "There are plenty of backstage anecdotes, so Barker's fans are certain to grab this from bookstore shelves." However, a Kirkus Reviews contributor found the same work "mild to the point of nullity," complaining that Barker's "stubbornly upbeat" reminiscences gloss some of the more controversial aspects of his life and career, such as suits filed by former employees and a girlfriend. The same reviewer felt that Barker provides little more than "cute stories" regarding his animal activism and went on to comment, "Hard-core fans will undoubtedly enjoy their hero's happy reminiscences, but nothing here will entice less starry-eyed readers." America Jr. Web site contributor Gloria Rzucidlo thought that Barker's memoir "gives [readers] an insight into his personal life filled with humorous anecdotes about himself, the contestants, friends, family and celebrities who have made his life an interesting story," while Angela Evans, writing for the Web site Large Print Reviews, found the same work "an intimate and engaging look at [Barker's] life" and "a must for all of Bob's fans, as well as for those interested in the history of television." A writer for Los Angeles Magazine, noting Barker's long and varied career, said that he had "an enviable life indeed."
Speaking with Bob Tourtellotte of Reuters India Online, Barker noted that it was a conscious decision to keep his memoir upbeat: "I'd not made any notes with a book in mind, so I just sat down and started thinking. My first decision was that I wanted to write a happy book. The two shows that I have done all these years, Truth or Consequences and The Price Is Right, are both happy shows. ... I don't make a derogatory remark about anybody. I had no intention of doing that."
In his interview with Broeske, Baker noted of his television achievement: "We didn't solve the world's problems. But we hopefully helped you to forget your problems for just a while."
PERSONAL INFORMATION
Born December 12, 1923, in Darrington, WA; son of Byron John and Matilda Barker; married Dorothy Jo Gideon, January 12, 1945. Education: Drury College (now Drury University), Springfield, MO, B.S. Military/Wartime Service: Served in the U.S. Navy as a fighter pilot in World War II.
AWARDS
Daytime Emmy Award for Outstanding Game Show Host, 1982, 1984, 1987-88, 1990-92, 1994-96, 2000, 2002, 2004, 2007; inductee, Academy of Arts and Sciences Hall of Fame, 2004; inductee, Hall of Famous Missourians, 2007; inductee, Broadcasting Hall of Fame, National Association of Broadcasters, 2008; Lifetime Achievement Award, Game Show Network, 2009.
CAREER
Writer and television host. Truth or Consequences, National Broadcasting Corporation (NBC) television, game show host, 1956-74; End of the Rainbow, NBC television, game show host, 1957-58; The Family Game, television game show host, 1967; The Price Is Right, Columbia Broadcasting System (CBS) television, game show host, 1972-2007. Also host of talk show That's My Line, 1980-81. Host of Miss USA pageant, 1967-87. Animal rights activist. DJ&T Foundation, charitable institution, founder. Has made guest appearances and cameos on other television programs and films.
WRITINGS
* (With Digby Diehl) Priceless Memories, Center Street (New York, NY), 2009.
View the full website biography of Bob Barker.