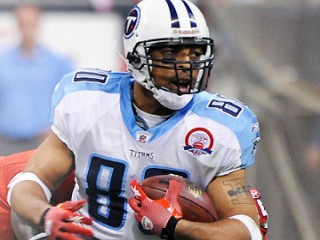 Bo Scaife
Date of birth : 1981-01-06
Date of death : -
Birthplace : Denver, Colorado, USA
Nationality : American
Category : Sports
Last modified : 2010-12-17
PRO:
Bo Scaife enters his sixth NFL season as an established playmaker at tight end for the Titans. An athletic target with the ability to separate from defenders and make tough catches in traffic, he is a valuable asset in the offensive scheme. In his first five NFL seasons (2005-09), Scaife, the club's second all-time leading pass-catcher among tight ends, posted 215 receptions for 2,065 yards and eight touchdowns. He missed just four games in his initial five campaigns (76 games, 49 starts), an impressive record of durability for a player who overcame three ACL surgeries during high school and college.

CAREER HIGHLIGHTS:
• Among the group of tight ends drafted in 2005, Scaife ranks second in receptions and receiving yards behind only Heath Miller.
• In his first five NFL seasons (2005-09), Scaife recorded more total receptions than any other Titans player. With 215 grabs, he led second-place Justin Gage by 98 total catches (117).
• In 2009, he led all Titans tight ends in receiving for the fourth consecutive season with 45 catches and 440 yards.
• At Indianapolis on Dec. 6, 2009, Bo Scaife moved into second place on the team's all-time receptions list among tight ends, surpassing former Oilers tight end Alvin Reed (199 career receptions) and trailing only Frank Wycheck (482) on the club's list.
• In 2008, he set career highs with 58 catches and 561 yards. His reception total ranked fifth in AFC and seventh in NFL among tight ends.
• As a rookie in 2005, his 37 receptions set the franchise rookie record for tight ends, surpassing Ben Troupe's 2004 total (33). He also was part of a tight end group (Erron Kinney, Troupe and Gregg Guenther) that finished the season with 149 receptions, which ranked second in league history for that position.

TITANS TIDBITS:
• Scaife's career is a testament to over-coming adversity with hard work and dedication. He was forced to overcome three separate ACL injuries – one in high school (1999) and two in college (2000 and 2002) en route to his NFL career.
• Scaife was trained during his youth in the martial arts. He earned black belts in taekwondo and shotokan and feels the training contributed to his success in football, particularly in the development of hand and eye coordination.
• His most memorable college football moment was closing out his senior year with a win over the Michigan Wolverines in the Rose Bowl. A year later he was back at the Rose Bowl as a spectator, watching the Longhorns and current teammate Vince Young defeat USC to claim a BCS Championship.
• When the Titans selected Vince Young third overall in the 2006 NFL Draft, Scaife was reunited with one of his best friends and former college teammates. The two have strengthened their friendship in Tennessee and, paired with Ahmard Hall, Michael Griffin and Chris Simms, make up a group of five former Texas Longhorns on the Titans roster.

CAREER TRANSACTIONS:
• The Denver, Colo., native was originally selected by the Titans in the sixth round (179th overall) of the 2005 NFL Draft.

COLLEGE:
• Finished Longhorn career ranked second among tight ends for receptions and finished third all-time among tight ends for career receiving yards. Sat out 2000 and 2002 seasons with knee injuries.
• As senior (2004), earned first team All-Big 12 honors while playing in all 12 games. Second on team with 26 receptions for 348 yards and two touchdowns.
• As junior (2003), returned to action after being out for 2002 season, played in 13 games and was All-Big 12 Conference honorable mention. Fourth on team with 16 receptions for 205 yards (12.8 avg.) and two touchdowns.
• As sophomore (2001), earned All-Big 12 honorable mention while playing in 12 games. Recorded 30 receptions for 396 yards (13.2 avg.) and touchdown grab.
• As freshman (1999), played in seven games and caught three receptions for 48 yards (16.0 avg.).
• Graduated with education degree in December 2004.

PERSONAL:
• Splits time between Nashville and Denver, Colo., with daughter, Mia Raye (1).
• Attended J.K. Mullen (Denver, Colo.) HS, earned Parade All-American, Gatorade Circle of Champions Colorado Player of the Year, Rocky Mountain News Colorado Offensive Player of the Year and second team All-USA honors at tight end by USA Today as a senior. Also two-time first team Colorado 5A All-State selection by Denver Post. Led team to Colorado 5A state title as a senior, while catching 62 passes for 1,400 yards and 19 touchdowns and rushing for 250 yards on 20 carries and one touchdown.
• All-State baseball selection and honor roll student in high school.
• High school teammates with Tampa Buccaneers third-round pick in 2005 NFL Draft, tight end Alex Smith.
• In college volunteered to spend time with youth at Austin's Zoo.
• List of favorites: (movie) "American Gangster"; (TV show) "Pardon The Interruption"; (music artist) T.I.; (car) Mercedes-Benz McLaren; (video game) Madden Football; (food) Bar-B-Q; (actor) Jamie Foxx; (vacation spot) Las Vegas; and (book) "Bo Knows Bo."
• Born Oliver Edward Scaife III on Jan. 6, 1981 in Denver, Colo.

View the full website biography of Bo Scaife.