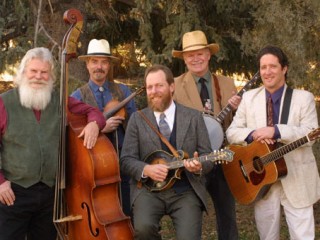 Bluegrass Patriots
Date of birth : -
Date of death : -
Birthplace :
Nationality : American
Category : Arts and Entertainment
Last modified : 2012-04-12
The five members of the Bluegrass Patriots have been together since 1980 and remain passionately devoted to bluegrass music eighteen years after they formed their band.

The band is comprised of baritone singer and banjo player Ken Seaman, baritone/lead singer and bass/Dobro/guitar player Rick Bradstreet, lead/tenor and bass player Dan Rogers, lead singer and guitarist Glenn Zankey, and lead/harmonies singer and mandolin player Willie McDonald. Joe Ross of Bluegrass Unlimited wrote, "Energy, enthusiasm, tasteful instrumentation, and good singing--the Bluegrass Patriots have developed a show incorporating these elements of a successful bluegrass band."

The band's members share a common love for bluegrass music, which is what has kept them happily together for almost two decades. They all sing and work outside of the band. Zankey and Bradstreet are carpenters, McDonald owns a house-painting business, Rogers is a former bar-owner who owns a carpet cleaning business, and Seaman teaches grades four through eight in a small mountain elementary school in Red Feather Lakes, Colorado.

Seaman, born and raised in the Ozark Mountain community of Eminence, Missouri, was influenced by Bill Monroe in the late 1940s and 1950s. He told Ross, "His music spun around in my head for days. I soon bought a guitar." Other musical influences for Seaman include Flatt and Scruggs, Jimmy Martin, Don Brown and the Ozark Mountain Trio, the Dillards, and Reno and Smiley. Seaman used to cut afternoon classes at Eminence High School in order to drive his father's '51 Buick to a local hill high enough to bring in a bluegrass radio show called the "Hickory Hollar Show," broadcasting out of Salem, Missouri in the late 1950s. Seaman founded the Ozark Mountain Bluegrass Festival held in Eminence, on the 4th of July before moving to Colorado in 1975.

Zankey, originally from Pittsburgh, Pennsylvania, didn't hear much bluegrass until the late 1960s; he cites Doc Watson, the Monroe Doctrine, City Limits, the Lee Brothers, Everybody and His Brother, the bluegrass Cardinals, Doyle Lawson and Quicksilver, Tim O'Brien, Ricky Scaggs, Del McCoury, and the Highstrung String Band as influences. Zankey's unique, "high lonesome" singing is a band trademark, and it was this distinctive bluegrass style of singing that initially attracted him to bluegrass.

Bradstreet, born in Sioux City, Iowa, and moved to Emporia, Kansas, as a teenager. He started playing banjo when he was fifteen, and is considered to be the group's most adept multi-instrumental musician--although all band members can play five or six bluegrass instruments. Bradstreet is a self-taught musician who loves to flatpick. His musical influences include Doc Watson, Norman Blake, Dan Crary, Bob Wills, Sonny Terry, Brownie McGee, Spike Jones, Homer and Jethro, the Geezenslaw Brothers, the Red Clay Ramblers, and the Allman Brothers. Bradstreet, a.k.a. "Ranger Rick," won the Colorado State Flatpicking Championship in both 1980 and 1981 and has contributed material to commercials.

Willie McDonald, a songwriter from Burlington, Vermont, cites the Johnson Mountain Boys, the Bluegrass cardinals, Quicksilver, Larry Sparks, Herschel Sizemore, and J.D. Crowe as musical influences. Danny Rogers, a native of Fort Collins, CO, sings tenor or high leads with the band and plays bass. He sang hymns and church music as a child, learned to play the guitar by time he was 13, and was in a high school band--as the guitar player and singer-- called The Torquays. His musical influences include Del McCoury who, he told Ross, "typifies the friendly, down- home feeling that is at the very roots of bluegrass." Other influences were the Country Blueboys, the Country Gazette, Ralph Stanley, the Country Gentlemen, Tim O'Brien, Keith Whitley, Doyle Lawson, the Johnson Mountain Boys, Red Knuckles and the Trailblazers, and the Monroe Doctrine.

The current group was formed in the fall of 1980--Zankey is the only leftover from the original band from 1979-80. The band played only at weddings, local parties, and pubs for over a year. They slowly began booking Midwestern festivals in 1981 and by 1982 most of their summer weekends were spen performing. The Bluegrass Patriots released their self-titled debut album in 1984, which included numerous lesser-known traditional bluegrass songs, as well as two originals by mandolinist Willie McDonald. Two years later they released Someone New, which also featured original material.

Their second release highlighted their musical diversity, with a nod to the influences of Jim Orchard and Don and Bessie Brown. The band released When You and I Were Young, Maggie in 1990 after an inspiring and overwhelmingly successful trip to Ireland. The Last Waltz was released three years after in 1993 and made the National Bluegrass Survey, and E Pluribus Bluegrass was released in 1996. McDonald told Frank Overstreet of Bluegrass Music News, "We have a good mix between the old and new songs....we all write songs for our records, but of equal importance is finding those obscure "chestnuts," such as "When You and I Were Young, Maggie" and "The Last Waltz".

It's this respect for the tried-and-true standards combined with the ability to pen enduring original material that underscores the band's success. Ross wrote, "The music played by the Bluegrass Patriots appeals to young and old alike ... the band has not compromised it's traditional sound to appeal to a different market." Seaman told Ross, "Diversity is the strength of bluegrass music. There is plenty of room for innovation and new directions in the music, but I hope that bluegrass always remains acoustic with basically the same instrumentation as we have had since its inception."

By the time the band had released their fourth album, the Bluegrass Patriots relied mostly upon their own material-- but when they presented bluegrass standards in concert, they infuse them with their own distinctive sound. The band is noted for emphasizing close harmonies combined with instrumental zeal, and when performing live, they sometimes include offbeat stage embellishments during songs--such as charts, stomping, and group theatrics. The groups tours festivals throughout the U.S. in a van each summer, and reserve the winter for rekindling their creativity.

They begin working on new material in the spring, and by the time summer rolls around, the band's members all relish the prospect of a new festival tour. Seaman told Ross, "We like to camp in tents, pick until 3 a.m., and meet new friends," and he told Overstreet, "We want to continue to travel, spread and promote bluegrass wherever we can, and continue to play as long as it's fun." In an interview with Bluegrass Unlimited, Seaman told Nancy Cardwell, "People that are in the business know that part of the value isn't money. It's just flying up the road and going into a new town and meeting new people. It's that excitement there--that's what keeps us all doing it. It's in our blood, and what else can I say?"

View the full website biography of Bluegrass Patriots.