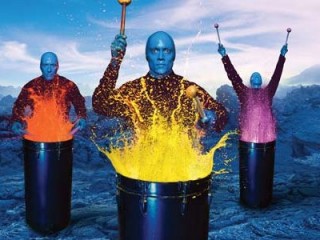 Blue Man Group
Date of birth : -
Date of death : -
Birthplace : Manhattan,New York City, U.S.
Nationality : American
Category : Arts and Entertainment
Last modified : 2012-04-12
Blue Man Group is an organization founded by Chris Wink, Matt Goldman and Phil Stanton. The organization produces theatrical shows and concerts featuring popular music, comedy and multimedia; recorded music and scores for film and television; television appearances for shows such as The Tonight Show, Las Vegas, Scrubs, FETCH! with Ruff Ruffman, and Arrested Development; and a children's museum exhibit ("Making Waves"). All of the organization's appearances star a trio of performers called Blue Men, who all wear blue makeup and bald caps.

Part rock group, part performance art group, the Blue Man Group launched one of the most successful off-Broadway shows in New York in the early 1990s. The group's show, Tubes, has since expanded to simultaneous runs in Boston, Las Vegas, Los Angeles, and Chicago, as well as its ongoing run at the Astor Place Theater in New York. Although music had always been an integral part of the Blue Man Group's act (in which three people painted blue make art with food and blue paint), the group did not release its first album until 1999. A second album followed in 2003, with more planned under a contract with the Atlantic imprint Lava Records.

The Blue Man Group was conceived and developed by Matt Goldman, Phil Stanton, and Chris Wink. Goldman and Wink, who had been friends since junior high school, met Stanton after graduating from college. Before forming the Blue Man Group, Goldman earned an MBA degree and worked as a software producer. Stanton was an actor and drummer, and Wink made a living summarizing articles for a Japanese magazine and serving food for a catering company.

The three friends all felt they needed a change, and were excited to find kindred spirits in each other. They decided to start a project that would allow them to earn a living while focusing on the things that interested them most. "We were interested in performance art and science," Wink later explained to Los Angeles Times reporter Mimi Avins in an article reprinted in the New Orleans Times-Picayune. For inspiration, the trio turned to everything from Kodo drumming to the Bauhaus absurdist art movement, and from the rock band Pink Floyd to the comedies of Buster Keaton and the Marx Brothers.

The original trio formed in the late 1980s when the three friends, then in their twenties, came together as a guerrilla theater group on the streets of Manhattan. (Guerilla theater is a performance dramatizing a social issue that is enacted outside a traditional theater, often in a park or on the street.) Their first public performance was in New York's Central Park in 1988, when nine members of an informal group that met regularly to discuss social issues staged a street theater event they called a funeral for the 1980s. In the show, the members of the group, all wearing blue paint, threw items representing the 1980s into a coffin, expressing the wish that they would never see them again. The items represented such 1980s icons as Yuppies (young upwardly-mobile professionals), crack cocaine, and postmodern architecture.

Every aspect of the Blue Man Group's performances was carefully orchestrated. The original concept was that the performances would be living paintings. The personalities of the performers disappeared when they put on the blue paint, replaced by something more "profound," as Wink explained to Avins. The group's goal was to challenge their audiences' notions of what constituted art, music, and theater.

The performers soon began to think of themselves as three people playing one character. From the beginning, music was an important part of their act, along with artwork being created on stage in blue paint. The Blue Man character does not speak or express emotion; all is conveyed through art and sound.

Soon the group began to perform in ten- to 20-minute chunks at open mikes around New York City for no money. Gradually they developed a following, and were soon invited to perform an hour of material at the theater space of avant-garde theater company Wooster Theater Group. Finally, they were featured at a performance art festival hosted at Lincoln Center, where they received a three-minute standing ovation. There they were noticed by a producing team who wanted to finance an off-Broadway show featuring the group.

Tubes opened in 1991 at La Mama, an off-Broadway venue, moving within a year to the location at which it would be a fixture for the next decade and beyond, the Astor Place Theater. From the start, the show was unique. Almost all theater in New York at the time was either a traditional drama or a musical. "Nothing like us had yet had a commercial run," Stanton told Avins.

The performances sold out regularly, and more and more shows had to be added to accommodate the crowds. The group went from eight shows a week to nine, and finally to ten. For the first three years the group's original members did every performance, playing 1,285 consecutive shows with no understudies. It was only when the show expanded to Boston in 1995 that the group hired other Blue Men.

The Blue Man Group released its first album, Audio, in 1999; it earned a Grammy nomination for Best Pop Instrumental Album. The following year the group landed a contract with Lava Records, an Atlantic imprint. The first album under the deal, Complex, released in 2003, featured guest artists Tracy Bonham, Dave Matthews, Dan the Automator, Esthero, and monologist Spalding Gray. In addition to original compositions, the album features covers of "White Rabbit" by Jefferson Airplane and "I Feel Love" by Donna Summer.

Wink described the inspiration for the Blue Man Group's foray into rock to Steve Hochman in the Los Angeles Times: "The Blue Man was telling us he was ready to take a look at rock 'n' roll. We started thinking about the rock concert, the Blue Man's take on the rock concert. We take [rock concert conventions] and turn them on their head, make them almost mechanical."

One of the conventions the group hopes to shatter with its music is the idea of the rock star. Since the group has always been about the Blue Man character rather than any of the actors who play him, concert goers will have to get used to the idea of a character being a rock star rather than a particular musician.

By the 2000s the group had grown from its humble beginnings into a $28-million operation with 473 employees, including a total of more than 30 Blue Men. One of the biggest signs of their mainstream success was their performance at the Grammy Awards ceremony in February of 2001, a broadcast that reached an estimated 55 million viewers. They also starred in a series of commercials for computer chip maker Intel in 2001.

In 2002, the group participated in Moby's Area2 tour, giving a more rock-oriented performance than in the theatrical shows. Songs developed during this tour appeared on 2003's album The Complex.

Blue Man Group launched its second tour, The "How to Be a Megastar Tour 2.0", on September 26, 2006. The tour added some new material to material from the original Complex Rock Tour, and had Tracy Bonham as an opening act and vocalist. DJ/VJ Mike Relm was the opening act for the second leg of this tour, which ended April 22, 2007 in Wilkes-Barre, PA. This third leg of the tour began in May 2007 and included performances in Mexico City, Guadalajara, and Monterrey, Mexico; Buenos Aires, Argentina; Sao Paulo and Rio de Janeiro, Brazil; and Santiago, Chile. The fourth leg, using "2.1" in its title, included more U.S. and Canada dates. Following that, the Megastar World Tour visited France, Korea, Canada, Germany, and a few other European countries throughout 2008.

The "How to Be a Megastar Tour 2.0" visited Taipei, Taiwan from August 19 to 23 as part of a promotional campaign for the 2009 Summer Deaflympics in Taipei, most of the show's dialogue displayed with subtitle. As Typhoon Morakot hit the island and caused serious damage in mid August, the group agreed to perform one extra show with the proceeds being donated to the victims of the flood.

Announced in 2009, Blue Man Group began performing for the first time at sea on Norwegian Cruise Line's newest ship, the Norwegian EPIC. The EPIC began alternating 7-Day Eastern and Western Caribbean sailings round-trip Miami with Blue Man Group shows nightly in July 2010.
View the full website biography of Blue Man Group.