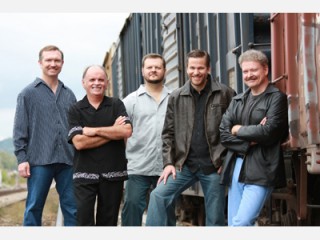 Blue Highway
Date of birth : -
Date of death : -
Birthplace : United States
Nationality : American
Category : Arts and Entertainment
Last modified : 2010-12-29
Blue Highway is one of the most esteemed and influential groups in contemporary bluegrass. Individually, Jason Burleson (banjo, guitar, mandolin), Rob Ickes (Dobro), Shawn Lane (mandolin, fiddle, vocals), Tim Stafford (guitar, vocals) and Wayne Taylor (bass, vocals) have appeared on innumerable projects as sidemen, songwriters and solo artists.

The band earned a Grammy nomination for its 2003 album Wondrous Love, their sixth album. In 2005, they released Marbletown, named for the Mark Knopfler song that leads the project.

Stafford was a key player in the early days of the Grammy-winning team of Alison Krauss & Union Station. His rhythmic guitar style, songwriting and arranging contributions are an integral part of the Blue Highway sound. FGM Records released his solo record, Endless Line, in 2004.

Ickes (pronounced "ikes") has won the IBMA Dobro performer of the year award seven times (as of 2004) and works as a top studio session player in Nashville. He has also released solo albums on Rounder Records.

Lane has worked for Ricky Skaggs (who expressed a special regard for his tenor singing) and Doyle Lawson, and he can play mandolin, fiddle and guitar. He has written a large number of songs in the Blue Highway repertoire, and Skaggs, Ronnie Bowman, Mountain Heart, Blue Ridge and others have recorded his songs. He issued a solo record, All for Today, released by Rebel in 2003.

Taylor's songs are consistently among the most requested at the band's live shows, such as "Keen Mountain Prison," "Don't Come Out of the Hole," "Lonesome Pine," "Riding the Danville Pike," "Before the Cold Winds Blow" and most recently, "Seven Sundays in a Row." The 2001 SPBGMA bass performer of the year, Taylor is the first-string lead singer for Blue Highway.

The original banjo player with Blue Highway, Burleson is a native of Newland, N.C. He also anchors the group's quartets with his bass voice. A jazz devotee, Burleson's talent hasn't been fully revealed yet to the bluegrass community and gives Blue Highway unlimited options for the future.


View the full website biography of Blue Highway.