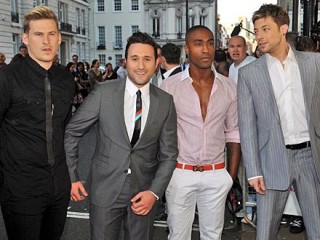 Blue (band)
Date of birth : -
Date of death : -
Birthplace : London, England
Nationality : English
Category : Arts and Entertainment
Last modified : 2011-05-14
Blue are a English pop vocal group , whose members are Simon Webbe, Lee Ryan, Duncan James and Antony Costa. Blue originally formed in 2001 before splitting in 2005.

Blue comprises of London based lads Duncan James (22), Antony Costa (20), Lee Ryan (18) and Simon Webbe (22). The boys got together early last year when Duncan and Antony decided to form a vocal group, enlisting Lee (whom they had seen on the audition circuit and regarded as the best singer around) and his flatmate Simon to make up the numbers. Vocally, the four soon realised they had something special going on, and both management and a deal with Virgin's Innocent Records quickly followed.

Their debut album "All Rise" is a confident collection of classic r'n'b tunes that is sure to cement their position as the hottest new act to emerge from the UK in 2001.

The album was recorded in the UK and Norway with a variety of top producers including the inimitable Stargate and Ray Ruffin (son of Motown legend Jimmy Ruffin). The album showcases the boy's amazingly mature vocal delivery. Tracks range from the infectious and hook laden swing of "All Rise", "Fly By" and "This Temptation", to the heartfelt smooth grooves of "Long Time" and "Best In Me".

Duncan says: "This has been a crazy and exciting year for Blue and we're totally blown away by the success we've had so far. We've worked really hard to produce an album that we are all proud of. All we want to do is perform decent songs with tough grooves and soulful vocals."

In 2009 it was confirmed that the band will make a comeback with a new tour and album. In April 2009, the group reunited and a Best of Blue Tour was announced. They will represent the UK at the 2011 Eurovision Song Contest in Germany with the song "I Can".

Eurovision Contest 2011 - Blue "I Can" :



View the full website biography of Blue (band).