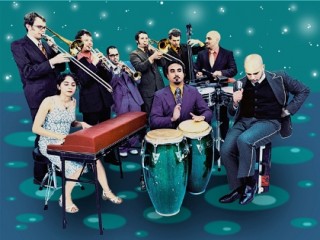 Bio Ritmo
Date of birth : -
Date of death : -
Birthplace : Richmond, Virginia, United States
Nationality : American
Category : Arts and Entertainment
Last modified : 2011-07-22
Bio Ritmo has undergone a major shift since its inception in 1991. Initially an experimental percussion ensemble, the Virginia-based sextet has turned towards dance-inspiring Latin music. With their groove-induced blend of salsa and rhumba, the group has successfully toured with Latin artists (Tito Puente), reggae performers (Burning Spear), and neo-swing groups (the Squirrel Nut Zippers).

Bio Ritmo, who takes their name from the biorhythm fad of the 1970s, was co-founded by Puerto Rico-born Jorge Negron and Jim Thomson. Originally launched to provide musical accompaniment for IMAX movies, the group has experienced numerous personnel changes. Negron was replaced in 1995 by trombone, tres guitar, and percussion player and lead vocalist Rene Herrera, a 15-year veteran of the Cuban symphony who emigrated to the United States, with his wife and daughter, on a rowboat. The group also features Charles Kirkpatrick (keyboards), Eddie Prendergast (bass), Gabo Tomasini (congas), Justin Riccio (timbales, percussion), and Bob Miller (trumpet). Bio Ritmo's third album, Rumba Baby Rumba, released in 1998, was produced by Jefferey Lesser (the Chieftains, Barbara Streisand). In 2003, after a lengthy hiatus, the group returned to the studio to record a self-titled, self-released CD that focused on salsa clasica and its intricate wordplay. Bio Ritmo was released in March 2004.
View the full website biography of Bio Ritmo.