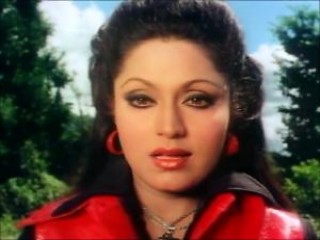 Bindu
Date of birth : 1951-01-17
Date of death : -
Birthplace : Hanuman Bhagda, India
Nationality : Indian
Category : Arts and Entertainment
Last modified : 2011-07-09
Bindu is an actress in Indian cinema who received several award nominations, in the 1970s. She has acted in over 160 movies in a career that spanned four decades.

Bindu was born to film producer Nanubhai Desai and his wife Jyotsna at a small village called Hanuman Bhagda in the district of Valsad in the Western Indian state of Gujarat. Bindu's road to success was not an easy one. With her father's demise at the young age of 13 and being the eldest daughter, the burden of earning a daily meal fell on her young, frail shoulders.

Bindu is credited in Anpadh (1962), playing a young college graduate. She would have been about 11-years old at the time, which places her birth date in dispute.

Bindu had early successes with Ittefaq and Do Raaste in 1969. From here she went on to write her success story with Shakti Samanta's Kati Patang (1970), where she had a sizzling cabaret dance, "Mera Naam Shabnam" to her credit; a number which is even today remembered as one of the highlights of the film.
Bindu's mesmerizing performances in 1974 as a seductress in Imtihaan, and as a nymphomaniac in Hawas, left audiences asking for more. With a string of hits behind her, she successfully managed to break out of the myth that married actresses usually do not go to become sex symbols, especially in the Hindi film industry. She is the third point in the 'holy trinity' of item number queens. Along with Helen and Aruna Irani, Bindu defined the Bollywood 'cabaret' dance number and the role of the 'Vamp'.
Bindu was much more than just a sex symbol. Her acting ability was seen in films like Hrishikesh Mukherjee's films Arjun Pandit and Abhimaan, where she won raves for playing a very sympathetic character. She proved to be just as convincing as the crippled woman in Chaitali and as the deglamourised role of wife to Ashok Kumar, in Arjun Pandit. She played the villains valet in Zanjeer and became famous as Mona Darling.

Unfortunately, the 5'6" tall Bindu was never offered roles as the leading lady despite being extremely photogenic, blessed with a flawless complexion and sharp features. Her being married perhaps came in the way of her being offered roles as the main female lead. Thus, she lost out on the chance of being the leading lady in her films.

An impending pregnancy, followed by an unfortunate miscarriage, brought about a lull in her career and on the advice of her doctors she had to end her stint as the glamorous vamp – dancing and all. However, she did not stay away for long and returned to the silver screen with character roles - Hero, Biwi Ho To Aisi and Kishen Kanhaiya and with many other such movies she managed to re-establish herself as the unmerciful and cruel mother-in-law, or the cynical auntie.

Today, Bindu leads a low-profile life and makes fewer on-screen appearances, like the one in Shola Aur Shabnam which brought to the forefront the comic trait to her as an actress. She followed this with her light and funny performances in Hum Aapke Hain Kaun, Main Hoon Na, and Om Shanti Om.

View the full website biography of Bindu.