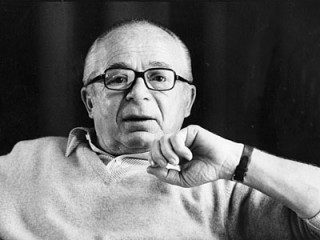 Billy Wilder
Date of birth : 1906-06-22
Date of death : 2002-03-27
Birthplace : Sucha, Galicia, Austria-Hungary (now Poland)
Nationality : Austrian-American
Category : Famous Figures
Last modified : 2011-01-21
Billy Wilder has been honored repeatedly as one of Hollywood's finest directors, writers, and producers. He created more than 50 films, encompassing such well-known comedies as The Apartment and Some Like It Hot and award-winning dramas including Sunset Boulevard and The Lost Weekend. While Wilder retired from filmmaking in the early 1980s, many of his films continue to be popular among filmgoers and are regarded as classics by critics and the film community.
Billy Wilder was born Samuel Wilder in Sucha, part of the Austro-Hungarian Empire (now Poland), on June 22, 1906. His mother, Eugenia, had spent several years in the United States. Hollywood legend says that she nicknamed her son after Buffalo Bill. His father, Max, who operated cafes and hotels, often drifted from job to job and had financial problems. Young Billy spent much of his time playing billiards and observing the hotel and cafe patrons. He became very interested in the films of Ernst Lubitsch.
After spending several months at the University of Vienna studying law, Wilder left and became a reporter. Although he was quite a success at this job, one of his assignments failed when Sigmund Freud refused to be interviewed. In 1926 Wilder moved to Berlin and wrote film scenarios; to help make extra money after the death of his father, he also worked as a dance partner for hire at a local hotel. By 1933 Wilder had fled to Paris because his Jewish heritage and leftist politics put him at increasing risk in Germany. He had some success there in selling scenarios and had already directed a film when he was offered a minor contract in Hollywood. Wilder left Europe and lost touch with his family; it was not until after World War II ended that he would discover their fate.
Wilder knew little or no English, had little money, and had no home when he arrived in Hollywood; another Hollywood legend says that he lived in the ladies' room of a hotel. He was befriended by actor Peter Lorre and eventually found regular work, first at Twentieth Century Fox. One of his earliest film credits was as a writer for Music in the Air (1934), which featured the young actress Gloria Swanson; many years later she would become the star of Wilder's great film Sunset Boulevard. Wilder then went to Paramount Studios, where he was able to work under his role model, Ernst Lubitsch, who then headed production.
At Paramount Wilder was assigned to co-write a script for Bluebeard's Eighth Wife (1936) with Charles Brackett, a law school graduate and former drama critic. The two men, according to New Yorker writer David Freeman, were complete opposites, often screaming at each other during work sessions and threatening to break up the team. However, Bluebeard marked the beginning of a long working relationship between Brackett and Wilder. They wrote 13 screenplays together, including the scripts for Lubitsch's hit comedy Ninotchka (1939), for which Wilder received his first Academy Award nomination (Best Writing, Screenplay).
As Wilder became a more successful scriptwriter, he also began to direct the resulting films, perhaps because that way he could protect the integrity of what he had written. Again according to Freeman, director Wilder frequently shot a film before he had finished writing the script and improvised scenes along the way, thus making it much more difficult to replace him. The Wilder-Brackett team carried on (with Wilder directing, Brackett producing, and both writing the scripts) until they finally dissolved their partnership after completing work on Sunset Boulevard in 1950.
High points of Wilder's early films include Double Indemnity (1942) and The Lost Weekend (1945). In Double Indemnity, a classic of the film genre called film noir, Barbara Stanwyck and insurance agent Fred MacMurray murder her husband to get the proceeds of an insurance policy. Brackett so much disliked the story that detective author Raymond Chandler had to replace him as scriptwriter. Brackett returned to cowrite The Lost Weekend, which starred Ray Milland as an alcoholic who hits bottom. For this film, Wilder won his first two Academy Awards: Best Director and Best Writing, Screenplay. The film also was named Best Picture and Milland Best Actor. However, around this time Wilder's marriage to his first wife, Judith, fell apart. After an affair with actress Doris Dowling, he married another actress, Audrey Young. Both women had appeared in The Lost Weekend, but Young's footage was edited out of the final version.
After completing The Lost Weekend, Wilder accepted an appointment to the Army's Psychological Warfare Division in Germany. His difficult task was to try to determine which members of the German film and theater industry during World War II would be acceptable to help rebuild it. Freeman tells how Wilder had to interview one ex-Nazi SS officer who had played Jesus Christ in a prewar play and wanted to do so again. Wilder reportedly said that the actor could play the role only if real nails were used during the crucifixion. While in Germany, Wilder finally had discovered the fate of his family: his mother, grandmother, and stepfather all had died at Auschwitz.
The experience in Germany certainly affected two of Wilder's later films, both set in Germany. A Foreign Affair (1948), on its surface a comedy about a romantic triangle in postwar Berlin, won Wilder an Academy Award nomination for its screenplay. However, the film was withdrawn from circulation after being criticized in Congress for being vulgar and joking about the war's aftermath. Stalag 17 (1953) starred William Holden as a con artist in a prisoner of war camp in Germany, and won Wilder another Academy Award nomination, this time for best director.
In 1950 Wilder and Brackett co-wrote and Wilder directed Sunset Boulevard, which is widely regarded as the greatest of Wilder's films, as well as one of the best depictions of the Hollywood film industry. The story of aging film star Norma Desmond (played by aging film star Gloria Swanson) is told by her lover, a young screenwriter played by William Holden, who is shown drowned in a swimming pool as the film begins. Some film executives were furious at Wilder for his sarcastic and dark portrait of Hollywood, summarized in Desmond's classic line, "I am big. It's the pictures that got small." But Sunset Boulevard was a huge success; it was nominated for eleven Academy Awards, and Wilder won Oscars for Best Writing, Story and Screenplay. However, this film also marked the end of the Wilder-Brackett writing team. In his future films Wilder first worked independently and then teamed up in 1956 with I.A.L. Diamond, with whom he collaborated until Diamond's death in 1988.
After the success of Sunset Boulevard, Wilder created a string of hit films during the 1950s. These included the original Sabrina (1954), a romantic comedy starring Humphrey Bogart, Audrey Hepburn, and Wilder regular William Holden; The Seven Year Itch (1955), another comedy perhaps best remembered for the scene in which Marilyn Monroe's dress is blown over her head by the draft from a subway grate; and Witness for the Prosecution (1958), a courtroom drama based on an Agatha Christie play and starring Charles Laughton, Marlene Dietrich, and Tyrone Power.
Some Like It Hot (1959) tackled two unlikely subjects for a comedy of the time: mob violence and cross-dressing. Wilder was discouraged from making the film by many of his friends; according to Maurice Zolotow in Billy Wilder in Hollywood, producer David O. Selznick said bluntly that, "Blood and jokes do not mix." However, the final product was a great success. Band musicians Tony Curtis and Jack Lemmon witness a mob massacre in the late 1920s and hide, dressed as women, in a traveling all-woman band whose vocalist is ukulele-playing Marilyn Monroe. Curtis, re-disguised as a wealthy playboy, becomes involved with Monroe, while Joe E. Brown, an aged and slightly daft millionaire, pursues Lemmon (in female disguise). Forty years later, the American Film Institute selected Some Like It Hot as the funniest American film ever made.
In The Apartment (1960), Wilder again called on Jack Lemmon, teaming him with an actress who had not yet become a major star, Shirley MacLaine. Lemmon is a clerk who lends his apartment to executives in his firm for secret meetings with their girlfriends. MacLaine is an elevator operator who becomes suicidal after being rejected by one of the executives. Despite its subject matter (once again, shocking for a film of the time), The Apartment was enormously popular. Wilder won Oscars for Best Director, Best Picture, and (with cowriter I.A.L. Diamond) Best Writing, Story and Screenplay.
Through the 1960s and 1970s, Wilder worked on several more films, although none was as successful as his previous ones. They included: One Two Three (1961); Irma La Douce, which once again paired Shirley MacLaine and Jack Lemmon (1963); The Fortune Cookie (1966); The Private Life of Sherlock Holmes (1970); and The Front Page (1974). Wilder directed his last film, Buddy Buddy, in 1981; it was not a critical or commercial hit. He consistently denied that he had retired and continued to meet with his longtime collaborator, I.A.L. Diamond, to discuss new ideas for films, but none moved beyond the discussion stage. Wilder told New York Times reporter Michiko Kakutani in 1996 that the only film of recent years that he had found "stimulating" was Forrest Gump.
Even though he no longer released new material, Wilder's existing body of films continued to be acknowledged as among Hollywood's finest and wittiest work. In 1982 he was honored at a gala event by the Film Society of Lincoln Center. During a pre-event interview, he told the New York Times what makes a film successful: "The basic point is to bring them in and keep them awake. The picture where it starts at 8, and at midnight I look at my watch and it's 8:15-that's the kind of picture I hate." The Academy of Motion Picture Arts and Sciences presented him the Irving G. Thalberg Memorial Award in 1988, in recognition of his long and outstanding filmmaking career. And, in 1993, Andrew Lloyd Webber created a hit Broadway musical based on Sunset Boulevard. In January 2000 Wilder, then ninety-three, appeared at an event held in his honor by the Academy of Motion Picture Arts and Sciences, in preparation for a retrospective show of his films.
The American Film Institute lists four of Wilder's films among its top 100 films of all time: Sunset Boulevard; Some Like It Hot; Double Indemnity; and The Apartment. In Conversations with Wilder, fellow filmmaker Cameron Crowe summarized Wilder's body of work: "Billy Wilder's work is a treasure trove of flesh-and-blood individuals, all wonderfully alive. In his canon of work are fall-down-laughing comedies, stinging character studies, social satire, true suspense, aching romance, the best in life, the sad and the giddy, the ironic and harrowing all have equal weight in his work."
Crowe, Cameron, Conversations with Wilder, Random House, 1999.
Sikov, Ed, On Sunset Boulevard: The Life and Times of Billy Wilder, Hyperion, 1998.
View the full website biography of Billy Wilder.