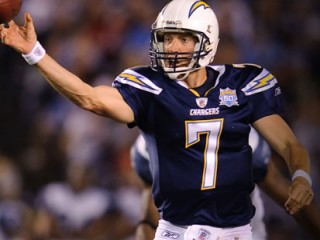 Billy Volek
Date of birth : 1976-04-28
Date of death : -
Birthplace : Hemet, California
Nationality : American
Category : Sports
Last modified : 2010-09-21
John William "Billy" Volek (born April 28, 1976 in Hemet, California) is an American football quarterback for the San Diego Chargers of the National Football League. He was originally signed by the Tennessee Titans as an undrafted free agent in 2000. He played college football at Fresno State.

Prior to the 2008 season and fresh off a key performance in the Chargers' AFC Divisional Playoff win in Indianapolis, Volek had the opportunity to leave San Diego in pursuit of a starting job elsewhere. However the veteran quarterback and California native quicklydecided that the grass doesn't get any greener than playing for one of the NFL's most successful franchises while living in America's Finest City. So in February 2008, Volek signed a new three-year contract to stay with the Lightning Bolts through the 2010 season.

Volek gives the Chargers an experienced backup who is well-liked and respected in the locker room. In 10 NFL seasons, Volek has played in 34 games and started 10. All 10 starts came with the Tennessee Titans. Since joining the Chargers via trade in October of 2006, Volek has appeared in 10 games.

His most significant action as a Charger came in the aforementioned playoff win at Indianapolis when Philip Rivers was forced to the sideline at the end of the third
quarter with a knee injury. Volek came off the bench and led the Bolts on an eight-play, 78-yard touchdown drive. His one-yard quarterback sneak for the go-ahead touchdown with less than five minutes left in the fourth quarter proved to be the game-winning score.

Despite starting only 10 games during his career, Volek holds the distinction of passing for the most yards (2,789) by an NFL QB in his first 10 starts (since 1970). Those 10 starts included a record-breaking two-game performance in 2004 in which he passed for 426 yards against Kansas City and 492 yards at Oakland to become only the fourth player in NFL history to record back-to-back 400-yard passing games. He joined Dan Fouts (1982), Dan Marino (1984) and Phil Simms (1985) as the only ones to achieve the feat. Volek also became just the second (Simms) to record 900 or more passing yards during a two-game span.

Volek spent 10 years of his childhood in the small town of Walla Walla, Washington, where former Titans teammate Peter Sirmon and former NFL quarterback Drew Bledsoe were raised. Volek, who is the same age as Sirmon and four years younger than Bledsoe, became friends with both future NFL players at an early age. Volek's older brother, Joe, was best friends with Sirmon's older brother, John. The Voleks' dad, John, is a former head football coach at Sacramento State and Fresno (Calif.) City College and is now the athletic director at Sierra College in Rocklin, California.

Volek played collegiately at Fresno State and is one of several quarterbacks from the
school who have gone on to have successful NFL careers, including Trent Dilfer, David Carr and Kevin Sweeney. Carr, the first pick in the 2002 NFL Draft, was Volek's backup during his sophomore, junior and senior seasons.

Volek and wife, Kerri, have three kids, daughter, Morgan, and sons, Carter and Benett. His hobby is skiing.

TRANSACTION HISTORY: Signed with Tennessee, April 20, 2000…re-signed with Titans, March 25, 2004…traded to Chargers for '07 sixth-round draft choice, Sept. 19, 2006...signed three-year contract with Chargers, March 1, 2008.

2009: Game Ball after leading late 4Q GW 12-play, 58-yard TD drive vs. WAS Jan. 3...two-yard GW TD pass to Mike Tolbert 0:35 left.

2008: DNP Wks 1-16, nor in either AFC Playoff game.

2007: First significant action, replacing Rivers in 2Q at TEN Dec. 9…replaced Rivers (knee) in 4Q of Divisional Playoffs at IND and led GW TD drive, scoring on one-yard QB sneak...3-of-3 for 48 yards on GW drive.

2006: Action Wk 16 vs. ARI for Rivers (foot).

2005: Started Oct. 23 at ARI and threw TD before leaving game in 4Q with concussion... replaced inj. Steve McNair in 2Q at MIA Dec. 24...career-long 55-yard TD pass vs. Dolphins.

2004: Started eight games for McNair (sternum)…first-career 300-yard game (334 yards) and two TDs at CHI Nov. 14…three 1Q TD passes to Drew Bennett Dec. 5 at IND, contributing to franchise-record 24 1Q points…four TDs and career-high passer rating (130.6), while throwing for 426 yards vs. KC Dec. 13...40 of 60 for 492 yards and four more TDs at OAK Dec. 19 to become fourth player in NFL history with back to back 400-yard passing games…also TD on one-yard QB sneak vs. Raiders…60 attempts tied George Blanda (Nov. 7, 1965) for second-most in franchise history, while completion and yardage totals were second-most…left Jan. 2 game vs. DET in 4Q (shoulder) inj.

2003: First-career TD pass (50 yards) to Eddie Berlin on fake punt in 1Q of 37-17 win at CAR Oct. 19…replaced inj. McNair at ATL Nov. 23 with team trailing 21-14 and led team to 38-31 win…first-career start at BUF Dec. 14 for McNair and led 28-26 victory…first career TD on QB sneak for 28-20 lead…lacerated spleen during game and placed on "Reserve-Injured" Dec. 18.

2002: INA for all 16 regular season and two postseason games.

2001: Played in first-career game at MIN Dec. 9.

2000: DNP in one game...INA for 15 others plus playoffs.

COLLEGE: Team MVP and first-team All-WAC as senior...2,559 yards, 30 TDs and three INTs for 153.0 rating in '99 while leading Bulldogs to Las Vegas Bowl…three-year starter threw 57 career TD passes vs. only 12 INTs…redshirted in '95…played at Fresno State from 1995-99…sociology major.

PERSONAL: Born in Hemet, California…NW Yosemite League Offensive POY as senior at Clovis West HS in Fresno, Calif.
View the full website biography of Billy Volek.