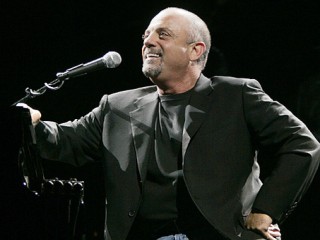 Billy Joel
Date of birth : 1949-05-09
Date of death : -
Birthplace : New York City, New York
Nationality : American
Category : Arts and Entertainment
Last modified : 2010-04-27
William Martin "Billy" Joel (born May 9, 1949) is an American musician and pianist, singer-songwriter, and classical composer. Since releasing his first hit song, "Piano Man", in 1973, Joel has become the sixth best-selling recording artist and the third best-selling solo artist in the United States, according to the RIAA.

Joel had Top 10 hits in the 1970s, 1980s, and 1990s and has 33 Top 40 hits in the United States, all of which he wrote singlehandedly. He is also a six-time Grammy Award winner, a 23-time Grammy nominee and has sold over 100 million records worldwide. He was inducted into the Songwriter's Hall of Fame (1992), the Rock and Roll Hall of Fame (1999), and the Long Island Music Hall of Fame (2006). Joel "retired" from recording pop music in 1993 but continues to tour (often with Elton John). In 2001, he released Fantasies & Delusions, a CD of classical compositions for piano. In 2007, he briefly returned to pop songwriting and recording with a single entitled "All My Life" – written for his third wife Katie Lee Joel. In September 2007, Joel wrote "Christmas in Fallujah," a tribute to soldiers and a grim depiction of war. The song was recorded by Cass Dillon and subsequently by Joel himself in a December 2008 live version that was released only in Australia. Joel returned to touring in 2006 after a three-year hiatus from the road and has toured extensively ever since, covering many major world cities. In March 2009, Joel resumed his popular Face to Face tour with fellow pianist Elton John. The tour ended in March 2010 and there are currently no more dates scheduled, although Joel, who has stated a desire to take the rest of 2010 off, told Rolling Stone magazine: "We'll probably pick it up again. It's always fun playing with him."Billy Joel is one of the richest musicians with a Net Worth of 475-510 Million.

Billy Joel's first major album, Piano Man, was released in 1974. It showcased his gift for writing ambitious pop tunes that were both catchy and sentimental. Expansive singles like New York State of Mind (1976) and Scenes From an Italian Restaurant (1977) cemented Joel's position as a blue-collar New York troubadour and helped make him one of the decade's most popular touring acts. His 1977 album The Stranger was packed with hit singles, including Movin' Out, Just the Way You Are and Only the Good Die Young, and was perhaps the height of his fame. He continued to produce hit singles like Uptown Girl throughout the 1980s, though critics carped that he had replaced his early passion with nostalgic ditties and highfalutin message songs. Still, by the turn of the century he had sold over 100 million records and was one of the most successful recording artists in history. Joel's albums include Turnstiles (1976), 52nd Street (1978), Glass Houses (1980), An Innocent Man (1983), River of Dreams (1993) and My Lives (2005). Movin' Out, a dance musical based on his songs and choreographed by Twyla Tharp, played on Broadway from 2002-2005. Joel was inducted into the Rock and Roll Hall of Fame in 1999.

Extras : Joel was married to supermodel Christie Brinkley from 1985 to 1994; their daughter, Alexa Ray, was born in 1985. He married the former Katie Lee in 2004; she's a TV food critic and reporter who was born in 1981. They announced in 2009 that they would divorce after five years of marriage. Joel was previously married to the former Elizabeth Small from 1973-82... Joel was born in the Bronx but grew up in Levittown, the planned community on Long Island.
View the full website biography of Billy Joel.