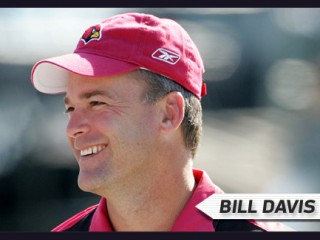 Billy Davis
Date of birth : 1965-11-05
Date of death : -
Birthplace : Youngstown, Ohio
Nationality : American
Category : Sports
Last modified : 2010-11-27
Billy Davis is an American football coach in the NFL. He currently serves as the defensive coordinator for the Arizona Cardinals. He was the defensive coordinator for the San Francisco 49ers from 2005 through 2006.

* Promoted to defensive coordinator on 2/18/09 after working as linebackers coach with the Cardinals for two seasons (2007-08).
* 19-year NFL assistant who has worked with seven other teams during his coaching career.
* Arizona's defense allowed 325 points during the regular season in 2009, the fifth-lowest total for the franchise since the NFL went to a 16-game schedule in 1978.
* Worked for two seasons as defensive coordinator for San Francisco (2005-06) prior to joining Arizona's staff.
* Served as outside linebackers coach in Carolina (1995-98) and helped guide linebackers Kevin Greene (14.5 sacks) and Lamar Lathon (13.5 sacks) to finish first and second in the NFL in sacks while each being selected for the Pro Bowl.
* Coached linebackers for Atlanta for three seasons (2001-03) and helped Keith Brooking reach the Pro Bowl in each of those three seasons.

Bill Davis enters his fourth season with the Cardinals and second as defensive coordinator after being promoted to the position on 2/18/09. The 19-year NFL assistant originally joined the Cardinals on 1/19/07 as linebackers coach following two seasons as the San Francisco 49ers defensive coordinator.

In Davis' first year as defensive coordinator with the Cardinals, his unit allowed 325 points, the fifth-lowest total for the franchise since the NFL went to a 16-game schedule in 1978. The Cardinals also had 21 interceptions during the regular season, the team's highest total since intercepting 23 passes in 1994. Arizona's defense finished sixth in the NFL with 43 sacks, the third-highest total (59 in 1983, 55 in 1984) for the team since sacks became an official stat in 1982. Safety Adrian Wilson and defensive tackle Darnell Dockett were both selected as Pro Bowl starters in 2009 while free safety Antrel Rolle and cornerback Dominique Rodgers-Cromartie were also picked for the Pro Bowl.

During Davis' two seasons as linebackers coach for the Cardinals (2007-08), linebackers Karlos Dansby and Gerald Hayes both eclipsed over 100 tackles each year with Dansby leading the team in 2007 (117 tackles) and setting a new career-high in 2008 (128 tackles). Hayes' 107 tackles in 2008 marked the third season that he recorded over 100 tackles during his career. Dansby tied for the team lead with three fumble recoveries last season after leading the team with four in 2007. During Davis' first season in Arizona, linebacker Calvin Pace also recorded over 100 tackles for the first time in his career (106) while also collecting 6.5 sacks to finish second on the team.

In 2006, the 49ers defense was highlighted with cornerback Walt Harris' first Pro Bowl selection after tying with an NFC high (GB-C. Woodson) eight interceptions, including one returned for a touchdown (@ Den). Harris also led San Francisco with five forced fumbles and two fumble recoveries. The veteran corner was not alone in producing a career season under Davis' tutelage. Linebacker Brandon Moore, in his second season as a starter, had a breakout season with a team and career-high 114 tackles (67 solos), including a team-high 6.5 sacks.

Davis joined San Francisco after completing one season (2004) as linebackers coach for the New York Giants. Prior to the season in New York, Davis spent the previous three campaigns as the Atlanta Falcons linebackers coach. During that span, linebacker Keith Brooking was selected to the Pro Bowl in each of his three seasons under Davis. In 2002, Davis was instrumental in helping Atlanta's linebackers adjust to a new 3-4 defense installed by defensive coordinator Wade Phillips.

Davis gained valuable experience as a ball boy under Dick Vermeil (Philadelphia) and Don Shula (Miami) while his father, Bill, served 13 years in the NFL, including six years as the Cleveland Browns Vice President of player personnel.

After beginning his coaching career as a graduate assistant at Michigan State, Davis joined the NFL in 1992 as a defensive assistant with the Pittsburgh Steelers under Bill Cowher. With a playing and coaching career primarily on the offensive side of the ball, Davis worked for three successful seasons with the Steelers on the defensive side of the ball.

As a defensive assistant coach, Davis sat in meeting rooms with a list of former and current head coaches including Cowher, Dom Capers, Marvin Lewis and Dick LeBeau.

In 1995, Davis began a four-year stretch as the outside linebackers coach with the Carolina Panthers under Capers. With Davis as their coach in 1996, linebackers Kevin Greene and Lamar Lathon finished first and second in the NFL in sacks, with 14.5 and 13.5 respectively. Each made the Pro Bowl and the second-year Panthers advanced to the NFC Championship Game.

After leaving Carolina, Davis had a pair of one-year stops, first with the Cleveland Browns (1999) as a defensive assistant/linebackers and next with the Green Bay Packers (2000) as a defensive assistant/defensive line.

A native of Youngstown, OH, Davis was a college quarterback and receiver at the University of Cincinnati from 1985-88. He also spent time in training camp as a wide receiver with the Miami Dolphins.
View the full website biography of Billy Davis.