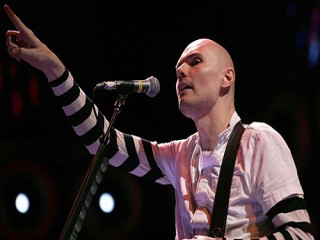 Billy Corgan
Date of birth : 1967-03-17
Date of death : -
Birthplace : Elk Grove, Illinois, United States
Nationality : American
Category : Arts and Entertainment
Last modified : 2011-06-28
Billy Corgan is an American singer, songwriter, guitarist and occasional poet best known as the frontman and sole permanent member of The Smashing Pumpkins.

Born William Patrick Corgan, Jr. on March 17, 1967, in Elk Grove, Illinois. Billy Corgan was raised primarily by his father, blues guitarist Bill Corgan, Sr., and his stepmother. The young Corgan played music in high school and formed his first band, The Marked, in 1985. Even after relocating to Florida, the band never hit its stride, and a few years later Corgan found himself back in Chicago, working in a record store and scheming his next musical venture.

With guitarist James Iha, bassist D'Arcy Wretzky and drummer Jimmy Chamberlin, Corgan founded Smashing Pumpkins in 1989. The band's psychedelic alternative rock—and Corgan's ripping guitar solos and lead vocals—soon gained a loyal following in the Chicago club scene. Smashing Pumpkins signed with Caroline Records in 1990, and their debut album, Gish, was released the following year.

Throughout the 1990s, Smashing Pumpkins rose in popularity to become one of the top alternative rock bands of the decade. Notable albums include the hit 1993 sophomore effort Siamese Dream and 1995's double album Mellon Collie and the Infinite Sadness, which was certified platinum nine times in the United States. The prolific band also contributed to such movie soundtracks as Singles, Batman & Robin and Ransom.

In 2000, following a struggle with Chamberlin's heroin addiction, the Pumpkins parted ways, after which Corgan and Chamberlin founded the short-lived band Zwan. After its demise, Corgan released his solo debut, TheFutureEmbrace, in June 2005. Smashing Pumpkins reunited in 2006, with Ginger Reyes on bass and Jeff Schroeder on guitar replacing Wretzky and Iha. The band played its first show in May 2007 and released Zeitgeist later that summer.

Billy Corgan dated Courtney Love prior to her relationship with Nirvana frontman Kurt Cobain. He was married to museum worker Chris Fabian in the late 1990s.

View the full website biography of Billy Corgan.