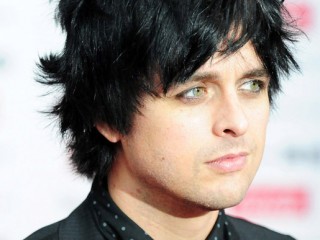 Billie Joe Armstrong
Date of birth : 1972-02-17
Date of death : -
Birthplace : Rodeo, California, U.S.
Nationality : American
Category : Arts and Entertainment
Last modified : 2011-02-17
Billie Joe Armstrong is an American rock musician and occasional actor, best known as the lead vocalist, chief songwriter and lead guitarist for the American punk rock band Green Day.

Armstrong is the youngest of six children born and raised in Rodeo, California. His father, Andy, was a jazz musician and truck driver who died of cancer in the esophagus (which spread throughout his body) when Armstrong was ten. His mother was a waitress at Rod's Hickory Pit, which Billie and his friends Mike Dirnt and Brandon O'Lech, ended up working at in their teen years. Rod's Hickory Pit was where Armstrong and his band Sweet Children performed their first gig. He insists that his name is spelled with an 'ie' because, according to the liner notes in 1,039/Smoothed Out Slappy Hours, his mother was under the influence of drugs (painkillers) while giving birth to him. He is the only member of Green Day who uses his given name, as the other two (Mike Dirnt and Tré Cool) have switched to shorter nicknames.
Billie's Guitars

Billie Joe received his first guitar at age 10, a Fernandes Stratocaster copy, nicknamed "Blue", which he received from his dad before he died. Billie Joe still uses "Blue", as well as Fender replicas that have the same duct tape and sticker covered appearance with the initials "BJ" written in red ink. The bridge pickup on all of his blue Stratocasters has been replaced with a Seymour Duncan Jeff Beck humbucker. He sometimes still uses the original "Blue" at concerts. "Blue" was used in some of their most popular music videos including "Basket Case", "Brain Stew/Jaded", "Geek Stink Breath", and "Stuck With Me", and can be seen getting covered with mud in the Woodstock '94 video. He can also sometimes be seen playing a modified '72 black Fender Telecaster Custom with a white pickguard. The bridge has been replaced with a Seymour Duncan Jeff Beck Humbucker, similar to his Stratocasters. Billie Joe can be seen playing the Telecaster in the video for "Nice Guys Finish Last". He now uses several customized Gibson Les Paul models. The Telecaster and Les Paul's channel switch located on the top of the guitar has been removed and covered with tape so that it does not interfere with his strumming. Billie Joe's custom models will be on sale starting in late 2006. Other instruments that Armstrong can play include the piano, bass guitar, drums, harmonica, mandolin, trumpet, and the saxophone.
Green Day's Early Years

Billie Joe wrote his first song (Look for Love) when he was five. In 1986, he wrote another song entitled Why Do You Want Him. This song was written when he was fourteen years old, about his step-father, whom he did not like. The song appears on Green Day's debut album on Lookout! Records, 1,039/Smoothed Out Slappy Hours.

During his stay in school, he was nicknamed "Two Dollar Bill", because he was supplying the school with joints for two dollars. In 1988, Armstrong formed a band called Sweet Children with childhood friend Mike Dirnt, and Al Sobrante (b. John Kiffmeyer). They changed their name to "Green Day" in March 1989, prior to the release of their first EP, 1,000 Hours, on Lookout! Records. The name was their slang expression for a day of pot smoking - they watched TV while being stoned and Ernie (from Sesame Street) used the term "Green Day", and it became an inside joke. In 1990, Sobrante left Green Day for college and was replaced by Tré Cool (born Frank Edwin Wright III), who appears on Green Day's second album, Kerplunk!.

Armstrong married Adrienne Nesser on July 2, 1994. Together, they are co-founders and part owners of the independent label Adeline Records, to which he has a side band called Pinhead Gunpowder with Green Day second guitarist Jason White which is on Lookout! Records. Armstrong has also worked as a producer, most notably in a co-production with noted punk producer Mass Giorgini of Chicago punk legends the Riverdales. He has two sons, Joseph Marciano (b. March 1995), and Jakob Danger (b. September 1998). He is also a member of the band The Network, along with the rest of the members of Green Day.

On January 24, 1995 Armstrong stated during an interview that he is bisexual:

"I think I've always been bisexual. I mean, it's something that I've always been interested in. I think everybody kind of fantasizes about the same sex. I think people are born bisexual, and it's just that our parents and society kind of veer us off into this feeling of 'Oh, I can't'. They say it's taboo. It's ingrained in our heads that it's bad, when it's not bad at all. It's a very beautiful thing."


View the full website biography of Billie Joe Armstrong.