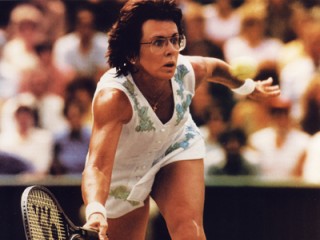 Billie Jean King
Date of birth : 1943-11-22
Date of death : -
Birthplace : Long Beach, California, United States
Nationality : American
Category : Sports
Last modified : 2010-08-24
Billie Jean King, also known as Billie Jean Moffitt King born November 22, 1943 in Long Beach, California, United States is a former professional tennis player.

A Professional.
Billie Jean King transformed women's tennis into a professional sport. When she won her first Wimbledon singles title in 1966, the prize was a gift certificate for clothes. King's response was to begin a campaign, along with leading men's tennis players, to demand prize money at all U.S. Lawn Tennis Association tournaments. Five years later she was the first woman to earn $100,000 in a year as a professional tennis player. Rod Laver, the leading money winner on the men's tour, won $290,000 that year, suggesting the next inequity King challenged.

Equality on and off the Court.
In 1972 she complained loudly when she received only $10,000 for winning the U.S. Open, while male champion Ilie Nastase received $25,000. The women deserved parity, she argued, and they got it. Margaret Court won the U.S. Open in the first year of parity, as least partly because King was exhausted by September, when the tournament took place.

Pig vs. Professional.
King had just experienced what may have been the most publicized event in American tennis history--a challenge match against self-described male chauvinist pig Bobby Riggs. The match was pure made-for-television promotion--$100,000, winner-take-all. Riggs arrived courtside wearing a crown--he was king of the pigs--and waving an oversized model of a Sugar Daddy candy stick. King was carried in by male porters. He gave her roses, and she accepted with good humor. The tennis stunk. Riggs had had some tour experience, but he was, as he admitted, over-the-hill at age fifty-five. He lost in three straight sets, and she won the goodwill of the American public, over forty million of whom had watched the match on television.

WTA.
In 1973 King was instrumental in forming the Women's Tennis Association (WTA), a union established to lobby for women's rights on the professional tour. It was a time of strong women players, Chris Evert chief among them. Evert helped improve the marketability of women's tennis in America, and King saw to it that the opportunity was exploited. The Virginia Slims Championship was the first all-women tournament, and the prize money was sufficient to attract the best. King and her husband founded the magazine womenSport to redress inadequate attention paid to women's athletics in the major sports journals, and they used their magazine to lobby for changes in sports rules.

Diplomat.
As the 1970s wore on, King gradually made the transition from athlete to sports diplomat. She was still ranked by the WTA in 1981, and she managed to progress to the semifinals at Wimbledon that year, but it was the end of her playing days. She had won thirty-nine Grand Slam titles--including the singles, doubles, and mixed doubles at Wimbledon in 1973--and her athletic record was unmatched. She turned to work as a coach, an organizer, and an inspiration to young athletes. A highly publicized lesbian palimony suit in 1981 threatened her reputation briefly, but King's candid confrontation of the issue turned a character assault into another victory, as she not only won in court but also preserved her integrity amid the publicity squall.

Legacy.
In 1994 Sports Illustrated ranked Billie Jean King fifth among the most important sports figures of the preceding forty years. "Not only is she among the greatest women tennis players ever, she is credited with furthering the cause of all female athletes and making tennis more popular," the citation stated.

AWARDS
Wimbledon; US Open; French Open; Sports Illustrated Sportswoman of the Year.
View the full website biography of Billie Jean King.