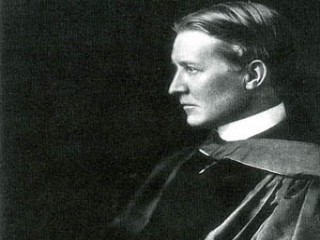 Bertram Goodhue
Date of birth : 1869-04-28
Date of death : 1924-04-23
Birthplace : Pomfret, Connecticut,U.S.
Nationality : American
Category : Arhitecture and Engineering
Last modified : 2012-01-19
Bertram Grosvenor Goodhue (April 28, 1869–April 23, 1924) was a American architect celebrated for his work in neo-gothic design. He also designed notable typefaces, including Cheltenham and Merrymount for the Merrymount Press.

Goodhue was born in Pomfret, Connecticut to Charles Wells Goodhue and his second wife, Helen (Eldredge) Grosvenor Goodhue. Due to financial constraints he was educated at home by his mother until, at age 11 years, he was sent to Russell's Collegiate and Commercial Institute. Finances prevented him from attending university, but he received an honorary degree from Trinity College in Connecticut in 1911. In lieu of formal training he moved to Manhattan, New York City in 1884 to apprentice at the architectural firm of Renwick, Aspinwall and Russell (one of its principals, James Renwick, Jr., was the architect of Grace Church and St. Patrick's Cathedral, both in New York City). Goodhue's apprenticeship ended in 1891 when he won a design competition for St. Matthew's in Dallas.

After completing his apprenticeship, Goodhue moved to Boston Massachusetts, where he was befriended by a group of young, artistic intellectuals involved in the founding of the Society of Arts and Crafts - Boston in 1897. This circle included Charles Eliot Norton of Harvard University and Ernest Fenollosa of the Boston Museum of Fine Arts. It was also through this group that Goodhue met Ralph Adams Cram, who would be his business partner for almost 25 years. Cram and Goodhue were members of several societies, including the "Pewter Mugs" and the "Visionists". In 1892–1893 they published a quarterly art magazine called The Knight Errant. The multitalented Goodhue was also a student of book design and type design. In 1896, he created the Cheltenham typeface for use by a New York printer, Cheltenham Press. This typeface came to be used as the headline type for The New York Times.

In 1891, Cram and Goodhue formed the architectural firm of Cram, Wentworth, and Goodhue, renamed Cram, Goodhue and Ferguson in 1898. The firm was a leader in Neo-Gothic architecture, with significant commissions from ecclesiastical, academic, and institutional clients. The Gothic Revival Saint Thomas Church was designed by them and built in 1914 on Manhattan's Fifth Avenue in New York City. In 1915, Goodhue accepted membership to what is known now as the American Academy of Arts and Letters.

When Goodhue left to begin his own practice in 1914, Cram had already created his dreamed of Gothic Revival commission at the Cathedral of St. John the Divine in New York City, and continued to work in the Gothic style mode for the rest of his career.

Goodhue, in contrast, departed into a series of radically different stylistic experiments over his independent career. His first was the Byzantine Revival style for St. Bartholomew's Episcopal Church on New York City's Park Avenue, built on a new platform just above the Grand Central Terminal railyards.

In California in 1915 Bertram Goodhue re-interpreted masterful Spanish Baroque and Spanish Colonial architecture complete with the latter's traditional Churrigueresque detailing into what became known as the Spanish Colonial Revival Style of architecture. This was for the significant commission of the El Prado Quadrangle's layout and buildings at the major 1915 Panama-California Exposition, located in San Diego's Balboa Park. He was the lead architect, taking over from Irving Gill, with Carleton Winslow Sr. and Lloyd Wright assisting. The Panama-California Exposition's style was seen by many and widely published, becoming extremely influential in California and the Southern and Southwestern United States. It led to California's assimilation of Spanish Colonial Revival Style architecture as its dominant historical regional style, which continues to this day. The singular style for the rebuilding of Santa Barbara after its 1925 destruction by a major earthquake was drawn from the local Mission Revival and Goodhue's Panama-California Exposition Spanish Colonial Revival style trends.

Examples of influential private Californian commissions, both extant registered landmarks now, are his 1906 J. Waldron Gillespie Estate El Fureidis and 1915 Dater - Wright Ludington Estate Dias Felices — Val Verde in Montecito. Goodhue and Gillespie had done a six month research and acquisitions tour together through Egypt, Persia, and the Arabian Peninsula before collaborating on the classic Persian gardens layout and Roman and Spanish Colonial Revival residence at El Fureidis. Goodhue's Spanish Colonial Revival style work went on to dominate the Hawaiian architecture of public buildings and estate residences during the 1920s building boom in the Territory of Hawaii.

Later Goodhue's architectural creations became freed of architectural detail and more Romanesque in form, although he remained dedicated to the integration of sculpture, mosaic work, and color in his surface architectural details. Towards the end of his career, he arrived at a highly personal style, a synthesis of simplified form and a generalized archaic quality, and those innovations paved the way for others to transition to modern architectural idioms. This style is seen in his last major projects: the 1926 Mediterranean revival and Egyptian revival Los Angeles Public Library; the Nebraska State Capitol; and in his 1922 entry for the Chicago Tribune Tower competition.
View the full website biography of Bertram Goodhue.