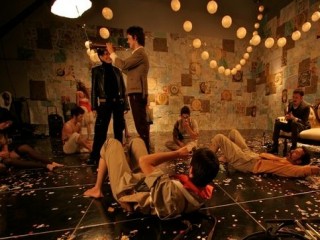 Beirut (Band)
Date of birth : -
Date of death : -
Birthplace : Santa Fe, New Mexico
Nationality : American
Category : Arts and Entertainment
Last modified : 0000-00-00
Beirut is a world famous American folk-indie band which was originally the solo musical project of Santa Fe native Zachary Francis Condon, and later expanded into a band. The band's first performances were in New York, in May 2006, to support the release of their debut album, Gulag Orkestar. Beirut's music combines elements of indie-rock and world music.

Condon recorded before Beirut was established: when he was fifteen and under the name of Realpeople, he made an electronic record, fashioned after his love for The Magnetic Fields. Condon was a straight-A student until he dropped out at the age of 17 to travel Europe with his cousin in a drunken haze, cavorting and partying with the locals wherever he ended up. It was during one of these evenings that he was first exposed to Balkan music (notably including the Boban Marković Orkestar and Goran Bregović), blasting from the upstairs apartment. Condon ended up with the Serbian artists all night, going through albums country by country, note for note.

The first album under the Beirut moniker, Gulag Orkestar (2006), was the direct result of what he learned that night. While it may sound like an entire Balkan orchestra playing modern songs as mournful ballads and upbeat marches, the album was performed and recorded almost entirely by Condon alone. He did so on Pro Tools while skipping school in Albuquerque and at Sea Side Studios in Park Slope, Brooklyn. Jeremy Barnes added percussion and some violin overlays.


View the full website biography of Beirut (Band).