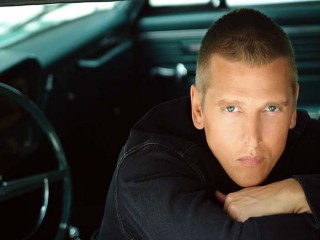 Barry Pepper
Date of birth : 1970-04-04
Date of death : -
Birthplace : Campbell River, British Columbia, Canada
Nationality : Canadian
Category : Arts and Entertainment
Last modified : 2011-06-23
Barry Robert Pepper is a Canadian actor.

Since gaining national attention for his role as a religious army sniper in Steven Spielberg's "Saving Private Ryan" (1998), actor Barry Pepper proved himself to be a dependable and versatile performer in a variety of lead and supporting roles.

Born April 4, 1970 in Campbell River, British Columbia, Canadian-born Pepper enjoyed an idyllic childhood aboard a yacht which his family built themselves. The Peppers sailed through the South Seas, using only the stars and a sextant as guides. Pepper himself was raised and educated via correspondence schools or in local public schools in Tahiti and Polynesia. He credited these early experiences for developing his love of performance. From the islanders, he learned to love music and dance, and his family encouraged him to pass the long hours on board their yacht through improvisation and acting games. The Peppers eventually returned to Canada and settled on a small island off the coast of Vancouver, home to an artists' colony. Pepper excelled at both performance and sports, particularly rugby and volleyball. He graduated from high school in 1988, pursuing a college degree in marketing and design, but later transferred to the Vancouver Actors Studio to pursue his acting dreams full time.

Pepper began landing roles on television in the U.S. and Canada in 1992, including a recurring role on the Canadian teen drama "Madison" (1993-97), as well as episodes of "The Outer Limits" (Showtime, 1995-2002) and "Lonesome Dove: The Series" (1994-95). Larger feature roles started coming his way near the end of the 1990s - he had supporting roles in the Howie Long action picture "Firestorm" (1998) and the 1996 TV movie "Titanic" before landing the role of Pvt. Daniel Jackson, the eagle-eyed sharpshooter in "Ryan." Despite the star power on hand, including Tom Hanks and Matt Damon, Pepper earned positive notices for his intense performance in the spellbinding war film.

Following the success of "Ryan," Pepper was immediately cast as earnest, conflicted men in two big-budget features: "Enemy of the State" (1998; as a crooked detective) and "The Green Mile" (1999; as a hotheaded prison guard). All three films were critical and financial hits, with Pepper earning three nominations from the Screen Actors Guild and an Online Film Critics Society Award as part of an ensemble for "Ryan" and "Mile." The only negative note to this hot streak came with role in the unfortunate "Battlefield Earth" (2000), which was a miserably infamous failure. Pepper was even nominated for a Razzie as Worst Supporting Actor, but took the incident in stride, even joking that had he known he would win (which he did not) and that he would have gladly accepted the award in person.

Pepper's next project was the HBO original film "61*" (2001), in which he played clean-cut and determined baseball legend Roger Maris. The film, directed by Billy Crystal, earned him more positive notices and nominations as Best Actor from the Emmys, Golden Globes, and Broadcast Film Critics Association. He worked steadily over the next few years in a variety of genres, from the gangster drama "Knockaround Guys" (2001) to Mel Gibson's harrowing Vietnam War film "We Were Soldiers" (2002) to Spike Lee's unfairly ignored "25th Hour" (2002), in which he played one of prison-bound Edward Norton's friends. In 2003, he returned to his native Canada to co-produce and star in actor Charles Martin Smith's "The Snow Walker," a 1950s drama about a pilot who crashes in the frozen Canadian North with a sick Inuit passenger. The picture was nominated for numerous Genie and Leo awards, including Best Actor for Pepper.

He garnered further praise in the States for his role as racing legend Dale Earnhardt in "3: The Dale Earnhardt Story" (2004), which he also co-produced. He gave a particularly powerful performance as the violent and confused rookie border patrolman who unwillingly accompanies Tommy Lee Jones across the Mexican border to pay final respects to a friend in "The Three Burials of Melquiades Estrada" (2005). He also took over for Matt Damon as the amoral Tom Ripley in Roger Spottiswoode's largely unseen "Ripley Under Ground" (2005). The latter project unfortunately prevented him from appearing in Martin Scorsese's "The Aviator" (2004) leaving actor Matt Ross to assume his role.

Pepper next costarred in "Flags of Our Fathers" (2006), a World War II epic directed by Clint Eastwood that focused on the three surviving U.S. servicemen who raised the American flag during the vicious battle for Iwo Jima. The actor portrayed Marine Sergeant Michael Strank, one of six soldiers captured by Associated Press photographer J Rosenthal in the iconic picture that was used by the government to rally a weary public behind the war effort. Though Strank was one of the three photographed men who died on the island, the survivors-Marines Ira Hayes (Adam Beach) and Rene Gagnon (Jesse Bradford), and Navy corpsman John "Doc" Bradley (Ryan Phillippe)-were propped up by cynical politicians as her s and shuttled around the country to get Americans to buy war bonds while they struggled privately to deal with the sharp contrast between the official sanitized version of events and the hellish nightmare that continually haunted them.

View the full website biography of Barry Pepper.