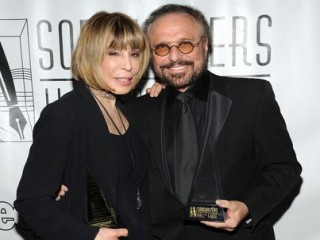 Barry Mann
Date of birth : 1939-02-09
Date of death : -
Birthplace : Brooklyn, New York, U.S.
Nationality : American
Category : Arts and Entertainment
Last modified : 2022-02-09
Barry Mann is an American songwriter, and part of a successful songwriting partnership with his wife, Cynthia Weil.

Although pop music fans may not be able to place Barry Mann's name, anyone who has turned on a radio in the past few decades has certainly heard his work. He and his wife, Cynthia Weil, are the songwriting team behind a host of memorable tunes, including several 1960s classics such as "On Broadway," "We Gotta Get Out of This Place," and "Uptown." They made the top 40 charts a total of 18 times with such favorites. In 1999, the performing-rights organization Broadcast Music, Inc. (BMI) announced that their 1964 composition, "You've Lost That Lovin' Feeling," performed by the Righteous Brothers, was the most-played song of the century. In fact, Mann and Weil helped launch the Righteous Brothers' career with that tune as well as their much-loved "Soul and Inspiration." They were also pioneers in introducing politically conscious music onto the airwaves during the 1960s. Later, the pair worked with big names like Linda Ronstadt, Aaron Neville, Dolly Parton, and James Ingram. They also put their touch on animated musicals for children.

Mann was born Barry Iberman on February 9, 1939, in Brooklyn, New York. He began writing songs at age five, but then studied to be an architect. After landing a singing job one summer at a resort in the Catskills, though, he decided to try his hand at writing professionally. Starting out, he worked at Hill & Range publishers, who handled music for Elvis Presley; he also collaborated with Howie Greenfield. His first success came in 1959 with the Diamonds' "She Say (Oom Dooby Doom)." However, in 1961 Mann saw his first major hit as a performer as well as a songwriter with the novelty song "Who Put the Bomp (In the Bomp, Bomp, Bomp)," cowritten with Gerry Goffin. It reached the top ten.

By this time, Mann was on the songwriting team at Don Kirshner's Aldon Music, which included luminaries such as Phil Spector, Neil Sedaka, Carole Bayer Sager, the team of Jerry Lieber and Mike Stoller, and the husband and wife teams of Goffin and Carole King and Jeff Barry and Ellie Greenwich. There, the same year as his debut on the charts, Mann met another writer, Cynthia Weil, who had done some acting. They began collaborating, and soon their professional relationship blossomed into a personal one. They married in 1961 and also had a hit that year with Tony Orlando's "Bless You."

As part of the famous "Brill Building" sound, so named after the location of Krishner's New York offices, Mann and Weil were among the first to contribute politically charged songs to the mix. Previously, the group was known mainly for bubblegum pop tunes about teenage love. Weil, who was not a musician but a poignant wordsmith, eventually provided more sociopolitical lyrics, while Mann concentrated mainly writing the tunes. They ensured their success by tailoring each work to suit the artist who was slated to record it, rather than writing a selection and then looking for the right vocalist to bring it to life.

In addition to "You've Lost That Lovin' Feeling," some of Mann and Weil's hits during the 1960s included The Drifters' "On Broadway," which they wrote with Lieber and Stoller, and The Crystals' "Uptown." These two songs delved into the inequities of social class and race in urban America. Mann and Weil also penned the mid-1960s piece "We Gotta Get Out of This Place," recorded by the Animals, which became a theme song for anti-Vietnam protestors. They also tackled a tough topic with the anti-drug message "Kicks" by Paul Revere and the Raiders. Adding to their versatility, Mann and Weil created the catchy 1963 teen novelty hits "Blame It on the Bossa Nova" by Eydie Gorme and "My Dad" by Paul Peterson. And, in 1964, they teamed with Spector to write for the soul group The Ronettes, and that same year penned Gene Pitney's desolate "I'm Gonna Be Strong." They are also responsible for one of Dolly Parton's trademark tunes, "Here You Come Again," which led the way for country singers to cross over to a pop audience.

Sometimes, though, the sentiments Weil and Mann intended did not translate from the page to the studio. For example, they initially wrote "Only in America" with a sarcastic tone and meant for it to be sung by the African American soul group The Drifters. One of the lines read, "Only in America, do they save a seat in the back of the bus just for me." However, as Andy Seiler reported in USA Today, "The song ended up an unabashed flag-waver--`white bread,' in Mann's words--sung by Jay & the Americans over the original Drifters instrumental track."

In the late 1960s, Mann and Weil left Kirschner's group to head for Hollywood. They continued to rack up the hits, working with Larry Kolber on Bobby Vinton's "I Love How You Love Me" in 1968, and following up with Jay and the Americans' "Walking in the Rain," 1969, and B. J. Thomas's "I Just Can't Help Believing," 1970. Mann also had a big hit in 1977 with Dan Hill's "Sometimes When We Touch," and soon began to perform backup, chipping in on keyboards for artists such as The Pointer Sisters and providing backup vocals for Bernadette Peters.

Throughout the influx of punk rock, new wave, rap, and grunge, Mann and Weil managed to stay relevant. In the 1980s, they helped propel Quincy Jones' producing career with the James Ingram smash single "Just Once." Then they landed a coup with the song "Somewhere Out There," sung by Ronstadt and Ingram and heard on the soundtrack to the children's animated feature An American Tale. This tune won 1987 Grammy Awards for best song written specifically for a motion picture or television as well as song of the year. Throughout the 1990s, Mann and Weil continued to work in films, writing tunes for soundtracks for Muppet Treasure Island and All Dogs Go to Heaven 2. And, in 1997, they scored a top five success with "I Will Come to You," made big by Hanson, the ultra-popular baby-faced trio of brothers.

Meanwhile, in addition to his role behind the scenes, Mann occasionally sought the limelight. In 1975, for instance, he released Survivor, featuring himself as a singer, but it did not enjoy the success of his and Weil's works for others. "I didn't have the temperament to be an artist," Man admitted to Jim Besseman in Billboard. But in January of 2000, he released another album spotlighting his vocal skills. Barry Mann: Soul and Inspiration came out as part of the Atlantic Records Songwriters Series, and included 11 of his greatest hits, including "You've Lost That Lovin' Feeling," "On Broadway," "We Gotta Get Out of This Place," and the title track, which he sings with Bryan Adams. The selections also featured duets or backups with the likes of Peabo Bryson, Deana Carter, Carole King, and Brenda Russell.

Marking perhaps their most momentous achievement, Mann and Weil in 1999 learned that BMI named their song "You've Lost That Lovin' Feeling" as the most-played tune of the twentieth century. Late in the decade, it surpassed the John Lennon and Paul McCartney classic Beatles tune "Yesterday," with eight million performances. To illustrate this, if the song were played in succession 24 hours a day, it would take more than 45 years to get to this number. However, in 1999 the American Society of Composers, Authors and Publishers contradicted this, stating that "Happy Birthday to You," copyrighted in 1935 by sisters Mildred and Patty Hill, was instead the most-performed tune of the past 100 years. Each organization stuck by their claim.

Together, Mann and Weil have reaped numerous awards, including 108 pop, country, and R&B awards from BMI, and 76 Millionaire awards, recognizing songs of theirs that have been played on the radio at least one million times. They also received a Lifetime Achievement Award from the National Academy of Songwriters, and the Clooney Foundation's Award for legendary song composition. In addition, they were inducted into the Songwriters Hall of Fame in 1997.

As of May 2009, Mann's song catalog lists 635 songs. He has received 56 pop, country, and R&B awards from Broadcast Music Incorporated, and 46 Millionaire Awards for radio performances numbering over one million plays. The song "You've Lost That Lovin' Feelin'", co-written with Weil and Phil Spector, was the most played song of the 20th century, with more than 14 million plays.

View the full website biography of Barry Mann.