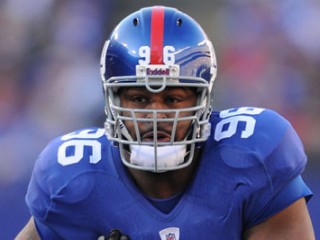 Barry Cofield
Date of birth : 1984-03-19
Date of death : -
Birthplace : Cleveland Heights, Ohio
Nationality : American
Category : Sports
Last modified : 2010-09-22
Barry Cofield is an American football defensive tackle for the New York Giants of the National Football League.

* Originally a 4th round (124th pick overall) draft choice by the Giants in 2006.


GIANTS NOTES
* Won the starting nose tackle position in training camp and became the 1st Giants rookie defensive player to start every game since linebacker Lawrence Taylor and defensive lineman Bill Neill in 1981…Cofield was one of 13 rookies to start each of his team's games in 2006.
* Has been a full-time starter since his rookie season.
* Outstanding run-stuffer who helped the Giants finish in the top 15 in run defense each of the previous 3 seasons.
CAREER HIGHLIGHTS
* Has played in 63 regular season games with 62 starts and started all 6 postseason games in which he's played…Career totals include 221 tackles (119 solo), 6.5 sacks, 4 passes defensed and 1 forced fumble in the regular season and 16 tackles (11 solo) in the postseason.
* In 2009, started all 16 games at nose tackle…Finished season with 57 tackles (27 solo), 1.0 sacks, 5 tackles for losses, 16 QB hurries, 6 QB hits and a pass defensed…Sacked Jason Campbell for a 9-yard loss at Washington (12/21)…Tallied season-high 7 tackles (2 solo) vs. Oakland (10/11) and vs. Atlanta, also 2 solo on 11/22).
* In 2008, started all 15 regular season games in which he played and started the NFC Divisional Playoff Game vs. Philadelphia…Inactive at Minnesota (12/28) with a knee injury…Finished the season with 56 tackles (28 solo), 2.5 sacks, 1 pass defensed, 1 forced fumble, 6 tackles for losses, 3 quarterback hurries and 6 quarterback hits.
* Registered 4 tackles (3 solo), 1 sack and a pass defensed vs. Cincinnati (9/21). Sacked Carson Palmer for a 6-yard loss in the 3rd quarter…Also had a 1-yard solo sack of J.T. O'Sullivan vs. San Francisco (10/19) and a half-sack at Washington (11/30)… Finished with 8 tackles (2 solo) and 1 QB hurry vs. Carolina (12/21)…Posted 4 tackles, 1 QB hurry and 1 QB hit in the NFC Divisional Playoff Game vs. Philadelphia (1/11)
* In 2007, played in all 16 regular season games with 15 starts and started all 4 postseason games at nose tackle...His ability as a run stuffer helped the Giants finish the season 8th in run defense in the NFL…Finished the season with 41 tackles (21 solo), 1 sack, 6 QB hurries, 4 QB hits and 1 pass defensed… Recorded his 2nd career full sack when he dropped Donovan McNabb for a 7-yard loss in the 3rd quarter at Philadelphia (12/9).
* As a rookie in 2006, started all 16 regular season games and the NFC Wild Card Game at nose tackle…Led the defensive line with 67 tackles (43 solo)…Also had 22 QB pressures, 3 QB hits and 1.5 sacks…Cofield was selected as the nose tackle on the Pro Football Weekly/Pro Football Writers of America 1st All-Rookie team.
* Started at nose tackle vs. Indianapolis (9/10) to become the 1st Giants rookie defensive lineman to start the season opener since Bill Neill in 1981…Contributed 3 solo tackles vs. the Colts… Finished with 6 tackles (5 solo), including 1.5 sacks at Atlanta (10/15)…Combined with Fred Robbins to sack Michael Vick in the 4th quarter…Recorded his 1st full career sack when he dropped Vick for a 10-yard loss later in the 4th quarter…Had 5 solo tackles in the NFC Wild Card game at Philadelphia (1/7/07).
OLLEGE
* Played in 49 games with 36 starts for the Wildcats…Started 36 of his last 37 games…A versatile player, Cofield started at both right and left defensive tackle and left defensive end during his career.
* Finished with 197 tackles (88 solo), 6.5 sacks for minus 22 yards and 15.5 stops for losses of 38 yards…Registered 18 quarterback pressures with 8 pass deflections and a 16-yard interception return. He also recovered 3 fumbles and forced 4 others…Posted 5.5 of his 6.5 sacks and 11.5 of his 15.5 stops behind the line of scrimmage in his last 2 years.
* Played in every game as a true freshman in 2002 and registered 36 tackles (14 solo) with 2 stops for losses while causing and recovering a fumble in 12 contests.
* Earned a starting job at left defensive end as a sophomore and had 46 tackles (19 solo) in 13 contests. He added 1 sack, 2 stops for losses, 6 quarterback pressures, a forced fumble and a fumble recovery.
* Adapted to playing right defensive tackle in 2004, when he started 11 games, collected 52 tackles with 3.5 sacks and 5 stops behind the line of scrimmage. Cofield added 5 pressures and batted away 3 passes.
* Earned All-Big Ten 2nd-team honors as a senior in 2005, when he lined up at left defensive tackle. Recorded a career-high 63 tackles (24 solo) and had 2 sacks with 6.5 stops for losses and 7 pressures. He forced 2 fumbles, recovered another, deflected 5 passes and returned an interception 16 yards.
OFF FIELD ACTIVITY
* Attended the Champions for Children fundraiser gala benefitting the Tom Coughlin Jay Fund Foundation.
* Attended New York Presbyterian Hospital's International Year of the Lungs fundraiser gala.
* Attended the Giants Kickoff Luncheon benefitting St. Vincent's Medical Center.
PERSONAL
* Attended Cleveland Heights (Ohio) High School, where he was a Super Prep All-Midwest Region and 2nd-team All-State defensive end in 2001…Earned 1st-team All-Lake Erie League and All-District honors…Registered 84 tackles, 19 stops behind the line of scrimmage, 12 sacks and 6 pass deflections his senior season.
* All-League and honorable mention All-District basketball player (11 ppg, 8 rpg, 5 apg).
* Lettered in baseball and track, boasting an 11.75 clocking in the 100-meter dash.
* Was a Communication Studies/Sociology major.
* Married (Kendra) with son Barry Joseph Cofield III born, May 27, 2010.
* Son of Cathy Cofield…Born Barry Joseph Cofield Jr. on March 19, 1984.
View the full website biography of Barry Cofield.