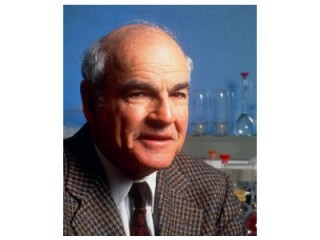 Barry Blumberg
Date of birth : 1925-07-28
Date of death : 2011-04-05
Birthplace : New York City, New York, U.S.
Nationality : American
Category : Science and Technology
Last modified : 2011-08-16
Barry Blumberg was an American doctor and co-recipient of the 1976 Nobel Prize in Physiology or Medicine (with Daniel Carleton Gajdusek), and the President of the American Philosophical Society from 2005 until his death.

Baruch S. "Barry" Blumberg was awarded the 1976 Nobel Prize in Medicine, shared with D. Carleton Gajdusek, for their separate research into infectious viral diseases. In 1963, in his most famous discovery, he identified the virus that causes Hepatitis B, a frequently fatal disease often transmitted through blood transfusions. He found an antigen for the disease in the blood of Australian aborigines, which led to the development of a safe and effective vaccine. Upon winning his Nobel honors, Blumberg told the New York Times, "I'm especially pleased that someone from Philadelphia won. It's appropriate in the bicentennial year and makes up in part for the Phillies not making it to the World Series."

In high school he won a science fair by constructing a working refrigerator from junk parts. He served in the U.S. Navy, going straight from high school to World War II, and later worked as a merchant seaman and ship's doctor. During his medical internship he worked under Nobel laureates Dickinson W. Richards and André F. Cournand, and he completed his PhD under Hans Krebs. In addition to his credentials as a physician and laboratory scientist, Blumberg was also a professor of anthropology, a past director of NASA's Astrobiology Institute, and served on the Board of Trustees for the SETI (Search for Extra-Terrestrial Intelligence) program.

View the full website biography of Barry Blumberg.