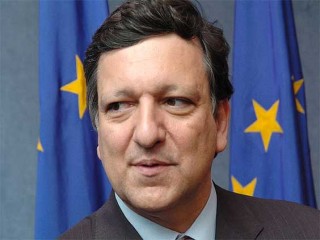 Barroso José Manuel
Date of birth : 1956-03-23
Date of death : -
Birthplace : Lisbon, Portugal
Nationality : Portuguese
Category : Politics
Last modified : 2010-05-06
José Manuel Durão Barroso (born 23 March 1956) is a Portuguese politician. He is the 11th and current President of the European Commission, since 23 November 2004. He served as Prime Minister of Portugal from 6 April 2002 to 17 July 2004.

Durão Barroso (as he is known in Portugal) graduated in Law from the Faculty of Law of the University of Lisbon and has an MSc in Economic and Social Sciences from the University of Geneva (Institut Européen de l'Université de Genève) in Switzerland. His academic career continued as an Assistant Professor in the Faculty of Law of the University of Lisbon. He did research for a Ph.D at Georgetown University and Georgetown's Edmund A. Walsh School of Foreign Service in Washington, D.C. but his CV does not list any doctoral degree (except honorary). He is a 1998 graduate of the Georgetown Leadership Seminar. Back in Lisbon, Barroso became Director of the Department for International Relations at Lusíada University (Universidade Lusíada). He also received an honorary degree from Warsaw School of Economics (2007), Liverpool University on 3 July 2008 and from Chemnitz University of Technology on 8 May 2009.

Political career

Barroso's political activity began in his college days, before the Carnation Revolution of 25 April 1974. He was one of the leaders of the underground Maoist MRPP (Reorganising Movement of the Proletariat Party, later PCTP/MRPP, Communist Party of the Portuguese Workers/Revolutionary Movement of the Portuguese Proletariat). In an interview with the newspaper Expresso, he said that he had joined MRPP to fight the only other student body movement, also underground, which was controlled by the Communist Party. Despite this justification there is a very famous political 1976 interverview recorded by RTP in which he criticizes the bourgeois education system which "throws students against workers and workers against students", showing clear left-wing and maoist inclinations. In December 1980, Barroso joined the right-of-centre PPD (Democratic Popular Party, later PPD/PSD-Social Democratic Party), where he remains to the present day.

In 1985, under the PSD government of Prime Minister Aníbal Cavaco Silva (now President of Portugal), Barroso was named Under-Secretary of State in the Ministry of Home Affairs. In 1987 he became a member of the same government as he was elevated to Secretary of State for Foreign Affairs and Cooperation (answering to the Minister of Foreign Affairs), a post he was to hold for the next five years. In this capacity he was the driving force behind the Bicesse Accords of 1990, which led to a temporary armistice in Angola's civil war between the ruling MPLA and the opposition UNITA guerrillas of Jonas Savimbi. He also supported independence for East Timor, a former Portuguese colony, then a province of Indonesia by force. In 1992, Barroso was promoted to the post of Minister of Foreign Affairs, and served in this capacity until the defeat of the PSD in the 1995 general election.

Prime Minister of Portugal

In opposition, Barroso was elected to the Assembly of the Republic in 1995 as a representative for Lisbon. There, he became chairman of the Foreign Affairs Committee. In 1999 he was elected president of his political party, PSD, succeeding Marcelo Rebelo de Sousa (a professor of law), and thus became Leader of the Opposition. Parliamentary elections in 2002 gave the PSD enough seats to form a coalition government with the right-wing Portuguese People's Party, and Barroso subsequently became Prime Minister of Portugal on 6 April 2002. As Prime Minister, facing a growing budget deficit, he made a number of difficult decisions and adopted strict reforms. He vowed to reduced public expenditure, which made him unpopular among leftists and public servants. His purpose was to lower the public budget deficit to a 3% target (according to the demands of EU rules), and official data during the 2002-2004 period stated that the target was being attained. Barroso did not finish his term as he had been nominated as President of the European Commission on 5 July 2004. Barroso arranged with Portuguese President Jorge Sampaio to nominate Pedro Santana Lopes as a substitute Prime Minister of Portugal. Santana Lopes led the PSD/PP coalition for a few months until early 2005, when new elections were called. When the Portuguese Socialist Party won the elections it was revealed that the budget deficit was not 3%, but had actually spiralled to an all-time high of 6.1%, which led people to criticize Barroso's and Santana Lopes's fiscal policies.

In 2003, Barroso hosted U.S President George W. Bush, British Prime Minister Tony Blair and Spanish Prime Minister José María Aznar in the Portuguese island of Terceira, in the Azores. The four leaders finalised the controversial US-led 2003 invasion of Iraq. Under Barroso's leadership, Portugal became part of the "coalition of the willing" for the invasion and occupation of Iraq.

In 2004, the proposed European Constitution and now the Treaty of Lisbon included a provision that the choice of President must take into account the result of Parliamentary elections and the candidate supported by the victorious Europarty in particular. That provision was not in force in the nomination in 2004, but the centre-right European People's Party (EPP), who won the elections, pressured for a candidate from its own ranks. In the end, José Manuel Barroso, the EPP candidate, was chosen by the European Council.

On the same basis, the EPP again endorsed Barroso for a second term during the 2009 European election campaign and, after the EPP again won the elections, was able to secure his nomination by the European Council on 17 June 2009. On 3 September 2009, Barroso unveiled his manifesto for his second term. On 16 September 2009, Barroso was re-elected by the European Parliament for another five years. If he completes his second term he will become only the second Commission president to serve two terms, after Jacques Delors.

During his first presidency, the following important issues were on the Commission's agenda :

- Turkey applying for EU membership
- The reform of the institutions (Treaty of Lisbon)
- The Bolkestein directive, aimed at creating a single market for services within the EU
- Lisbon Strategy
- Galileo positioning system
- Doha Development Agenda negotiations
- European Institute of Innovation and Technology
- An EU climate change package

One of his first tasks since being reelected was a visit to Ireland to persuade Irish citizens to approve the Treaty of Lisbon in the country's second referendum due to be held the following month. Barroso was greeted by Irish Minister for Defence Willie O'Dea and Peter Power, the Minister of State with special responsibility for Overseas Development, as he got off his plane at Shannon Airport on the morning of 19 September 2009 before briefly meeting with the joint committee of the Oireachtas and meeting and greeting people at functions in Limerick's City Hall, University of Limerick (UL) and the Savoy Hotel. He told The Irish Times in an interview referenced internationally by Reuters that he had been asked if Ireland would split from the European Union. He also launched a €14.8 million grant for former workers at Limerick's Dell plant, described as "conveniently opportune" by former MEP and anti-Lisbonite Patricia McKenna.

Personal life

José Manuel Durão Barroso is the son of Luís António Saraiva Barroso and his wife Maria Elisabete de Freitas Durão. In 1980 he married Maria Margarida Pinto Ribeiro de Sousa Uva, with whom he has three sons: Luís (currently studying for a PhD in Law at the London School of Economics), Guilherme, and Francisco de Sousa Uva Durão Barroso.

Apart from his mother tongue, Portuguese, Barroso is fluent in French, speaks Spanish and English and has taken a course to acquire a basic knowledge of German.

Mr Barroso is an Eminent Member of the Sergio Vieira de Mello Foundation and has honorary citizenship of the city of Rio de Janeiro.
View the full website biography of Barroso José Manuel.