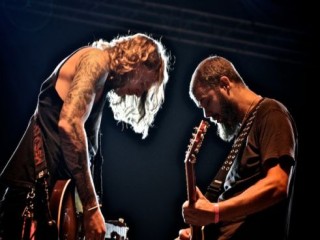 Baroness (band)
Date of birth : -
Date of death : -
Birthplace : Savannah, Georgia
Nationality : American
Category : Arts and Entertainment
Last modified : 2012-07-10

Baroness is a well known band from Savannah, Georgia whose members grew up together in Lexington, Virginia. They combine in their very own style elements of sludge metal, progressive metal and punk.

Band's current members:

John Baizley – rhythm guitar, lead vocals (since 2003)
Peter Adams – lead guitar, vocals (since 2008)
Matt Maggioni – bass (since 2012)
Allen Blickle – drums (since 2003)


Baroness formed in the Summer 2003 in Savannah, GA, United States with all members, past and present, hailing from Lexington, VA in the foothills of the mighty Blue Ridge Mountains. Maybe that's where the band draws inspiration for their music, or maybe their style is inspired by their name, or maybe it's just when these four band-mates come together the end result is always bold and impressive?

With a sound built upon a resolute sense of purpose and shaped by hundreds of explosive live shows, Baroness position themselves at the forefront of heavy music with their first full length and Relapse debut Red Album. Red Album is at once powerful, expressive, confident, and commanding. The record sees the band expand its sonic vision; colossal riffs and haunting vocals roll like thunder across epic songs spanning both the intense and the sublime. As with each Baroness recording, Red Album was recorded at the Jam Room Studio in Columbia, SC w/ producer Phillip Cope and engineers Jay Matheson and Steve Slavich.

In 2009, the Blue Record was released by Relapse Records. With this release, they continued to push the envelope and development as their style progresses. This progression ultimately gave them the Album of the Year award from Decibel Magazine and gave them numerous Best of lists from Pitchfork, Village Voice, Popmatters, Revolver, Rock Sound, and Metal Hammer. Baroness also performed at Coachella and Bonnaroo in 2010.


"Take My Bones Away" 2012 single:



On May 23, 2011, the band launched their official website. The first content released on the new page gave hints to work on a new album being produced again by John Congleton. On May 14, 2012, the single "Take My Bones Away" from the new album was released over Youtube, along with an album teaser.

Baroness will release "Yellow & Green" on July 17, 2012 through Relapse.

View the full website biography of Baroness (band).