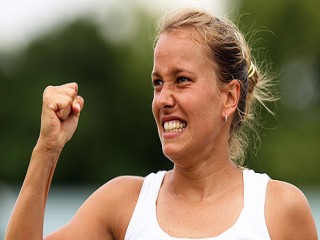 Barbora Zahlavova Strycova
Date of birth : 1986-03-28
Date of death : -
Birthplace : Plzen, Czech Republic
Nationality : Czech
Category : Sports
Last modified : 2011-04-29

Barbora Záhlavová-Strýcová, born Barbora Strýcová is a professional female tennis player from the Czech Republic.

Her highest WTA Ranking has been World No. 39, a ranking she achieved on July 19, 2010. She is related to tennis player Sandra Záhlavová by marriage—she is the wife of Záhlavová's cousin.

CAREER:

urning professional in 2003, Záhlavová-Strýcová had already worked her ranking into the top 300 after some good results in ITF Women's Circuit events over 2002. She continued to play mostly ITF Circuit events throughout the year, and made her Grand Slam debut at Wimbledon, qualifying and losing first round to Tatiana Perebiynis. She finished that year ranked at No. 161.

2010:
At the 2010 Australian Open, Záhlavová-Strýcová won her first round against Regina Kulikova in a match that lasted 4 hours and 19 minutes, making it the second longest women's tennis match ever and the longest match in women's Grand Slam history. She lost in the second round to Dinara Safina. In February and March, she won three doubles titles in Paris, Acapulco and Monterrey, her sixth, seventh and eighth tournament wins in the doubles discipline.

At the French Open, Záhlavová-Strýcová lost in first round to Rossana de los Ríos, before reaching the third round of a Grand Slam for the second time at Wimbledon, where she beat Elena Vesnina and Daniela Hantuchová and lost to Maria Sharapova. Her Wimbledon performance boosted her confidence and thus at the ECM Prague Open she managed to make the first singles final of her career, dismantling Patty Schnyder with the loss of only two games in the semifinals. In the final, she lost to Ágnes Szávay. As a result of her recent form, she rose into the top 50 for the first time in singles following Prague.

Záhlavová-Strýcová continued to enjoy success in doubles for the rest of the season. With her regular partner Iveta Benešová, she won the biggest title of her career at the Premier 5 tournament in Tokyo, and then partnered Renata Voráčová to win Linz, helping her to finish the season in the top 20 of the doubles ranking. In singles competition, she struggled to build on her strong summer results, failing to advance in six of the ten tournaments she played following Prague, among them a first round loss at the US Open to Maria Kirilenko, thus dropping to No. 69 by the end of the year.

PERSONAL:

Coached by Jakub Zahlava
Started playing at age 5 (also figure skating)
Baseliner who prefers grass and clay
Father's name is Jindrich Stryc; mother's name is Icona Strycova; sister, Ivona, studied law and lives in US
Favorites include movie Grease, book Love Is Just a Word, actor John Cusack and pasta
Other sport interests include swimming, skiing, snowboarding
Self-desribed as energetic and funny
Admires Steffi Graf.

View the full website biography of Barbora Zahlavova Strycova.