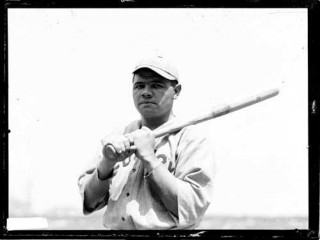 Babe Ruth
Date of birth : 1895-02-06
Date of death : 1948-08-16
Birthplace : Baltimore, Maryland, U.S.
Nationality : American
Category : Sports
Last modified : 2010-05-03
George Herman Ruth, Jr. , was an American Major League baseball player from 1914–1935. Ruth originally broke into the major leagues with the Boston Red Sox as a starting pitcher, but after he was sold to the New York Yankees in 1919, he converted to a full-time right fielder and subsequently became one of the league's most prolific hitters. Ruth was a mainstay in the Yankees' lineup that won seven pennants and four World Series titles during his tenure with the team. After a short stint with the Boston Braves in 1935, Ruth retired. In 1936, Ruth became one of the first five players elected to the Baseball Hall of Fame.


Known as the Great Bambino, Babe Ruth would go down in history as one of the greatest – if not the greatest – baseball player of all time. Coming from a rough, inner-city childhood, it would be a monk who would encourage the young Ruth to pursue baseball. It was actually a monk, named Brother Gilbert, who introduced Babe Ruth to Jack Dunn, the owner of the Baltimore Orioles.
As a youngster, Ruth was notorious and known as one of the 'tough kids' in town. Not interested in school, he would run the streets and commit petty crimes. Too much for his parents to handle, they sent him to an industrial school named St. Mary's, where he would come to learn how to play the sport that would forever change his life and the game of baseball.
At St. Mary's, Babe wanted to be involved in every play of the game so he played catcher. When he began making fun of the team's pitcher, the coach felt Babe should give it a try – wanting to teach him not to mock his own players. It was then that Babe pitched the game to victory and that the coach saw Babe's great potential.
Babe Ruth signed with the International League and underwent spring training where the coaching staff agreed he had talent both with the ball and with the bat. In his first game, he pitched a 6-0 win that set the stage for the up and coming baseball superstar. When the Orioles could no longer afford to keep some of their top players, they sold them to the Boston Red Sox. And, being a left-handed pitcher on a team with three others, he didn't get to pitch as much as he had with the Orioles. He didn't get to play a lot with the team in games, so they sent him down into the minor leagues. When he took the team to win the championship, the Red Sox put him right back in the pros where he would win the World Series of 1917 with his pitching.
In the following years, the coaches realized how much of an asset Babe Ruth was as a hitter – something most people remember him by. He became known as a power slugger and broke every hitting record in the league. As his fame grew, so did his contract, which some leagues couldn't afford. When Ruth gained some weight, it added to his powerhouse hitting skills but did little for his ability to run the bases or play in the outfield. Due to the trouble that Babe Ruth was putting the Red Sox through, they decided to trade him to the New York Yankees, who welcomed the greatest player in baseball with open arms. Following, the Yankees experienced huge success with Ruth while the Red Sox never won another world series for nearly 90 years. With the Yankees, Babe Ruth set new hitting records that would last nearly the same length of time.
Personal life
Ruth married Helen Woodford in 1914. Owing to his infidelities, they were reportedly separated around 1926. Helen died in a fire in Watertown, Massachusetts on January 11, 1929 in a house owned by Edward Kinder, a dentist whom she had been living with as "Mrs. Kinder". Kinder identified her body as being that of his wife, then went into hiding after Helen's true identity was revealed; Ruth himself had to get authorities to issue a new death certificate in her legal name, Margaret Helen Woodford Ruth.
Ruth had two daughters. Dorothy Ruth was adopted by Babe and Helen. Decades later, she wrote a book, My Dad, the Babe, claiming that she was Ruth's biological child by a girlfriend named Juanita Jennings.
Ruth adopted Julia Hodgson when he married her mother, actress and model Claire Merritt Hodgson. Julia currently resides in Arizona, and threw out the ceremonial first pitch before the final game in the original Yankee Stadium on September 21, 2008.
Ruth and Claire regularly wintered in Florida, frequently playing golf during the off-season and while the Yankees were spring training in Tampa, Florida. After retirement, he had a winter beachfront home in Treasure Island, Florida, near St. Petersburg.
View the full website biography of Babe Ruth .