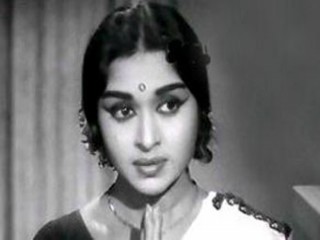 B. Saroja Devi
Date of birth : -
Date of death : -
Birthplace : Karnataka, India
Nationality : Indian
Category : Arts and Entertainment
Last modified : 2011-07-07
B. Saroja Devi is an Indian actress. A popular actress in the South Indian cinema, she was the recipient of the Padma Bhushan award and won many critically acclaimed awards for different languages. She was popular in Kannada and Tamil movies.

Born in Karnataka, Saroja Devi has acted in about 170 films in Telugu, Tamil, Kannada and Hindi and won several honors at the state and the national level. She was conferred the Padma Bhushan in 1992.

Her indulgent father was the first to inform her that she would take acting as her career. A young Saroja Devi was often chaperoned to studios by him. He would patiently tie on her salangais, often massaging swollen feet after her dancing stints.

Saroja Devi made her debut at the age of 11 in the Kannada film Mahakavi Kalidasa. Directed by the late Honnappa Bhagavathar, the film was released in 1956. She went on to star in popular Kannada films like Anna Thangi and Schoolmaster. She also has the privilege of working in the first colour film of Kannada titled Amarashilpi Jakanachari.

She is referred to as Abinaya Saraswathi by Tamil film industry and as Kannadathu Paingili (meaning Kannada's Parrot) by Kannada Film Industry.She ruled the roost for more than three decades especially in the period 1955-1985 as the lead actress. She is considered perhaps the only actress in world to have had more than 120 superhits to her credit as the leading heroine.

The actress was born and brought up in Bangalore and moved there after taking a break from films.

Saroja Devi was not a feminist. She has been quoted as saying that man was too important a part of a woman's life to be ignored. Her marriage in 1967 to engineer Sri Harsha cemented this fact. Her husband had reportedly no qualms about her star status, and was a 'complete gentleman,' to quote Sivaji Ganesan himself.

The fact that she was careful not to involve herself in too many controversies and scandals obviously helped. She understood the movie-world well, and was careful to operate within its framework.

To say that she was hot property would be an understatement. The Abhinaya Saraswathi, as she was quickly christened, suddenly appeared in every other film, and became the top heroine in Telugu and Kannada cinema as well -- but she was mostly the lucky mascot of MGR movies.

To quote herself, she was working 'more than 20 hours a day.' Pathbreaking movies like Kittooru Rani Chennamma followed, where Saroja Devi's energetic performance as a patriotic queen raging against the British brought her much acclaim.

Movies such as Periya Idathu Penn raised her graph, Tamil superhits such as Paalum Pazhamum, Aadip Perukku, Aalaya Mani, Puthiya Paravai made her a rage.
Her Telugu hits were Seetha Rama Kalyanam and Jagadeka Veeranukatha with NTR, while her Hindi films included Paigham, Pareekhsha, and Pyar Kiya To Darna Kya.

Crowned Chaturbhaasha Taare, because of her popularity in these four languages, it's impossible to list all her films. Her unique, mincing accent, smart and perky attitude -- not to mention that indefinable allure that accompanied her -- made her special.
Her best performances were the 'rich girl' roles. And she made a fashion statement too. Her saris and blouses, ornaments, hairstyles, kondais and mannerisms was copied by the women, who adored her.

In Anbe Vaa and Enga Veettu Pillai, her saris and jewelelry were popularised in magazines and among the public. Such was her attention to herself that she rarely had sweaty stains in her blouse.

She is hugely respected by leading personalities of the Kannada film industry and continues to be a guiding force to the Kannada film artists association.

Awards:

• Life Time Achievement Award for 60th Independence (National award) in 2008 by Government of India
• Padma Bhushan(National award)in 1992
• Padma Sri (National award)in 1969
• N.T.R award from ntr fan association bengalore in 2007
• Honorary Doctorate from Bangalore University in 2006
• Dinakaran award for All-round Achievement in 2003
• Tamil Nadu Government's M.G.R award in 1997
• Cinema Express award in 1997
• Filmfare award for All-round Achievement
• Karnataka Government's Rajyothsava award in 1989
• Abhinandana-Kanchana Mala award in 1980
• N.T.R. National Award from Andhra Pradesh Government for the year 2001.
• N.T.R. National Award from Andhra Pradesh Government for the second time for the year 2009.

View the full website biography of B. Saroja Devi .